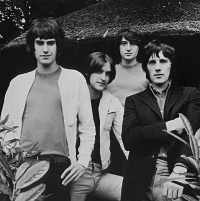 The Kinks influenced '90s Britpop bands like Blur and Oasis.
That's where the big bands Used to come and play My sister went there On a Saturday -- "Come Dancing"
Ten local bands hope you'll believe in the power of Ray Davies and come dancing during a benefit concert for KDHX (88.1 FM) Saturday, March 30. Ev'rybody's Gonna Be Happy: A Tribute to the Kinks begins at 8 p.m. at Off Broadway. Admission is $10, with proceeds going to St. Louis' independent radio station.
During the show a roster of veteran and novice local bands will perform The Kinks' well-known hits, deep album treasures and everything in between. On the bill are the Aviation Club, the Blind Eyes, Burrowss, the Educated Guess, Estevan, Melody Den, the Nevermores, Old Lights, Picture Day and Prune. The concert marks the twelfth tribute-show benefit for KDHX, with previous efforts dedicated to the music of R.E.M., Uncle Tupelo, Bob Dylan, Stevie Wonder and more.
"The Kinks had massive hits, of course, but the catalog is so deep, so diverse, so challenging and delightful that a tribute night really was inevitable," says Roy Kasten, event organizer and frequent RFT Music contributor. "Now was the right time. The last few tribute nights have been fantastic, but they've emphasized more acoustic sounds. The Kinks -- and the bands that will be playing the Kinks' songs -- embody the heart, soul and brain of rock & roll."
Kasten says that tribute shows, like the ones KDHX coordinates, are good for St. Louis' music scene and showcase a shared respect for an influential artist.
"In playing the songs of the Kinks, these ten diverse, distinct local bands are all sharing their histories, their knowledge, their vision, and their influences," Kasten says.
With many lifelong Kinks fans in the mix, the local talent is excited to perform tunes by a band that often was overshadowed by its British Invasion contemporaries.
"The Kinks may never have reached levels of popularity that the Beatles and the Stones achieved, but who has?" asks Matt Picker, drummer for the Blind Eyes. "They still played plenty of sold-out shows in huge venues to adoring audiences and have a catalog of songs and albums that go toe-to-toe with anything their contemporaries ever put out."
Evan Sult, whose Sleepy Kitty Arts studio designed the event's posters, appreciates the Kinks' recognizable sound.
"They invented, refined and perfected a certain strumming pattern and song structure in 'All Day and All of the Night' and 'You Really Got Me,' not unlike Chuck Berry's signature riffs in how identifiable it is," Sult says.
With Sleepy Kitty partner Paige Brubeck, Sult engaged both the music and graphic sides of his brain when it came to creating the art for this event, considering Kinks sound and attitude.
"Paige and I have been talking about texture lately -- photocopy schmutz is kind of like distortion on the guitar, right? We found an old photocopier that makes honest gritty dirt on the images," Sult says. "Of course it's this old machine -- vintage even, like the guitars in the Kinks songs. So we made sure to build some of that texture into this poster."
Which Kinks songs will concertgoers hear at the show? Many of the bands are keeping covers under wraps for now, but Picker says his band will perform selections straight-up instead of trying to put its own spin on things.
"My favorite Kinks song is 'Till The End Of The Day,' which is an amazing song," Picker says. "We're not playing it, but hopefully someone will do it."
Sult is excited about the roster of bands that Kasten has curated for the Kinks show.
"I was really pleased to see the Blind Eyes on the list of bands; they're a natural match for the Kinks," Sult says. "Likewise, Old Lights; I really hope that they're doing some harmony-heavy songs, but I'll take whatever they got because they always sound great. I associate the Nevermores with heavy rockin', so I assume they'll be doing some of the songs I really want to hear."
No matter if the bands perform "A Well Respected Man" or "Better Days," Kasten is confident that the audience will walk away with a new appreciation for both the Kinks and St. Louis' local talent.
"There's something about that focus on one great artist over the course of an evening that really is special, as mushy as that may sound," Kasten says.
See also: -Ten Bands You Never Would Have Thought Used to Be Good -The Ten Biggest Concert Buzzkills: An Illustrated Guide -The 15 Most Ridiculous Band Promo Photos Ever -The Ten Worst Music Tattoos Ever
Follow RFT Music on Twitter or Facebook. But go with Twitter. Facebook blows.