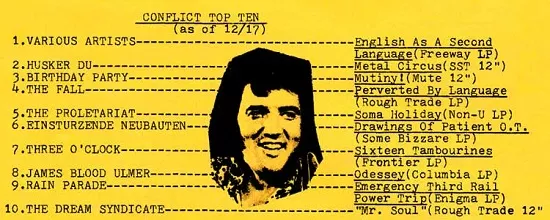 I was as surprised as anyone when I clicked online and saw the message: There was a new product from an old favorite, now available for download. Given that this was the first such release since 1991, I wanted to check it out immediately. And indeed, I was not disappointed. There was enough of the old attitude to satisfy, but with some interesting new directions.
Yes, that's right: Gerard Cosloy has finally released a new issue of his music fanzine, Conflict. (I think there was a new record by some British band, too, but cannot recall.)
It's 2013, not 1990, so Conflict #53 arrived by PDF rather than through the mail. After kicking off with some faux-humility ("Conflict was one of the most overrated fanzines of its era..."), we're off and running with a familiar mix of record reviews, snide/funny commentary, and a page-long summation of Meredith Baxter's acting career. Familiar favorites like Peter Prescott (Mission of Burma/Mini Beast) and Ned Hayden (Action Swingers) get their due, as do current favorites like Destruction Unit and Kansas City combo Meat Mist. On the other hand, the Black Angels (and its song "Don't Play With Guns") get eviscerated.
It's not clear why the Austin-based Cosloy - who co-owns Matador Records, runs the Can't Stop The Bleeding blog, and releases records on his own 12XU record label - decided to resurrect Conflict. And there's no hint that it's back to stay: It was irregularly produced even in its late-1980s heyday. But this apparent one-off return does provide a reminder of how important music zines once were.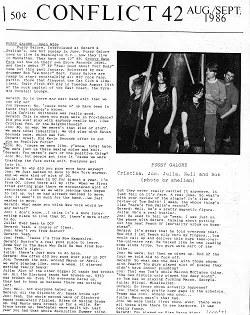 It's hard to remember now, but well into the 1990s, fanzines were the lifeblood of the underground music world. It wasn't that long ago that there was no e-mail, no social networking, no Bandcamp or Soundcloud. If you were a tiny indie band looking to get your music out, you would usually make a seven-inch single or demo cassette and send it around to college radio, small distributors and the lively zine network. Then you'd wait weeks or months for feedback. Getting a good review in a high-profile zine like Conflict meant you could maybe go on tour and make another record. A bad review, however, could end a band's career. As much influence as an 8.0-plus Pitchfork review might have today, it's hardly the same honor.
This got me thinking about some of my other favorites from the 1980s and 1990s. One of them, Chickfactor, actually put on a Kickstarter campaign to print its first new issue in years. Here are five more that should consider coming back, at least for one more issue.
1) Forced Exposure. Starting off in the midst of the early-1980s Boston hardcore scene, it quickly grew into the most influential zine of its time. Editors Jimmy Johnson and Byron Coley were fiercely opinionated, and usually right. Contributors included Lydia Lunch, Steve Albini, Lisa Carver and Alan Licht. Coverage went way beyond the college radio favorites of the day, diving into free jazz, British folk and Japanese experimental music. There was also a film column, book reviews, and interviews with artists such as Robert Williams. The last issue to date featured a huge footnoted interview with New Zealand musician Chris Knox.
Current whereabouts: Johnson continues to run Forced Exposure as an online music mailorder service Coley is a freelance writer and a contributor to Arthur magazine, which does a good job of keeping the old FE spirit alive.
2) Beer Frame. Paul Lukas started out doing a typical music zine until he realized he liked reviewing consumer products -- off-brand groceries, dollar-store finds, industrial supplies and the almighty Brannock Device -- more than records. For ten issues, Lukas shone a light on the inconspicuous, little-noticed items that surrounded us daily. When he reviewed records, it was for their tactile qualities rather than the music itself.
Current whereabouts: Lukas continues to explore the world of inconspicuous consumption through his New Republic column, "One Man Focus Group." There is a Beer Frame archive online as well.
3) Disaster. Originally the editor of Willpower, a Replacements fanzine, Bill Callahan's Disaster zine was eclectic and often riotously funny. Like Conflict, it wasn't afraid to poke fun at itself, let alone hapless opening bands. Toward the end of its brief run, Disaster began to take a darker turn, as Callahan began to focus more on fiction and art. There were also crudely drawn advertisements for Tired Tape Machine, the debut cassette by Callahan's Smog solo project.
Current whereabouts: Callahan ultimately gave up zine publishing to focus on recording and touring. He released several albums as Smog throughout the 1990s and well into the current century. He continues to record under his own name.
4) Incite! Several times a year, Harvard student Tim Alborn would publish a small collection of record reviews, travelogues and occasional interviews. Incite! was one of the very first American zines to combine the whimsical, primitive nature of the early K Records catalog with the stylish earnestness of Sarah Records. An early champion of Galaxie 500 and the Magnetic Fields, Alborn and Incite! would ultimately help set the template for what ultimately became known as indie-pop.
Current whereabouts: Alborn is a professor at Lehman College in New York. He maintains a complete back-issue archive at his website.
5) Lowlife. Some of the best music zines began out of sheer desperation. In Lowlife's case, it was in part to showcase Atlanta's underground music scene, especially the eccentric personalities living in the Cabbagetown neighborhood. Published by Glen Thrasher and Ellen McGrail, then cohosts of WREK's (91.1 FM) Destroy All Music radio show, Lowlife did cover national and international artists, but its heart was in local artists like the Jody Grind (with lead singer Kelly Hogan), DQE, Freedom Puff and the late Benjamin (of Smoke and Opal Foxx Quartet). Thrasher and coeditor Ellen McGrail would not only run long interviews with these and other fascinating characters, but in later issues include free seven-inch singles and LPs. The Cabbagetown scene ultimately begat Cat Power's Chan Marshall, but not until many of the original participants succumbed to death, drugs or boredom.
Current whereabouts: After a short spell in New York City with an early version of Cat Power, Thrasher returned to Atlanta, where he worked for A Capella Books and kept a blog for a while.