Fister CD Release - Friday, Mar. 29 @ The Firebird
Let it snow, let it snow, let it snow! Go to shows! Go to shows! Go to shows! OK, so one of those makes the other a bit difficult, but we know you have it in you. Grab a shovel, some snow boots, whatever it takes to make way for some great music this week (plus, we hear the forecast is beginning to look a lot like springtime come Saturday). Click ahead for this week's recommendations including Fister's CD Release, Ev'rybody's Gonna Be Happy: A Tribute to the Kinks and more.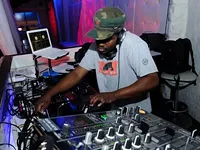 Nappy DJ Needles Monday, Mar. 25, 9 p.m. w/ Finsta @ The Demo - $5 By RFT Staff We live in an age when any iPod- and laptop-toting music hound can be a DJ -- which is why watching a real turntablist tear up the decks is a thing of beauty. In his eighteen-year career, James Gates, a.k.a. DJ Needles, a.k.a. Nodzilla, has established himself as DJ royalty in St. Louis, playing the best clubs, events and parties, blowing up the independent airwaves weekly on KDHX (88.1 FM) with the cream of hip-hop and nu-soul. He's got a résumé a mile long, but his skill and seriously prodigious pairing of today's relevant cuts with forgotten grooves speaks for itself. If you haven't heard his name by now, you're just not listening hard enough.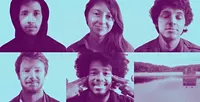 Glish Tuesday, Mar. 26, 8 p.m. w/ Tan.B, Gorgeous George @ Blank Space - $5 By Mabel Suen New Orleans nu-gaze quintet Glish draws genre-defining influence from the likes of My Bloody Valentine and Slow Dive, swirling a cloud of dream-pop with an occasional heavy-handed math rock riff or two into the mix. The resulting textural fluffernutter provides a sweet, satisfying bite with the crunch of echoing, effects-laden guitars and precise percussion that alternates between swung and staggered hits. Characteristic swoon-inducing singing from frontwoman Meagan Lanier put the mellow in the mallow, with enough youthful energy in the group's delivery to incite some slamming between swaying on the dance floor.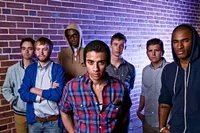 Air Dubai Tuesday, Mar. 26, 8 p.m. w/ Broom Closet Beer Club @ The Demo - $10 By Christian Schaeffer For all the bands that have struggled to align hip-hop's lyrical gymnastics with the power and energy of live rock & roll, there are a few that make the combination work. Denver's Air Dubai has found a workable middle ground where guitar, bass, drums and keys can lay down pop-friendly, radio-ready rock while Julian Thomas and Jon Shockness spit verses back and forth. The evidence from last year's Be Calm showed the group's continued evolution -- the single "Warning" is a slice of stomp-along ear candy, but Air Dubai's soul bona fides sneak out more often than not.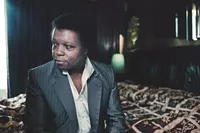 Lee Fields & the Expressions Wednesday, Mar. 27, 8 p.m. w/ Lady, Bumpy & Hustle DJs @ 2720 Cherokee - $20 By Ellen Herget From Extended Family: Soul Man Lee Fields doesn't see his audience as fans: The singular Lee Fields is enjoying an uncommon day off in Plainfield, New Jersey, when reached via telephone for an interview. "I got a back yard, I got a barbecue," he says, chuckling. "I try to barbecue like they do in St. Louis, but I can't get it right!" Fields' laughter serves as a verbal exclamation point to most of his statements. His way of speaking, like his way of singing, is an expression of every facet of joy. A true-blue soul singer since the age of fourteen, Fields has been a touring musician for nearly every part of the last four decades.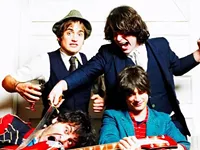 Gringo Star Thursday, Mar. 28, 8:30 p.m. w/ The Feed, Yankee Racers @ Plush - $7 By Jaime Lees Through word of mouth, boisterous live performances and constant touring, Gringo Star has built a solid, devoted following. True to its name, the group evoke Sgt. Pepper's-era Beatles, with swirling psychedelics, haphazard harmonizing and pop-perfect jangly bits. Sure, most rock bands reference the Beatles, but Gringo Star does it better; and in a much, much dirtier fashion. Live, the band also matches its trippy, carnival-like vibe with a rowdy stage show, full of disorderly, cacophonous instrument-bashing and heart-crushingly somber interludes.
Fister CD Release Friday, Mar. 29, 9 p.m. w/ Bastard, ((THORLOCK)), The Gorge @ The Firebird - $7 By RFT Staff The best metal band in town should be the one that goes at it full force. It should be unrelenting in its approach, bombarding you sonically and disturbing you emotionally. It should pour its blood, sweat and tears into its every release -- pardon the cliché, but we're going somewhere with this. St. Louis' Fister fulfills each of these requirements and then some. Its "Bronsonic" metal is played at eardrum-shattering volumes. Its lyrics deal in brutality, ranging from the prehistoric to the post-apocalyptic. And its blood is in its releases -- specifically, in its May 2012 release entitled Violence, for which the band members each had their blood drawn and mixed into the ink used to screen the liner notes. Never mind the sweat and tears we mentioned earlier; the blood alone is metal enough. Just don't forget to wear protective surgical gloves when purchasing merch.
Afroman Friday, Mar. 29, 8 p.m. w/ Beach Bum Alcoholics + Decedy @ 2720 Cherokee - $8-$10 By Jaime Lees I was gonna write this show preview, but then I got high/I was gonna tell you about rapper Afroman, too, until I got high/Now I'm skimpin' on the content and I know why (Why, man?)/Because I got high. Because I got high. Because I got high/I was gonna hype this show up well, but then I got high/I had a whole lot of stuff to tell, until I got high/But I'll see you on Cherokee Street and you know why (Why, man?)/Because you're all high. Because you're all high. Because you're all high./La da-da da da daa.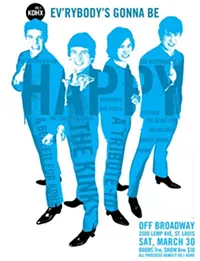 Ev'rybody's Gonna Be Happy: A Tribute to The Kinks Saturday, Mar. 30, 8 p.m. w/ The Aviation Club, The Blind Eyes, Burrowss, the Educated Guess, Estevan, Karate Bikini, Melody Den, the Nevermores, Old Lights, Prune @ Off Broadway - $10 By Christian Schaeffer While the band was a perennial third-place finisher in the British Invasion sweepstakes, the Kinks could be every bit as tuneful, subversive, raucous and inventive as the Beatles or the Stones. And if his peers were more interested in channeling American R&B, Ray Davies focused his peerless pen on every corner of the British Empire, from English Music Hall tradition to the kitchen-sink colonialism of the band's hallmark Arthur LP. KDHX (88.1 FM) continues its tribute to top-shelf songwriters with Ev'rybody's Gonna Be Happy: A Tribute to the Kinks, featuring a host of St. Louis' best pop bands, including Old Lights, Prune, the Blind Eyes, the Educated Guess and more, with all of the proceeds benefiting KDHX.
Luke Winslow King Saturday, Mar. 30, 10 p.m. @ Broadway Oyster Bar - $6 By Roy Kasten To paraphrase a notorious segment of Portlandia, the dream of the '30s is alive in the music of Luke Winslow King, a native of the Rust Belt who packed up his 78s and immersed himself in the living traditions of old-time jazz and blues in New Orleans, a town too welcoming and too wise to mistake him for a slick carpetbagger or sickly nostalgia-peddler. Winslow King knows the Great Depression was great for nothing save music, and he pours all the clatter, slide and swing of gospel folk, ragtime and country blues into his refreshingly tuneful and modestly hopeful songwriting.
Langhorne Slim Sunday, Mar. 31, 7 p.m. @ Off Broadway - $12-$18 By Roy Kasten w/ Old Lights, Nathan Reich, The Highway Companion - Our hero made his first impression on St. Louis while opening for Clem Snide at the Duck Room in the spring of 2005. Derby-wearing Sean Scolnick (a.k.a. Langhorne Slim) beat on an acoustic guitar and, drunk off his skinny white ass, rambled and meandered and refused to get off the stage. (Our indie-rock kingdom for a rail, dreamt a polite audience, just to run him out of town and back to Brooklyn.) Since then, Slim has redeemed himself with a killer, Dylan-as-rockabilly self-titled album in 2008; bubbly, gospel-conscious, folk-pop suite, Be Set Free; and The Way We Move. Be Set Free is the kind of record so many scruffy songster punks aspire to make -- but one that's out of reach for most because they lack the native charisma, charm and tunes that make life worth living and affirming. All things, naturally, our hero believes and communicates so well.
See also: -Ten Bands You Never Would Have Thought Used to Be Good -The Ten Biggest Concert Buzzkills: An Illustrated Guide -The 15 Most Ridiculous Band Promo Photos Ever -The Ten Worst Music Tattoos Ever
Follow RFT Music on Twitter or Facebook. But go with Twitter. Facebook blows.