In case you forgot: I gave myself the brain-crushing mission to make a show diary for every weekend in March. This is the third installment in my four-part project.
Like the rest of us, my party time was cut short this weekend by twelve inches of snow. I'll have to cover JC Brooks and the Uptown Sound whenever they reschedule.
However, Bunnygrunt rocked Plush for the band's twentieth anniversary before the skies spat on us, and the band brought some excellent friends along for the ride.
See Also: -Bunnygrunt Celebrates Twenty Years This Saturday at Plush
The Chill Dawgs (its name makes me hungry -- which is rare. How many band names make you hungry? Most do the opposite) kicked the night off with an all-oldies set in honor of Bunnygrunt turning "old" in band years. The band members followed through on that theme by dressing sharp in blazers and ties. This also allowed them to sneak into the wedding reception upstairs, which made the rest of us jealous.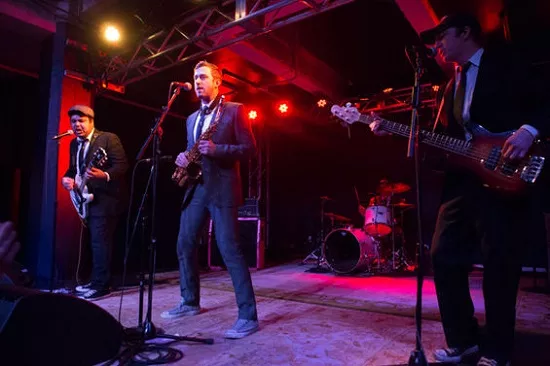 Theo Welling
The Chill Dawgs, looking sharp.
Speaking of which, the wedding guests were pretty good sports about a rock show downstairs from their reception, and the concertgoers were very polite to the wedding folks when they came down to smoke. The wedding guests seemed surprised that there were enough local bands to fill a bill; maybe someone should make a PSA for the uninitiated: "Yes, St. Louis has a music scene; no, we aren't planning to move away to a 'real' city; yes, we actually like it here very much; yes, a lot of people come to see us play."
Trauma Harness played next, the hardest musical sound of the night. The trio brings melody and discernible lyrics alongside its hard-edged sounds, so the music still fit in with the fun attitude of the evening. Drummer John Birkner, who is usually a string-slinger in his other hardcore bands, was fantastically on all night. It was also cool to see Trauma Harness outside of its natural habitat, the Punk Basement, though the band's amped-up sound was better interpreted in the upper level of the venue.
In tandem with Bunnygrunt's anniversary was the Tower Groove Records split release with Trauma Harness. The first of our 60-second video interviews features TGR staffers Jeff Robtoy and Duane Perry, two integral members of the TGR staff that have heretofore stayed mostly behind the scenes. "Interview Robtoy," said Jason Hutto, who usually plays mouthpiece for the project. "Everyone's heard from me. Make Robtoy do it."
Ames, Iowa, donated Poison Control Center to Bunnygrunt's celebration, as the third band to take Plush's stage. PCC and Bunnygrunt go way back; the lead singer mentioned a long-ago shared bill at CBGB, booked by Matt Harnish himself.
Finally, Bunnygrunt came to the stage with several guest stars. Bob Reuter, Jason Hutto, Mark Early, Rob Severson and many more local players showed up to lend support.
Ellen Herget
Pretty much sums it up.
To be honest, it is difficult to track exactly all that happened during Bunnygrunt's lively set. Someone raided Plush's stock of Instagram props that it keeps on the upper level (mannequin legs, a stuffed T-shirt with gloves attached, various other accouterments) and threw them over the balcony, and these were passed around the crowd until they finally reached the stage.
The members of the audience instigated a six-to-ten-person dogpile onstage, which may or may not have been planned, and the whole floor broke down into a waving, screaming dance party. For the last song, Bunnygrunt switched instruments with showgoers and each other, and bassist Karen Reid rode around on someone's shoulders and hung from the lights. All in all, so totally rock & roll.
Following the set, we gave Bunnygrunt a marathon 115-second video interview. It was its birthday and all.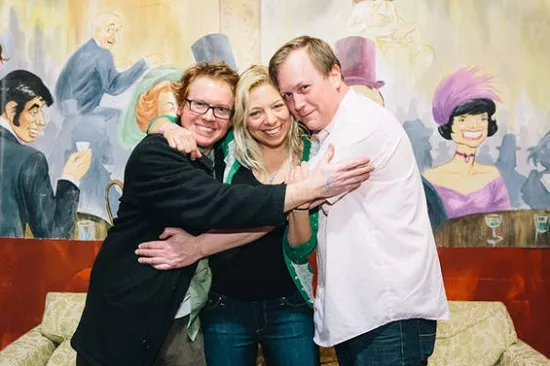 See also: -Ten Bands You Never Would Have Thought Used to Be Good -The Ten Biggest Concert Buzzkills: An Illustrated Guide -The 15 Most Ridiculous Band Promo Photos Ever -The Ten Worst Music Tattoos Ever
Follow RFT Music on Twitter or Facebook. But go with Twitter. Facebook blows.