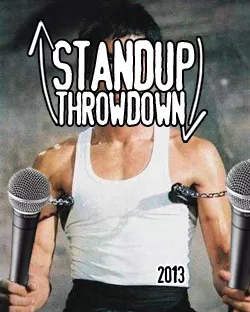 Update: Congratulations to Lisa Rimmert, Jon Venegoni, Nick Branson, Mike Szymanski, JR Moore, Emily Hickner, Conor Hovis and Evan Rowe for making the Elite Eight.
Comics stay tuned; We'll be announcing the specifics of the next round very soon! Thanks also to everybody else for entering, and all you readers for voting!
Original post follows...
St. Louis is a town full of aspiring comics. There are comedy open-mic nights every day of the week, and on any given night anywhere from 10 to 50 people put their names on a list and wait for their five minutes of stage time.
Thus, we bring you the second annual RFT Standup Throwdown, a competition intended to recognize and celebrate this city's up-and-coming comedians. Entry for the competition was simple. All the comics had to do was tweet, addressing the following topic: "That is so St. Louis..." while using the hashtag #so_stl.
Riverfront Times received some 300 tweets from more than 25 comics. Below are what we considered the funniest 16 tweets. Your votes will divide the pool in half and bring the competition to Round 2: The Elite 8.
The Final Four will perform at a special live RFT show on April 9th at Plush, where the winner will assume the title of Throwdown Champion and secure a spot on the May installment of Comedy in the Lou at the Firebird (exact date TBA).
Let's get down to it! Here are their tweets; cast your ballots now. Voting ends at 5 p.m. Wednesday, March 20.
Chad Wallace
Lisa Rimmert
Wayne Wiskow
Jon Venegoni
Alexis Govreau
Nick Branson
Amber Klear
Mike Szymanski
Kenny Kinds
JR Moore
Landon Meyer
Emily Hickner
JC Sibala
Conor Hovis
Evan Rowe
Chris Clark