The five doe-eyed boys of Foxing lock interweaving rhythms and personal lyrics to impart heartfelt tunes throughout the Midwest. Foxing's recent self-booked tour brought the band up and down the Central Time Zone, garnering much fanfare for its careful but fearless take on melodic post-rock.
Foxing's music wouldn't feel out of place in a movie soundtrack or a sweaty basement. Drummer Jon Hellwig fits inventive rhythms under the complex riffs of guitarists Eric Hudson and Ricky Sampson, while Josh Coll wrangles thick and booming bass lines to glue each part with commanding force. And I've even personally seen singer Conor Murphy being swooned over as he croons on the mic.
Perhaps this is why, in less than a year following its inception, the band has been signed by renowned label Count Your Lucky Stars, who've pushed many young and prolific artists of the emo-but-the-good-kind ilk in recent years. This milestone was only announced earlier today, as the deal was struck on Foxing's second-to-last show of a ten day tour.
We await details on Foxing's next release; in the meantime three of the band's five dreamboats agreed to lay down the new life lessons they learned on the open road. As is often the case with traveling acts, Foxing encountered many great bands, and they waste no space letting you know all about them in the interview below.
RFT Music: How did Foxing prepare for this tour? Any odd rituals or pagan sacrifices?
Josh Coll: Despite the fact that we are a fairly ritualistic band, as well as practicing pagans, we kept the oddities at bay. The night before we left, we purchased several brands of cereal and tried to fix our van's radio, to no avail.
Eric Hudson: I appreciated the warmth of my bed. While on tour I missed sleeping on forgiving surfaces.
Conor Murphy: I tried working out more before we left. I wanted that hot spring break tour body. I immediately destroyed it with gas station food and McDonald's within the first days of tour.
Theo R. Welling
Count Your Lucky Stars/Carucage Records Recording Artists Foxing
The tour diet can be rough. Did you succumb to roadside fast food or embark on greater culinary conquests?
Josh: I'll answer this in a roundabout way: I gained three pounds in nine days.
Eric: We ate a lot of aorta bombing foods. My body has never been more stopped up and sluggish.
Conor: The tour diet was way too easy for me. These "aorta bombers" make up the entirety of my food pyramid. I guess I just always live my life in tour mode.
Tell us about your merchandise table in an elaborate story-book fashion.
Josh: Imagine, if you will, two shirts on a table, the first of which is a baby blue Canvas 3001C cotton tee with children riding a pack of wolves, who are savagely tearing into the stomach of a dead deer. The second is a new silver American Apparel 2001 Unisex tee with a wooden ship full of passengers and crew members looking indifferently at a man drowning in the ocean. Snugly sitting next to the shirts were 7" records that could be purchased in either black or pink, until we sold out of pink. Lastly, for the first several days of our trek there were free download cards of our first ep; they were snagged up by grubby little fingers who love "free." Now imagine an empty chair behind the table. If you wanted to purchase any of our merch, you would have to track down our merch guy/Carucage Records owner, Cory Robinson, the slipperiest chain smoker I know. If you ever found yourself asking "Where is he?" Here's a hint and the answer: He is outside smoking.
Eric: Let me tell you something about our merch guy, Cory... He's super rad.
Conor: We had the best merch table in the Midwest. It was like an art piece that you could observe but not touch or interact with.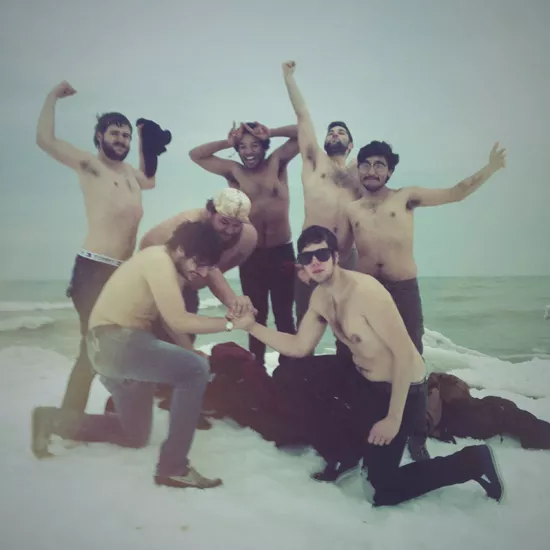 How did each city treat you? You probably don't want to play favorites, but do it anyway!
Josh: We were treated well everywhere. In terms of the shows as well as the venue names, Milwaukee, WI. (The Michael Jordan Skram Dunk Arena) and Kansas City, MO. (Satans Gay Acid Bath) were hands down the craziest. We got picked up by Count Your Lucky Stars during our show in K.C., which kind of made that night more of a life highlight, rather than simply a tour highlight. Kalamazoo, MI. and Rockford, IL. were huge heavy hitters as well.
Eric: I would have to say that Milwaukee, Kalamazoo, and Kansas City were my favorite places. In Milwaukee we raged with Brian Franklin (Khandu), and Justin Gaworski (Alta). In Kalamazoo we got to hang out with The Reptilian and listen to their new record. In Kansas City we hung with the guys from Joie De Vivre, Warren Franklin and the Founding Fathers (who we played with on the first day of our tour), and Empire! Empire!. It's hard to top that.
Conor: My favorite night was Kansas City. Not because I got crowd-surfed on our last song, not because we got signed to CYLS, it was because that was the night I caught my Zapdos and my Multres in Pokemon Blue. They helped me destroy the Pokemon League the next day.
Seeing as you've hit the road, one would assume you've come across a hidden band or three that's worth damn. Who should we be listening to?
Josh: Joie De Vivre, Warren Franklin and the Founding Fathers, Alta, Khandu, Brighter Arrows, Empire! Empire! (i was a lonely estate), The Reptilian, Faun and a Pan Flute, and Jeremy Waun, Bear (The Ghost)
Conor: Faun and a Pan Flute, Faun and a Pan Flute, Faun and a Pan Flute, Faun and a Pan Flute, Faun and a Pan Flute.
Any stinkers on this tour?
Josh: We were very fortunate. The only mishap that comes to mind is when I locked our keys in our van right before we left Champaign-Urbana. We have AAA, who were kind enough to send an incompetent lock smith who gave up almost immediately. So Jon (drummer) just took his tools and opened the door himself in ten seconds.
Conor: I used my Master Ball on Articuno rather than saving it and link trading it for when I play Gold Version next tour. I could have used it on one of the Legendary Dogs. Sometimes the road can be unforgiving.
What lessons have you personally learned on this trip?
Josh: You don't need a radio on long drives if you keep good company.
Eric: I've learned that it sucks to ride in a van with a bunch of chain smokers, which was totally awesome because as we all know the northern United States tends to be chilly, and they thought it was worth opening all the windows of our heated van to smoke a cigarette, thus letting the bitter cold winds envelope us all. I also learned the importance of reducing stress and keeping a positive outlook on things helps you to better get along with others.
Conor: I've learned that hospitality can go a really long way. Letting a band stay over and letting them use your shower means everything. It's really nerve-racking to be in a new city with nowhere to stay but a shitty van. The people who let us crash at their houses are some of my favorite people I've come to know.
Impart any advice you can to other bands looking to travel outward.
Josh: Show grace and humility towards anyone who opens their door to you. Just because you are on tour doesn't mean you are entitled. Be kind to your band mates. Like Conor said, help other bands before you tour. Our tour was booked with a fair amount of ease due to the fact that we put on shows for touring bands and invite them into our homes. Do what you can to help people on the road and it will come back to you. I can promise you those people won't forget you. No encores, but that's just in general. If the crowd wants to surf you, you will surf.
Conor: Harbor touring bands whenever you can. Look at local shows and email the bands. Let them know they can crash at one of your band mates houses. I would help set up a show for anyone who let us shower in their house. Once you get on the road, stay positive. Your band is your family. Treat them like one.
Eric: YOLO.
Tour Schedule (obviously in the past tense): 3.08 Rockford, IL. (show one) with Cadence Fox, Half Milk, Wyld Katz, Sewingneedle 3.08 Rockford, IL. (show two) with Joie De Vivre, Warren Franklin and the Founding Fathers 3.09 Milwaukee, WI. with Alta, Khandu, Brighter Arrows, Antepasados 3.10 Champaign-Urbana, IL. with Enta, Jeremy Waun, Mountain Babies, Joseph Toth 3.11 Chesterton, IN. with Drive By Insults, Wesley Engel, China White 3.12 Kalamazoo, MI. with Trauma Harness, Forget the Times, Tim Trapper, Frostbiter 3.13 Pittsburgh, PA. with Warm Needles, Awful Nothings, Unraveler, Breakfast 3.14 Cincinnati, OH. with Bear (The Ghost), The Sleeping Sea 3.15 Saint Louis, MO. with Caspian, Native 3.16 Kansas City, MO. with Empire! Empire! (i was a lonely estate), Joie De Vivre, Warren Franklin and the Founding Fathers, Battle Royale, Lion House, Daytime Party 3.17 Springfield, MO. with Faun and a Pan Flute, Dirk Frazel, Mason Mercer, Flawless
You can purchase Foxing's latest 7" over at Carucage Records: http://www.carucagerecords.com/ You can reach Foxing and listen to their music at their Bandcamp page: http://foxingtheband.bandcamp.com
See also: -Ten Bands You Never Would Have Thought Used to Be Good -The Ten Biggest Concert Buzzkills: An Illustrated Guide -The 15 Most Ridiculous Band Promo Photos Ever -The Ten Worst Music Tattoos Ever
Follow RFT Music on Twitter or Facebook. But go with Twitter. Facebook blows.