Bunnygrunt is an act seated right where it wants to be: walking the thin line between musical obsession and hobby, obscurity and fame. "For the most part, the band I thought about being in when I was a kid--this is pretty much that band," says guitarist Matt Harnish. "I guess I didn't really have the super rock-star-selling-out-stadiums dreams. I had the dreams of 'I'm going to be this cool cult dude, and I'm going to be kind of famous to a few people.'"
Twenty years later, it is clear that Bunnygrunt has met that goal. The prolific band has won six Riverfront Times Music awards, including two for Best Indie band, a Lifetime Achievement award and an induction into the RFT Music Hall of Fame. Search the name in the RFT's online archives and thirty pages of articles are returned. But this publication isn't their only claim to local cult stardom: The band is immortalized on the CBGB's mural and have even been reproduced into bean bag doll collector's items. Over these twenty years, Bunnygrunt has released five full-length albums and thirteen EPs/singles, and even had a song featured on the soundtrack to the movie Bad Santa.
Looking back, Harnish has few regrets. "Perhaps Bunnygrunt could have been more professional 'back in the day,' but that professionalism would have most likely lead to the band breaking up," he says. "I don't think I'm completely wrong [in saying] that back in '95-'96, if we had all completely quit our jobs and went on tour full time, we could have made a living at it."
Bunnygrunt first formed in 1993 when best friends Harnish and bassist Karen Ried decided to join forces on a project. There have been several lineups over the years, but Harnish says the current combination of himself, Ried and drummer Eric Von Damage is the one that clicks. "Once we got Eric, everything just seemed to work. I think in the last two to three years, we've been making really good music."
There were brief conversations about the band moving out of St. Louis in the '90s, but they never took that step. Harnish says he's not quite sure why they didn't, but they all knew that they didn't want Bunnygrunt to be a job. "We drew that line, and it's a tough line to cross. It's less than an obligation, but it's way more than a hobby." Ried recently moved to Cincinnati, but Harnish says he doesn't expect it to affect the band very much. "We've gone a few months at a time between shows before," he explains. "The anniversary show will be Ried's first visit back to St. Louis since her move."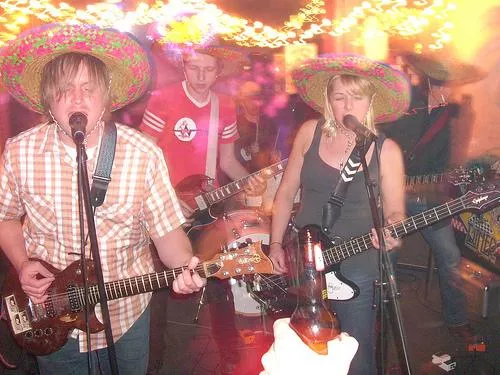 The band has a knack for playing cover shows, having performed under the aliases Blondiegrunt and Supergrunt. "Karen and I don't write a lot of songs," says Harnish. "For as old as we are, we have ridiculously few songs." That said, the two principal songwriters are currently working on the band's sixth full length album, Bunnygrunt Vol. 4, set for release at the end of the year. "We are recording the last two songs while Karen is in town the weekend of the anniversary show." Harnish's persistent humility causes for him to question the band's overall effect on the city. "I don't know if we ever inspired anybody musically. I think it's just by sticking around that we've inspired people," he says - though occasionally a smitten fan will cross his path. "It's embarrassing and really flattering. I try to downplay it. If they are weird about it for a second, then it's cool and I'm just like, 'Hey, I'm a dude.'"
Bunnygrunt's twentieth anniversary is more than just a party; the band is also releasing a split EP with local greenhorns, Trauma Harness. "They don't need our endorsement at all," says Harnish, "but they are totally a band I would pass a torch to." Also on the bill are the Chill Dawgs and Aimes, Iowa's Poison Control Center.
The goal of keeping Bunnygrunt alive is accomplished by its members' dedication to simply being themselves. By striving for personal fulfillment and fun, Bunnygrunt found the recipe for band longevity. "We wanted more to be a band than to be part of a scene," explains Harnish. "I just feel like we've always kind of been doing the same thing. We do what we do, and the circumstances around us change, and we never really adapt to them. We never really did."
Bunnygrunt celebrates twenty years with a split 45 release show on Saturday, March 23 at Plush. Doors open at 7:30 p.m. and tickets are $7.
See also: -Ten Bands You Never Would Have Thought Used to Be Good -The Ten Biggest Concert Buzzkills: An Illustrated Guide -The 15 Most Ridiculous Band Promo Photos Ever -The Ten Worst Music Tattoos Ever
Follow RFT Music on Twitter or Facebook. But go with Twitter. Facebook blows.