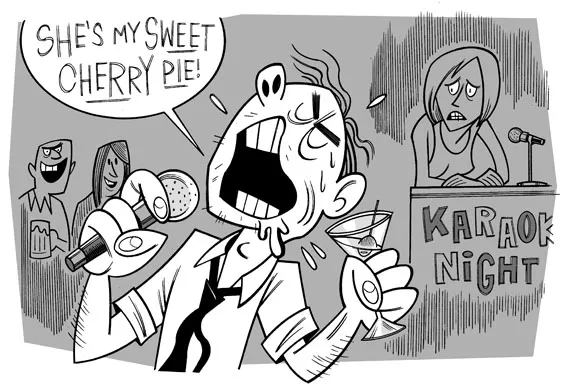 Illustration by Mike Gorman
Karaoke can be a dangerous endeavor. What can you sing that won't make friends shun you? How can you go balls-out during your next performance? Each week in "Ask a Karaoke Host," RFT Music writer and professional karaoke host Allison Babka answers your burning questions about maximizing your melodious mutterings and minimizing your friends' pain. Ask her stuff by e-mailing rftkaraoke@gmail.com or hashtagging #rftkaraoke on Twitter.
Author's Note: After covering just about every karaoke angle possible over the past six months, I'm pooped. With today's edition, "Ask a Karaoke Host" is going on hiatus. I know, I know. Please listen to that terrible Green Day song as you wipe away tears and read this maybe-sorta-final entry.
Because my brain imagines life as both Glee episodes and various after-school specials, I'm compelled to note some things that we've all learned during this column's run:
That's the big thing, dear readers. Despite your fear of freezing up or gurgling out sounds that can't even be considered musical notes, you've still asked insightful questions as you prepare for your inevitable debut performance. Hell, some of you have even told me personally that you finally did make it to the karaoke stage without fainting, which is no small feat for you shy folks.
That's why I pitched this column in the first place and why I became a karaoke Jedi -- er, host -- several years ago. Helping you gain confidence through song and watching my padawans perform stronger and become more conscientious about karaoke etiquette week after week is utterly intoxicating (Making playlists and singing through my own therapy sessions aren't bad, either). I now sort of understand what stage moms or Little League dads feel like, and I'm grateful and humbled that you've let me bully you about your potential for stardom for this long.
But just because this weekly column is ending doesn't mean that I'll turn away from the karaoke scene. I live in the comic-book world where no one nor nothing stays dead forever, so you never know when we might put together another special karaoke post. Continue to e-mail your karaoke high jinks to rftkaraoke@gmail.com or Tweet me at @ambabka with #rftkaraoke, and I'll do my best to address what I can.
And now, "Up and out!" as Willy Wonka might say...
In your time as a karaoke host, what haven't you seen yet? -- Maybe I'm Amazed
A lot has happened on my watch. In the two years I've been hosting, I've seen preteens singing and dancing suggestively with their daddies, had a psychic tell me that I belonged on a higher ethereal plane, watched a dude reenact "Coyote Ugly" and stood by helplessly as a lady sang about uber-depressing personal matters.
My head always is waiting for movie-magic moments, though, so here are a few things I'd love to witness at my karaoke bars or parties:
Wedding proposal using a meaningful song with appropriate lyrics (not, like, "With or Without You")
Divorce or breakup revelation
Gospel choir flash mob
Why don't local malls have karaoke stalls anymore, like on that episode of Community? -- Rockin' Shopping Center
For those of you not familiar with this episode, Dean Pelton forces Jeff into a day of reluctant fun, which includes singing Seal's "Kiss from a Rose" against an ever-changing scenic background in a mall kiosk. Take a peek:
See? It's pretty much the best thing ever. Bonus: You could buy a DVD of your spectacular performance and make your friends watch it every time they came over. These karaoke stalls provided the latest Debbie Gibson hits, featured Saved by the Bell-type graphics and were really popular in the late '80s and throughout the '90s, especially in malls and at amusement parks. So why is it hard to find this epicness now?
One reason is, well, teh Interwebz. Why would you perform in a booth and buy a $20 DVD when you could cue up an online karaoke program, sing "Total Eclipse of the Heart" into your laptop's camera and blast the finished product out to the world via YouTube, Facebook, Twitter or that one porny site within minutes -- and practically for free?
Another reason is Rock Band and other such video games. From the mid-2000s through today, you got used to singing lead in your friend's video-game band named Hasenpheffer. You're lazy sons of bitches, so there's no need to head to the mall to perform Dio when you can do so from your La-Z-Boy with a six-pack at your side.
The big reason that we can't find karaoke kiosks, though, is that malls and amusement parks aren't as attractive or crowded as they once were. People don't go to either place for scads of entertainment options anymore; they simply want to do their thing and get out. That usually means they're riding the NinjaBoticCoaster2000 until they puke or hunting for the perfect magenta pencil skirt -- that is, if they're even physically shopping and not just buying shit on eBay. People don't hang around for seven hours, searching for random entertainment. There are karaoke bars for that, you know?
It seems there just isn't much money to be made in the portable karaoke business nowadays. It's a shame, too, because who wouldn't want to sing "Whoomp! (There It Is)" in front of some glitchy bald eagles or waterfalls? Hmmmm...maybe I'll look into adding this priceless aspect to my bar and party shows. In the meantime, I'm putting you guys on Operation: Karaoke Kiosk duty, because I'm out. Let Miley take you home.
As an in-demand karaoke host at many bars and events, Allison Babka receives her share of drunken song dedications, occasionally makes people cry and even has been glorified by a singing psychic. She sings entirely too many Miley Cyrus songs, and she hates herself for it. Bug her with karaoke nonsense on Twitter at @ambabka, and use #rftkaraoke.
Follow RFT Music on Twitter or Facebook. But go with Twitter. Facebook blows.