Taylor Swift | Ed Sheeran Scottrade Center March 18, 2013
When music editor Daniel Hill assigned me to review Taylor Swift's Red tour at Scottrade Center, I assumed I'd have to pull his Bieber shenanigans to live through it. Thousands of screeching teenagers? No Serious-Musicians-In-Capital-Letters? Pop songs about breakups? Welcome to my nightmare.
Except it wasn't. Instead, it was magical, in that I-believe-in-Tinkerbell kind of way.
See Also: -Taylor Swift Is Saving America -Taylor Swift Is Destroying America
As this was my first TayTay show, I had no idea what to expect, so I turned to the most reliable resource I could fathom: teh interwebz. First, I looked up all kinds of T-Dawg news and outfits (pinned for your pleasure). I learned that her latest album Red isn't so bad, she loves red heart sunglasses, she wears mom-approved shorts and she dances in a lot of animated GIFs. Awesome, frightening, frightening, awesome.
I then asked Twitter and Facebook followers what I should watch for during the big T-Swizzle extravaganza, and they had a LOT of suggestions. Here's what folks wanted to know about, along with my observations from the show:
The looks on kids' faces when they saw Taylor for the first time? The children screamed for T-Dawg, and I drank their Kool-Aid about two minutes later.
The arena went dark, video screens saying "Red" and "Taylor Swift" rose from the stage floor and suddenly, there was TayTay, posing in a white lacy top, a black "Blossom" hat and the first of many high-waisted shorts. T-Swizzle looked left, looked right, smiled straight at the camera and pranced down the elaborate staircase.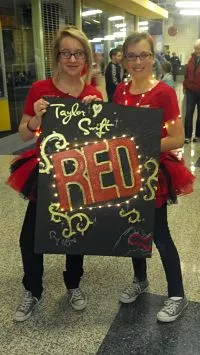 Have you ever heard 14,000 hyenas? Have you ever seen 14,000 tiny people losing their shit at the same time? Have you ever wanted to bottle up the utter rapture of 14,000 people relishing their first anything? I experienced all of this during Swift's first song, "State of Grace," and was completely overwhelmed by the excitement, appreciation and calamity of the young fans who were seeing their idol for the first time and perhaps even taking in their first concert ever. As remembered my own first show -- New Kids on the Block in 1989 -- I tearfully looked around and considered advising the kids, "This feeling? This best-experience-ever of having music course through your ears, eyes, heart and fingers? DON'T LET IT GO!"
So the kids' faces? Wide-eyed wonder. My face? A watery mess. I'm such a sap.
Goat remix? Ok, seriously, people, I don't get the supposed hilarity of goats "singing" parts of pop songs. SOMEONE EXPLAIN WHY THIS IS SO FUNNY! Anyway, no, she didn't mention a goat, didn't sing like a goat and didn't show a goat video to the audience.
Singing something in tune for once in her career? I shared my friend's skepticism that High Priestess Swifty would be able to hit every note perfectly for her congregation. Based on her cleanly processed albums and unexceptional awards show performances, I wasn't expecting anything but radio-friendly mediocrity. Boy, was I wrong -- Swift easily nailed each song cleanly and strongly. Only a muffled, bedazzled microphone contributed to making TayTay occasionally sound less than stellar.
Wardrobe malfunction? There were a ton of wardrobe changes (including a questionable pair of stretchy red pants that were supposed to resemble jeans), but Swift wore nothing that made parents cover the eyes of their innocent urchins.
Weird costumes? Um, yeah. Taylor had a month's worth of Red-themed Halloween costumes.
Black hat, white lace top, black high-waisted shorts, red sequined flats
Short red sequined dress, elbow-length red gloves, red heels
Floor-length flowy red dress that reveals red high-waisted sequined shorts
Red sleeveless top, black belt, white sequined a-line skirt, red ankle boots
Black and white striped shirt, red pants, letterman jacket with a red sequined "R."
White princess dress with stiff peplums
Floor-length black sheer skirt attached to a black romper
Sleeveless, Floor-length white Hollywood glamour-style dress
Black sleeveless shirt, knee-length white tulle skirt
Red sequined tuxedo jacket with long tails, black marching-band front, black hat, black high-waisted shorts
Swift posed an awful lot before and during songs while wearing these costumes. The girl's definitely had some modeling experience.
An interruption by Kanye West? I think you're confusing 2013 with 2009.
Women thinking about their own ex-douchebags during every song? With T-Dawg as our singing therapist, we all learned more about ourselves and our pasts than Valerie Bertinelli in a Lifetime movie. Seated with an acoustic guitar on a small platform near the rear of the arena, Swift described a song request she saw on Facebook from a girl who was "going through a really rough time. I've been through that same thing." Swift shook her head and said, "You know, I think it's really easy not to cheat on someone." After beautifully performing a quiet but powerful "Should've Said No," T.S. smiled at the audience and laughed, "I'm fine. I promise, I'm fine." Most of the females over age 21 nodded knowingly. Some cried.
Any rapping? No, T-Swizzle did not get jiggy wit' it. Dammit.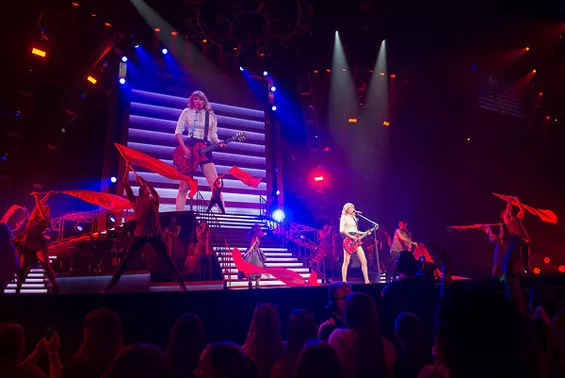 Choreography for "22?" The moves during Swift's latest single -- and during every song -- were entertaining, and it was clear that TayTay had a solid choreographer and dance team behind her. The high school bit during "22" was pretty adorable, and children throughout the arena gasped when T-Dawg decided to crowdsurf. I was confused by the dancers' 90s attire, though. What was up with the floral sundresses, backwards hats, sleeveless denim shirts and flannels around waists? Are these back in style and I just don't know it because I'm old? AM I OLD?
Ridiculous bangs? In many promotional photos, Swift looks like she's had too much fun with a round brush and a blowdryer (I mean that literally, not suggestively). In person, though, the bangs worked -- especially when her hair was pulled back into a ponytail. Maybe because they've grown out a bit?
Cover songs? She threw the first verse and chorus of the Lumineers' "Ho Hey" into the middle of "Stay, Stay, Stay." It pretty shake-your-ass dance worthy.
High production value? I can't even imagine how much a show like this might cost. The Red tour was a spectacle in every way, from the musical merch trunks in the lobby to the multiple elaborate costumes for about 25 on-stage people, from the multi-stage setup to the pyrotechnics and lights show. For goodness' sake, TayTay flew through the freaking air several times. The overall Swifty concert experience is nearly at U2's level -- and as a 25-show U2 veteran, I don't say that lightly.
Any "real" country music? No, not really. With each album, T-Dawg creeps further and further away from her country roots. Can anyone even name a full-on country song by our girl? The audience wasn't going to hear that stuff anyway, as the Red tour focused on her latest album, with just a few bones thrown to previous hits.
The ending? No, my friend wasn't interested in what T-Swizzle would perform or wear for the grand finale; the non-fan just wanted it all to end, period. End it did, but not with the patented eyeroll he expected from me. I actually was wowed by Swift's spectacle for "We Are Never Ever Getting Back Together." We caught an early glimpse of the band geeks-and-Wonderland-on-crack performance during this year's awful Grammys in February, but seeing it all in person was completely jaw dropping.
Critic's Notebook:
Opening act: I saw British ginger Ed Sheeran perform one song, and it was boring. The end.
Sign o' the times: TayTay fans plastered the arena with signs displaying undying love for their idol. Many featured 13 (Swift's favorite number), 22 (the latest single from 2012's Red), hearts and plenty of lights.
Swifty Style: Women of all ages sported Taylor's various looks, with sequined EVERYTHING, red dresses, cowboy boots and giant headbands most prevalent. One guy in his 20s wore a copy of Swift's red sequined ringmaster outfit from the "We Are Never Ever Getting Back Together" section of the show.
Bang on the drum all day: During "Holy Ground," a drumline in red Tron suits flew down from the ceiling, offered TayTay a glowing drum and spaztastically beat the instruments in unison.
Background, my ass: T-Swizzle's backup singers, band and dancers were phenomenal. The entire team was animated, engaging and overachieving. Swift's violin player was especially mesmerizing. This fiery redhead opened "I Knew You Were Trouble" solo, performing while lying on the floor before sprinting over the center bridge, sliding to the edge and doing backbends while still playing. Please clone this woman and install her in all bands.
Feel this: Swift obviously carries a grudge against anyone who complains about her song topics. "Hi! I'm Taylor, and I write lots of songs about my feelings. I'm told that I have lots of feelings," she said before performing "Red."
Pumped-up pop: TayTay's band changed up a few well-known singles, adding groove and oomph to these worn-out hits. "You Belong with Me" turned into a 60s pop number, "Trouble" became an industrial symphony and "Love Story" sounded like something from the weird Edward Scissorhands musical. Oddly enough, it all worked.
Scenic route: Swift's team switched up the set elaborate dressing and costumes after every two or three songs. Themes included '40s paparazzi, a masquarade ball, a steampunk musicbox and more.
TWSS: T-Swizzle had some trouble adjusting her mic stand on the platform at the rear of the arena, exclaiming, "This is soooooo haaaaaard." Naturally, I wrote that down, along with "That's what she said."
Mathlete: Before performing "Sparks Fly," Swift gave the audience a math lesson. "This guitar sounds different because it's a twelve-string. Most guitars have six strings. 6x2=12. I just did that math in my head. You're welcome."
REALLY? #1: A promotional video before the show hawked T-Dawg's American Greetings card line. "Hey there! Want to let your friends know what a great time you're having?"
REALLY? #2: Swift mentioned her recent Academy of Country Music Awards nomination for Entertainer of the Year, following that with "If you wanted to vote on that, since it's completely fan based, I'm not going to stop you."
Buy now: The entire concourse belonged to Swift, with more merch tables, signage, video boards, costume displays and kiosks than I've seen at most shows. Want to smell like Taylor? Buy her perfume! Want to have cute feet? Buy her shoes! Want her to trend on Twitter? She's got a million hashtags for you to use!
Notebook dump: "Taylor = best babysitter ever." "She should be in Grease." "It just hit me that some of these kids are seeing their first concert ever, and they're so happy. It could be worse."
Setlist:
"State of Grace"
"Holy Ground"
"Red"
"You Belong with Me"
"The Lucky One"
"Mean"
"Stay Stay Stay"
"22 "
"15"/"WhiteHorse"/"I Almost Do"/"Ours"
"Everything Has Changed"
"Begin Again"
"Sparks Fly"
"I Knew You Were Trouble"
"All Too Well"
"Love Story"
"Treacherous"
"We Are Never Ever Getting Back Together"
See also: -Ten Bands You Never Would Have Thought Used to Be Good -The Ten Biggest Concert Buzzkills: An Illustrated Guide -The 15 Most Ridiculous Band Promo Photos Ever -The Ten Worst Music Tattoos Ever
Follow RFT Music on Twitter or Facebook. But go with Twitter. Facebook blows.