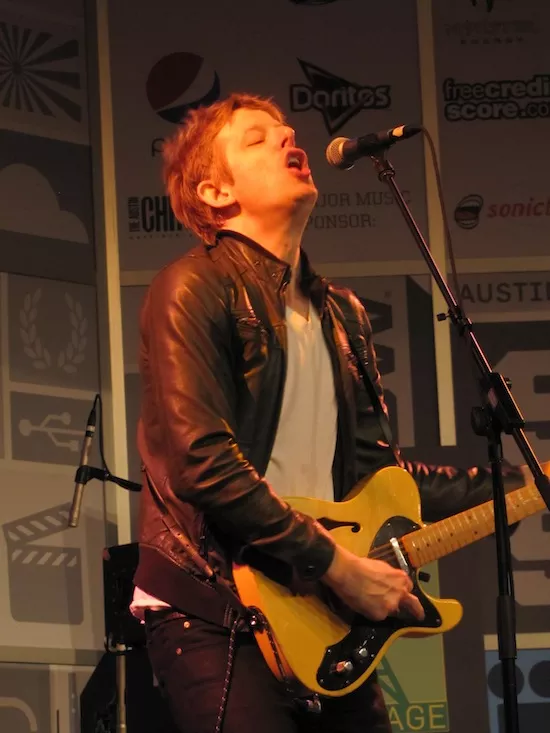 Dana Plonka
Britt Daniel of Divine Fits at SXSW
This happened:
Laura Cantrell
, a New York-based country singer and songwriter, shared a stage with two friends, Rosie Flores and Kristi Rose, backed by Fats Kaplin and Mark Spencer, two of the finer musicians in a town that, on this or any week, affords some stiff competition. The trio of voices filled one of the most enduring and endearing dance halls in Texas on a Saturday afternoon at SXSW 2013. And it all happened for free.
But nothing is free in this world. That's why we have the cliché. Even with all the time and resources and will power it took to make that one small moment of singing happen, it felt free -- and all the slavish, trend-mongering absurdities before, after and around it made the moment feel freer still.
And that, all ye SXSW haters, skeptics, opportunists and cynics, that is why it's worth it all.
If I'm sounding sentimental, it's because on a late Sunday afternoon I'm winding my way back home to St. Louis from Austin -- but not quite yet; there are more 75-degree breezes and friends to enjoy before heading to the airport -- but, fear not, the sentimentality won't last.
SXSW 2013 was a brutal and beautiful happening, and here's some of the reasons why.
Dana Plonka
Phosphorescent at SXSW
Whining won't get you into heaven, or into the Phosphorescent show. NPR has been on quite a run. After last year's supremely naive post by an intern who rationalized BitTorrenting like a 12-year-old, its music blog recently ran a post by Andrea Swensson who waxed nostalgic for the good old days of six years ago when she didn't have to wait in so many lines or spend so much money in Austin in the spring. The author made a sad face that she only saw 30 bands last year. Tip: Try harder, schedule smarter and be less sad. The average sophomore could see that many bands (if quantity matters, which it doesn't) in one day, and never have to pay for the pleasure.
Example A: On Friday night, Phosphorescent, who played as many parties as any schedule could allow, knocked my tired bones through the back wall of the Red 7 Patio. The band started 20 minutes late, but so what? Its 25-minute set sounded like U2 meets the E Street Band in ways that comparison does little ultimate justice. The final, cascading sheets of rock & roll and one long, Youngian solo from Matthew Houck were exhilarating. Someone, anyone, book this band in St. Louis.
Dana Plonka
James Hunter at SXSW
Who are the "5" Royales? "The guys I imagine started all this." That's James Hunter's terse explanation. The blue-eyed R&Ber is back after the loss of his wife to cancer and the contemplation of retirement. His SXSW set on Thursday evening at Antone's left blisters on his fingers and groove like blood on the concrete floor. When he pays tribute to the R&B legends like the "5" Royales he demands a tribute of his own.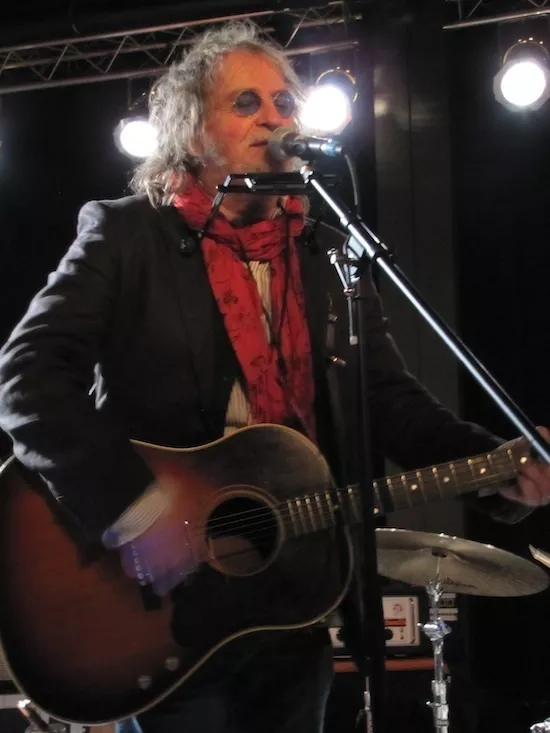 Dana Plonka
Ray Wylie Hubbard at SXSW
Dana Plonka
Jim Lauderdale and Buddy Miller at SXSW
Sometimes playing it safe isn't. I've seen Ray Wylie Hubbard and Buddy Miller and Jim Lauderdale more times than I wish I hadn't had that seventh V&T. Even sober -- that happens sometimes at South By -- I felt the cut of Ray Wylie's mean but generous slide licks and deadly but poetic wit at Stages on Sixth (as did a good crowd of college kids, who apparently aren't all lost to the buzz) and sang along to Buddy and Jim's vigorously reworked country standards (plus one great Joe Tex cover) and originals at the Americana Music Association's event at Antone's. The sound from Buddy Miller's baroquely-customized guitars was anything but safe.
Dana Plonka
Divine Fits at SXSW
Divine Fits really are both. A noon radio broadcast at the convention center isn't exactly the most thrilling setting for Britt Daniel and Dan Boeckner's recent incarnation, but you try telling them that. The chemistry between the two trumps -- at least on stage -- their non-side projects Spoon and Handsome Furs; a final, loud and sweat-showering cover of Nick Cave's "Shivers" generated just that.
The ghost of Amy Winehouse and a baritone saxophone. On the patio stage at Red Eyed Fly, Chicago's Wild Belle, featuring brother and sister Elliott and Natalie Bergman, tried to raise the spirt of Amy Winehouse; take that not as a dig. More indie-dark than R&B-cursed, the band dealt a good groove and ended with a dub-drenched finale, featuring bari sax and the sultry Bergman coming into her own style. Such a transformation on stage is a rare happening during the grueling SXSW week.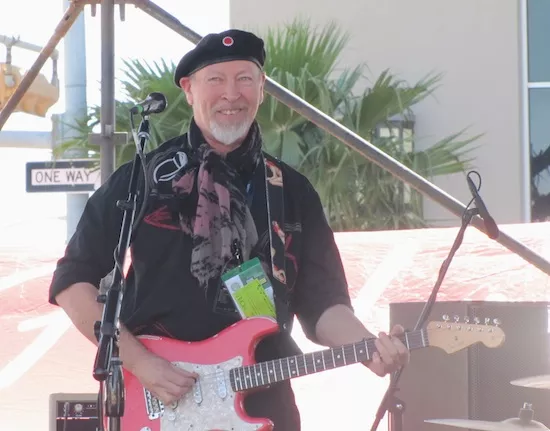 Dana Plonka
Richard Thompson at SXSW
Fan down, Richard Thompson up. Your mother told you to hydrate but you didn't listen, because you're 55 years old and have been microbrewing it since leaving the shade of your man cave. Standing for hours under an unforgiving sun on a black-top lot outside Waterloo Records isn't for amateurs. The aforementioned gentlemen toppled two songs into Richard Thompson's sterling "Celtic power trio" set on Friday afternoon. Thompson stopped playing immediately, called for medical attention and five minutes later was back where he left off: proving why he earns the star on his beret with every chime and thrum from his rose Stratocaster.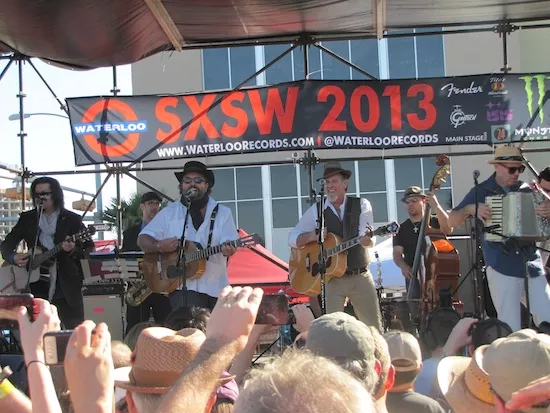 Dana Plonka
The Mavericks at SXSW
The ghost of Gram, the gospel of funk and the country of the Mavericks. "What the hell," said Emmylou Harris to her old friend and former bandmate Rodney Crowell. "Let's do 'Wheels.'" The song, like the duo's opening number "Return of the Grievous Angel," was written by Gram Parsons. Crowell didn't have to play Gram to Emmylou's Emmylou, but it happened and who would want it otherwise. Just before this Friday-afternoon-closing set at Waterloo Records, the Mavericks returned from the grave of retirement, sounding like Bakersfield had been moved across the border and smiling like the band knew what it could still do with dual accordions, dual horns and quintet harmonies. If that wasn't soulful enough, the Relatives, legends of Dallas gospel-funk, moved smooth and just a little psychedelic, Curtis Mayfield-style, across the stage as the sun receded. It won't happen but I'll ask all the same: Someone, anyone, take a chance and book this band in St. Louis. They won't be happening like this forever.
Dana Plonka
Kitten at SXSW
Punk-rock pole dancing without a pole to "Purple Rain." This happened: A singer named Chloe Chaidez of L.A. buzz band Kitten flailed, gyrated, slammed, leapt, purred, posed, squatted (active verbs don't fail me now) and squealed S&M-style around the stage of the Clive Bar in the trendy Rainey Street District for a Friday night showcase. Yes, Prince was in town on Saturday for a lottery show, but I'm guessing "Purple Rain" wasn't a last-minute call. The sex appeal, leopard-print shorts and all, had calculation and teeth. More punk and less drama and this band could change my nieces and nephews' lives.
Dana Plonka
China Rats at SXSW
Punk pop > pop punk. At the consistently entertaining British Music Embassy evening parties one always finds at least a few baby bands to remember. Witness China Rats, a punkish quartet from Leeds, UK with pop hooks that beat just about anything fellow SXSWers Green Day have recorded in a decade. The Rats' politics lit up through the blaze of guitars -- "At least those kids are getting fed!" yelped lead singer Graeme Thomson in his best Lydonese -- as did its charisma.
Charlie Mars, in his own words. "I wrote this song while eating banana popsicles, getting high and listening to 'Dark Side of the Moon.'" Need I say anything more about this faux-reggae, faux-sensitive, surfer-rock dude? Need I explain why I sat in a church and listened to his showcase? Fine: Natalie Maines followed.
Dana Plonka
Natalie Maines and Ben Harper at SXSW
Going to church with Natalie, Lloyd and Ben. At Central Presbyterian Church -- simply the best place to listen to a SXSW set -- Natalie Maines showcased new songs, co-written with producer and, on this evening, mean steel guitarist Ben Harper. The new material sounded strong but only vaguely country; covers of Pink Floyd's "Mother" and Jeff Buckley's "Last Goodbye" stunned; and a final guitar duel between Harper and Maines' dad Lloyd reverberated everywhere. Maines' voice has never sounded more free.
This is your brain on drugs. This is your brain on Gang of Four. A nerdy post-punk band named Parquet Courts never caught fire but they burned away the memory of a dozen disappointments -- no Prince, Justin Timberlake or Dave Grohl's Sound City Players tickets, no memorable tunes from Lee Bains III & the Glory Fires or Dead Leaf Echo, no entrance to the Rhye showcase etc. -- with brittle rhythms and gangly howls. It wasn't a Macklemore-sized happening, but it happened just when I needed a shock to the cerebral cortex.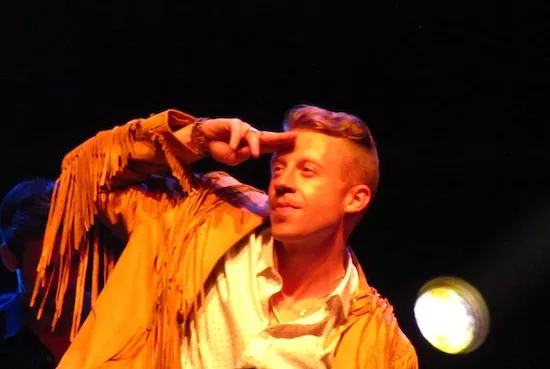 Dana Plonka
Macklemore at Perez Hilton party at SXSW
Perez Hilton throws a pretty good party. It's not like I paid to get in but Mr. Lavandeira raised a serious chunk of change ($53K if the press release is to be believed) for VH1 Save the Music and the Gay, Lesbian & Straight Education Network, both worthy causes. Paloma Faith sounded excellent on an INXS cover, and I would have traded a few more songs from the UK-pop diva for the hackneyed DJ set that filled the gap before the well-meaning but hyper-hyped Macklemore & Ryan Lewis took the stage (the 40-minute delay meant the band was three hours ahead of hip-hop schedule). It's not hard to see the charm or the skills; I agree with nearly every sentiment, even the most cheesy and breezy, but Mr. Haggerty was plainly rapping to the choir on the treacly liberalisms of "Same Love." The packed Austin Music Hall loved every minute; I preferred the lark of "Thrift Shop," with Wanz roaming the stage like a cool hamster in a maze.
Support the home team but cut your losses. It's not every SXSW that I encounter a showcase by a band from my hometown of Elmhurst, Illinois (population 44,000). The Orwells sounded fine on MP3 so I gave them a chance on a final night of SXSW: I wasn't sporting a purple wristband for Prince; there wasn't much to lose. But dudes: The tie-dyed Captain-America getup you bought for the lead singer at a truck stop in Waco, Texas is not working, nor are his Cobain-affectations, and, finally, guitar tuners are your friends.
The punk-rock poetry of Sixth Street. "I want to be dead! You don't know what it's like to be dead!" Overheard as a young man tried to calm a woman who, clearly, had consumed one-too-many Sixth Street slices.
The punk-rock poetry of pedicabs. This SXSW marks a record for pedicab services purchased; in hindsight nary a tip is regretted. Some of these drivers duel like Ben-Hur powered by muffins and pizza slices, some ride topless. If you see the latter, tip her extra, or prepare to be mocked.
Networking dos and don'ts. On the veranda of the opulent Driskill Hotel, I'd hope to enjoy a cocktail in peace before returning to the fray. "Excuse me, but what do you do?" asked a couple of young men passing by. They were polite enough, and as I explained my august occupation, they shared their story: "We're in a band from Detroit called Royal Oaks. We're just here doing the networking thing. We've sold 7,300 copies of our album, on our own and at full price, so we're just looking at the next level."
At this point the level-uppers should have been asking for the writer's email, or maybe giving the writer a download card, a CD or an origami envelope with some cocaine inside. But no, the dudes moved on, unsure of how to take the news that at SXSW 2013 "Royal" -- like "Ghost," "Wave," "Beach" and "Lion" -- is to bands what "Alden," "Sophia," "Emma" and "Ethan" are to babies. The word has become a band-name meme. As the two walked away, a small part of their soul had died, never to be reborn.
Dana Plonka
Lester Sterling of the Skatalites at SXSW
A septuagenarian alto saxophonist at SXSW. Two genres, jazz and classical, are underrepresented at South By Southwest. This makes sense as they're not known as musical forms you can puke to. Ska and reggae are rare as well, but out under the tent on the carpeted patio of Stages on Sixth, the Skatalites -- led by original member Lester Sterling on alto sax and featuring cameos from singer and ska-hitmaker Doreen Shaffer -- threw one-last party deep into the last hours of Saturday night and Sunday morning. No one stood in line for the show and no one did the "Harlem Shake." Everyone danced, this exhausted writer among them, and we were all happy to be happy together one last time in Austin.
Postscript: KDHX and Twangfest Day Parties at the Broken Spoke. I began with an image from a notoriously done-with-SXSW-don't-even-ask honky tonk on the southern outskirts of Austin called the Broken Spoke. Even if you hate country music and, by your hipstertude, the people who listen to it, the Broken Spoke demands a visit. Filled with country-music history, the Spoke has hosted everyone from Willie Nelson to Bob Wills to Dwight Yoakam. After fellow South Austin venue Jovita's shut down -- something about black-tar heroin -- 88.1 KDHX and its festival Twangfest needed a new home for their annual SXSW day parties. The Spoke turned out to be a fine fit, with the aforementioned Laura Cantrell, indie twang-influenced band Mount Moriah, steampunks Murder By Death, St. Louis favorite Pokey LaFarge and Austin favorites Bruce Robison and Kelly Willis and Dale Watson all playing, yes, for free to over 1000 patrons over the course of two days. As a Twangfest volunteer, I was happy to be part of the venture.
Dana Plonka
Pokey LaFarge at the KDHX and Twangfest Day Parties at SXSW at the Broken Spoke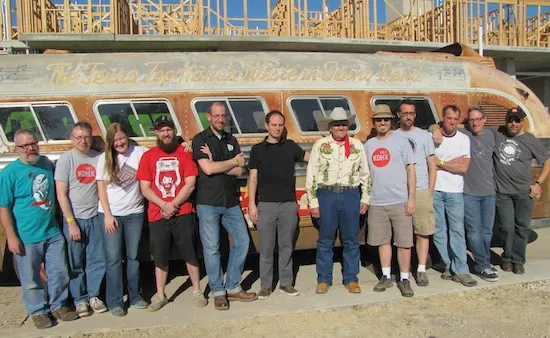 Dana Plonka
KDHX staff and volunteers with James M. White (owner of the Broken Spoke) at the Twangfest Day Parties at SXSW