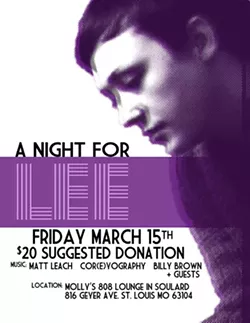 A Night For Lee - Friday @ Molly's in Soulard
It's one of those weeks. My laptop broke, my vehicle broke and ultimately, my wallet's broke. Fortunately, some shows will cost a mere $5 to provide some cheer to get over these betrayals by machines (proof that you don't have to break the bank for a good time practically anytime: check out the price sorting function on our concert calendar). And 72 degrees today? Let's hope the forecast plays out, because all this talk of sunny Texas is making us jealous. At the very least, warm up this weekend with feel-good performances such as Gateway Men's Chorus with The B-52s' Fred Schneider. Read on for more recommendations this weekend, including Caspian, Deceased and Devon Allman's CD Release.
See also: - Out Every Night: The Best Shows in St. Louis from March 11 to 17 - Alice Cooper, Bob Dylan, The Detroit Cobras, Afroman and More in this Week's Show Announcements
Friday (Mar. 15):
Behold... The Arctopus w/ Yowie, Sine Nomine @ Blank Space 9 p.m. | $5 Two of the Lou's heaviest hitting experimental rock scene vets emerge to play far-and-few-between sets to support prog metalheads Arctopus, on tour in support of their latest album, "Horrorscension." Not for the faint of heart. (MS)
Caspian w/ Native, Foxing @ The Firebird 9 p.m. | $12/$14 Subdued melodies and epic swells abound during this evening of post-rock, post-hardcore and "post-prickly" (a la Foxing). (MS)
Livingston Taylor & Janis Ian @ The Sheldon 8 p.m. | $35-$40 Two of folk music's greats, together on one stage. FYI: Livingston is James Taylor's brother. (DH)
A Night for Lee @ Molly's in Soulard w/ Matt Leach, Coreyography, Billy Brown 10 p.m. | $20 This memorial party honors St. Louis nightlife fixture and former RFT photographer Lee Harris. (MS)
They Might Be Giants @ The Pageant 8 p.m. | $25-$30 The quirky pop duo is now 25 years old. Check out our interview with the band, and be sure to check out the latest record, Nanobots as well. (DH)
Saturday (Mar. 16):
Caspian - Friday, Mar. 15 @ The Firebird
Deceased w/ Rites of Impiety, Encrypted, Manifest @ Fubar 8 p.m. | $10 Virginia's death / thrash metal band Deceased was the first ever artist to sign to Relapse Records, way back in 1984. (DH)
Devon Allman CD Release @ Blueberry Hill 9 p.m. | $25/$27.50 Royal Southern Brotherhood's Devon Allman releases his second solo album. (DH)
M!NT w/ MORRI$, SlantE, Billy Brown, Nightzel + Scarewolf @ 2720 Cherokee 7:30 p.m. | $10-$15 Nightzel + Scarewolf release a new EP at this "St. Trap's Party" named "Green & Gold." Check out our interview with MORRI$ here. (MS)
Sunday (Mar. 17):
Photo by Fabio Lovino
Emmylou Harris
Emmylou Harris w/ Rodney Crowell, Richard Thompson Electric Trio @ Peabody Opera House 7 p.m. | $30-$90 Emmylou Harris has won twelve Grammies over the course of her 40+ year career. (DH)
Tom Blacklung & the Smokestacks w/ Massive Ego, Vamos, Pillow Talk, Spending Habits @ Black Space 8 p.m. | $5 RIYL post-punk a la Unwound, Fugazi, Drive Like Jehu. (MS)
See also: -Ten Bands You Never Would Have Thought Used to Be Good -The Ten Biggest Concert Buzzkills: An Illustrated Guide
-The 15 Most Ridiculous Band Promo Photos Ever -The Ten Worst Music Tattoos Ever
Follow RFT Music on Twitter or Facebook. But go with Twitter. Facebook blows.