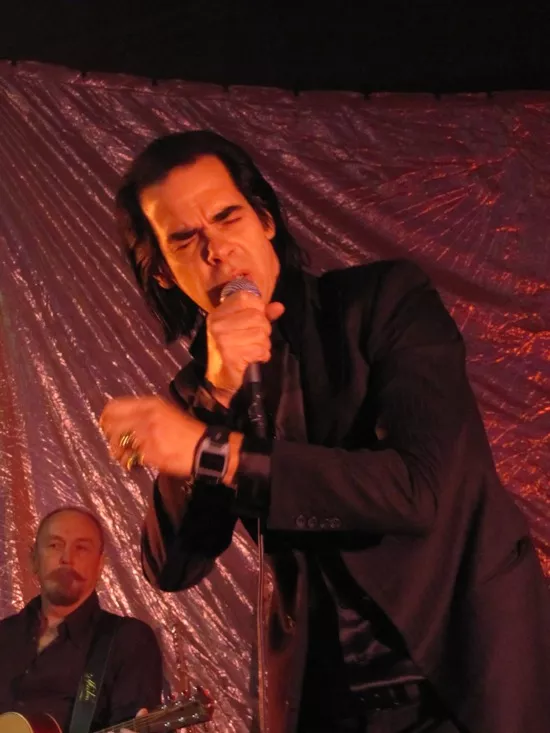 Dana Plonka
Nick Cave at SXSW 2013.
Kneeling down at the edge of the stage at the big outdoor venue of Stubb's in Austin, Nick Cave cradled a young man's head in his hands and sang his death-filled take on the deathless "Stagger Lee" myth. The jammed-in crowd laughed a little nervously. Cave stared down at the kid, who just kept nodding his head as if nothing were happening. The band, the Bad Seeds, played like the armies of the night.
Five-thousand miles away a new pope was about to take the throne. Oh hipster, my hipster, I'm not saying these things have never happened before, but you try telling Austin (or the world) that, not to mention the kid whose head will never be the same.
Nor will mine, after the first two days of SXSW Music 2013.
On Tuesday, March 12 I landed in Austin for the oft-maligned, much-misunderstood, over-exposed (I realize the irony), frequently pain-giving conference/festival/marketing-orgasm, my eleventh or twelfth such South By. I've lost count. The weather was edenic, the flight on time to the second, the rental car an easy-to-park Fiat, the Austin Convention Center just ten minutes from the airport, even with a bit of lunchtime traffic. And then the first of many snafus, always and forever built in to SXSW: the driving in circles past Saran-wrapped, after Saran-wrapped parking meter, with no lot less than $20 in view. One learns to accept these annoyances, though with each wasted minute another band, another free cocktail, another taste of the special, not-going-to-happen-again slips away. Five hours later, credentials in hand, unpacked at La Quinta (five miles out of town; don't even think about getting a downtown hotel), I was sitting at a sidewalk table at Guero's Taco Bar on South Congress, having my first margarita, the kind you rarely find in my beloved St. Louis. Happy-hour pricing was still in effect.
The first band of the week turned out to be the dream-popists of Gliss, playing for free at Guero's. This made no sense, of course, though the flickering drone suited the Hipstomatic-ready, late-afternoon light. I heard but one beautifully shaped song before Gliss ended and my table was ready.

I note the moment only to remind myself, now and then, that such stumbled-upon snatches of surprising music must be tallied against the moments of bullshit, of which there will always and forever be many.
Speaking of which: At the first Viceland party, taking place Tuesday night at a makeshift stage and quasi-complex across the street from the convention center, nobody seemed to be in charge or knew enough to even come close to being in charge. Three, four or five different lines were forming, all trying to gain access to a killer bill featuring late acts Japandroids and Divine Fits. I entered the Jansport-propagandized holding pen, where the free vodka tonics made the queue a little less irksome. An hour later, I still hadn't inched closer to the open-air event space; security was shutting shit down and clearing the holding room.
In vain I tried to start the bum rush at the door. It's just as well that I failed, though Japandroids sounded like it was taking aim and kicking the fire marshal's ass. Even with a badge, you don't always get to witness the pleasures of rock & roll firsthand.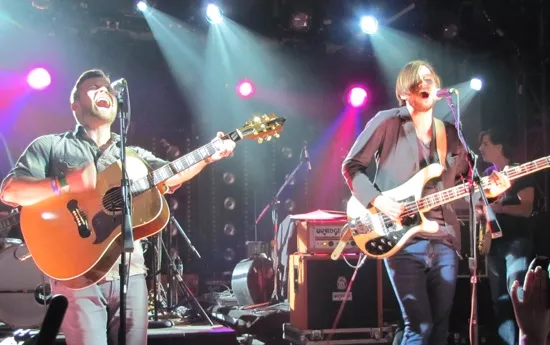 Dana Plonka
Ivan & Alyosha at SXSW.
Before all that nonsense it was Ivan & Alyosha at the Hype Hotel, in some nondescript, stripped-out commercial space in the heart of the city, my first official showcase of the week. The band has been through St. Louis to little notice or attendance. It deserves your attention, as the songs are growing ever more clear and pop-conscious, with echoes of All Things Must Pass Harrison here and there, and excellent three-part harmonies, with new song "Running for Cover" closing out the fully-into-it set with all the joy I'd hoped for.
The rumors on Twitter were false: Macklemore and Lewis were not playing at the luggage carousels at Austin-Bergstrom International Airport, but the flavor-of-the-past-few-months was playing just about everywhere and anywhere else this week, so I figured I'd cross it off the list early. Not so, as the line for Mr. Haggerty's showcase at the venue formerly known as Emo's was prodigious.
Dana Plonka
Milk Carton Kids at SXSW.
I hoofed it up to the Central Presbyterian Church for a seat at the Milk Carton Kids' first official gig at this year's SXSW. Kenneth Pattengale and Joey Ryan sounded nostalgic, recalling their initiation as a duo right here in Austin just few years ago. Dressed in their best Bible salesmen's jackets, the two singers and guitarists harmonized like the Everlys, tossed off droll self-and-audience deprecations (the two know what banter is, so don't ask for more from the cheap seats) and seemed to joke about quieting down a quiet crowd; they weren't kidding about that. Pattengale's guitar playing owes a major debt to David Rawlings, as do the Kids' co-written songs to Gillian Welch, but that's not a dig. The songs sounded like dreams. And thus ended my first night of the week.
Dana Plonka
Mac DeMarco at SXSW
Nick Cave and the Bad Seeds offered the main attraction of many (and that counts Alt-J, the Specials and Iggy and the Stooges) of Wednesday's showcases, but before we get to the doomsayer's triumph over all things bullshit, we need to turn to some of that, in the form of buzz band Foxygen at the Paste day party on Sixth Street. Oh hipster, my hipster, your fearful trip really should be done. The best argument for stealing music would be bands like the one led by Jonathan Rado and Sam France. Nobody should pay for this, and I'm glad I didn't, as dudes croaked and guffawed and pseudo-howled over clumsy, wasted pseudo-noise. Not even Marnie Stern, who played a few hours later, could so defile the very concept of rock music. Further competition for most-hyped misunderstanding of the week came in the form of Mac DeMarco and his unbathed shlock rock and lame methamphetamine allusions. To their credit, he and Foxygen raise some key questions: Do these buzz bands even listen to themselves? Do they actually like what they hear? Could it all really just be a joke? Perhaps they're just doing what they can to point out a deeper human truth.

The one that says you can sell a hipster anything if they don't have to pay for it.
Dana Plonka
Easter Island at SXSW.
But back to actual music, because no matter what the doomsayers say, that is what SXSW is about: Easter Island drew me in at that Paste party, even with its deck-shoe-gazing obsessions. Would the band, a la James Brown, fine the bass player for not cuffing his jeans? Would anyone be able to tell them apart from the umpteen other guitar-drone and psych-pop bands of the week? Probably not, but Easter Island played a lovely set all the same.
As did Dawes at the same party, even as I've come to expect much from Taylor Goldsmith's songwriting and insouciant charisma. His music, before a rapt and full Stages on Sixth, sounded elegant and tough-minded, especially given a new song with the simple romanticisms of "hoping we've got something in common." It's the small things with Dawes, the way Goldsmith makes eye contact with everyone he can, the way the band so effortlessly tracks the winding, discursive songs, the way those songs live up to their own lines of "keeping the frame wide as it can be."
Still at Paste, the Allah-Las offered a master class on the Nuggets sound, with echoes of a young Roky Erickson and the band nailing that tone, that sweet garage tone and pacing. Who cares if every song sounds virtually the same? It's exactly the sound one wants, with plenty of deceptively original hooks. A fine set, which was followed by Mojo magazine favorite Matthew E. White, a young, heavily haired dude who is doing his best with the limited bro-soul jam sound, catching my attention with the gutsy call of starting off with a round, a song form that works better when you have actual singers in the band, which Mr. White, alas, does not.
I took a break from the Paste scene for half of a predictably ferocious set from the Thermals at the Consequence of Sound shindig just up the street. Should the band ever return to St. Louis, it should in no way be missed. The punk trio couldn't hold anything back if you put it in a sweat-drenched straightjacket. It closed out loud as fuck and with high-fives to everyone in arms' reach. Killer, absolutely killer, live band.
My last two day-party sets took the form of the Shout Out Louds from Sweden (at Paste) and Ghost Wave from New Zealand (at the annual New Zealand party, of course). The former was plagued by a stupid sub-woofer mix; I could feel every follicle on my body being blown back -- and not in a good way. Still the band sounded as groovy and cool as I'd hoped. The latter, however, made no impression, though that may have been the free Zinfandel in actual wine glasses talking, or maybe it was just the fatigue of encountering yet another group that misunderstands the example of My Bloody Valentine. You're not obligated to forgive the condescension, but I'm not obligated to be bored at SXSW.
To use the word as precisely as possible: "Epic" were the lines for Nick Cave and the Bad Seeds, but judging from crowd at Stubbs, everyone eventually got in -- and then pushed in close to the stage, as the intro music, "New York Is Killing Me" by the late Gil Scott-Heron, faded down and Mr. Cave walked out behind the six-strong Bad Seeds. "I'm going to start with a long song," he announced. "I hope by the end it will be daaaarrrk."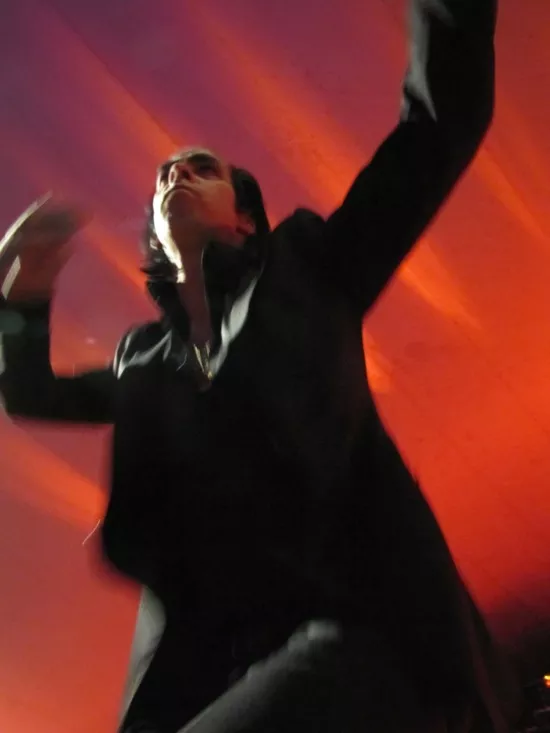 Dana Plonka
Nick Cave at SXSW
He relished the word because he's as aware of his shtick as anyone. It's that awareness that finally affords an opening to the other side, a space he creates in his performance that is more than purely theatrical. Dancing, sashaying, seething, gesturing, Cave stalked the front of the stage and tested his howls. Through that long opening song he seemed a little hurried, and the band was just settling into the mood and groove, but it was still clear that he would not be phoning this one in. He sent the photographers off with a kick at the pit and threw everything he had at "Jubilee Street," as the band ground everything it had into dust and dirt. The violinist went mad for a moment, Cave shouted out that he was transforming, and he made it seem as if that really were the case, that he could transform a concert at SXSW, ground zero for the denial of mortality, into an affirmation of the power in remembering that we are all going to fucking die, and all this, the bullshit and the beauty, will be gone.
He refined the unrefined point by mocking some poor fool in the front row for texting and gave the wonderful soul-seeking "Diana" a rockabilly swing and swagger. He reclaimed "The Mercy Seat" from the other Man in Black and, in the form of his "Stagger Lee," reminded everyone that the greatest evil is also the funniest evil. How else should we take the way he throws himself into images of fucking Satan in the ass? How else, but with deep inner laughter, should we hear and witness this extraordinary spectacle?
Dana Plonka
Lilly Hiatt and the Dropped Ponies at SXSW.
It would have made for a smoother transition to hear the desert-doom of Big Harp right after Cave, but the schedule led me instead to Lilly Hiatt and the Dropped Ponies' showcase at the unfortunately named Velveeta Room. Ms. Hiatt, the daughter of John, one of our finest living songwriters, is just lighting out as a performer and band leader, playing rocked up Americana and fronting a group of Nashville aces, notably Beth Finney on seriously gritty electric guitar. Hiatt sounds confident playing her first show in her new home of Austin; her proud dad was in attendance and grooved to her twang with the rest of the crowd. Her high, sweet voice sounds best on the heartbreakers, but she clearly has the most fun with the romps -- and she's pretty hard to resist all in all.
Dana Plonka
Big Harp at SXSW.
On to Big Harp, who played a short, potent, rightly ragged and surprisingly mope-free set at Parish Underground, and then on to the Rainey Street Historic District for Michael Kiwanuka, backed only by a bassist, and deserving better than the meh sound and a crowd there for Cold War Kids (who was set to follow him). He only occasionally shut them up. Kiwanuka is a natural open-tuned, blues-soul folkie, and his cover of Hendrix's "Waterfall" should forever be his closing number.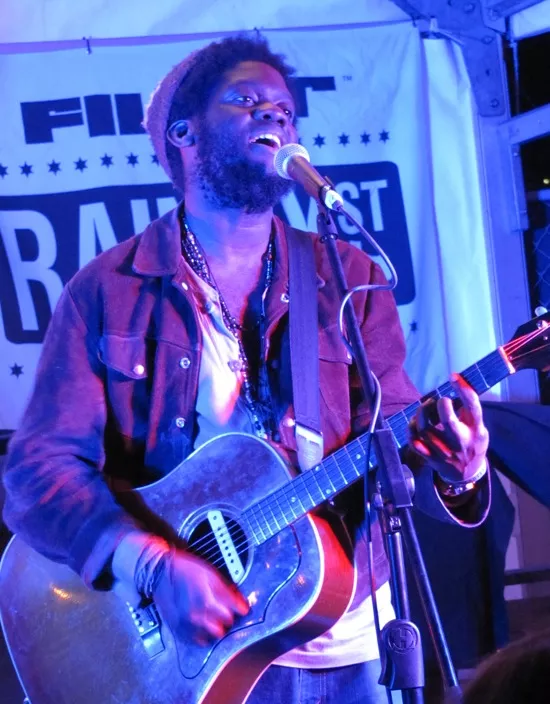 Dana Plonka
Michael Kiwanuka at SXSW
After a quick pedicab ride (I have a 28-year-old's liver but a 48-year-old's feet) I wound down at the Brass House near the convention center. It was the right place to end the second night of SXSW: the chairs were comfy, the crowd light and mostly attentive, the pours fair and rapid. The sound was another story, and despite protestations from a manager, the travesty could not be blamed on the bands or the event organizers. Look no further than a sound man paying no attention to the feedback or the fact that the resplendent Marianne Dissard's vocal mic was inaudible. More than a little tipsy, the chanteuse, to use the word precisely, savored her showcase, even more theatrical than Mr. Cave and just as soulful. Her flair for drama, her tragic sense of the beauty of living, from her tight sequined gown to her bare feet, comes from her blood and her talent, both deeply French. Backed by prerecorded rhythm parts, she led a guitarist and violinist through love-scorched boulevard songs and pirate sing-alongs. Dissard deserved more than the handful in attendance.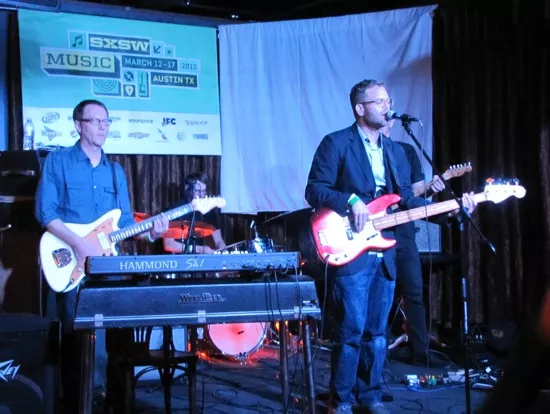 Dana Plonka
Spain at SXSW
Spain, a band that isn't exactly known as a touring machine, closed out the night at 1 a.m. The sound disintegrated further but the songs -- drawn from across the whole of the band's rich, underrated catalog -- still had a lightness of jangle and an air of melancholy that seemed to matter in ways that just another showcase shouldn't. After all these years, SXSW can still be more than one might imagine.