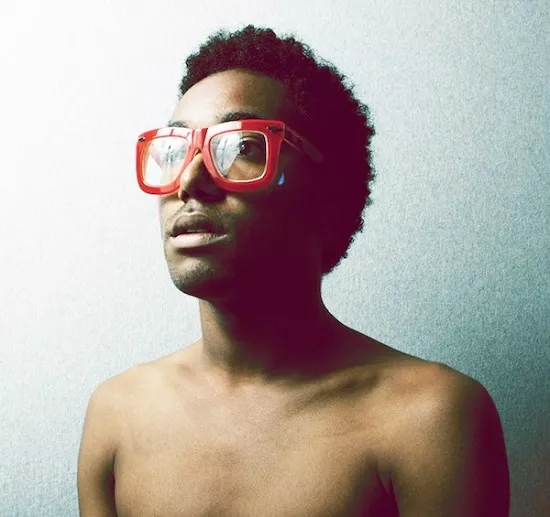 There isn't a lot of down time for MORRI$ these days. The Lawrence, Kansas-based producer and DJ has been on a tear lately, with his production work being touted through the UK-based label Night Slugs. If he's not busy with that, he's running Team Bear Club, an artist collective he founded back in 2009.
MORRI$ has been a visitor to the Gateway City several times before and likes the changes seen from previous visits. In anticipation of his show this Saturday at 2720 Cherokee, we caught up with MORRI$ to discuss his latest releases, what he likes about St. Louis and where to find good tacos.
Evan Jones: This is the third or fourth time you'll have been through St. Louis before, right?
MORRI$: The third, maybe? The fourth time.
What brings you back to St. Louis?
In the time I've been coming out there, I can tell the culture there has progressed since the first times I came out to play at Sol Lounge. The kids are getting cooler and cooler, and hipper and hipper, and more close to the cutting edge, which isn't something I can say about Kansas City or Lawrence, for that matter. Each time I came I started meeting more and more cool kids. Came out and saw Swedlife, and said, "OK, OK...I see St. Louis." Finally, you guys have stepped up to a level that even Kansas City hasn't risen to. I fuck with you guys. [Laughs]
What have you been up to since your last visit in the fall?
Dude, I've been working nonstop writing a lot of music. I've been on tour, on and off for the last month and a half. Keeping my hands very very busy.
You just had a new release come out via Night Slugs. How did you get involved with the UK outfit?
Alex, the head [of Night Slugs] who goes by Bok Bok, keeps his finger on the pulse on a lot of stuff that's going on in the underground. Even though he's in London, he's finding out what's going on in underground Kansas and underground Georgia...he's everywhere. I reached out to him two years ago, and we maintained a relationship through music and went from there.
Starting out in Lawrence, you have the Bear Club crew. For those who aren't familiar, can you describe the collective?
It's a close-knit group of my closest associates and friends, most of whom are situated in Lawrence. It started off as a way to put on our shows and events and push our vibe. As we moved forward, it came as a way to not only put on shows but also put out music. It really became the platform for me and my friends to put whatever various artistic stuff out and into people's faces. Some of us work on the clothing end and design shirts, others of us do website design, some of us are DJs and producers. It's just a way to enable a lot of people to us that platform.
"Ladyboy" just came out as well. What else can we expect you to drop this year?
I can't be too too specific, but I have been back and forth over the last few months working with my friend L1EF, who is an incredible artist. He's not just a rapper, but a producer as well. I've also been working with Spank Rock out in Philly. We've done a couple sessions that have sounded really good. I've been spending a lot of time out in LA working with a lot of different people, keeping my hands busy. Just trying to do a lot of different stuff. Your sound is self-described as "goombawave." How would you define that?
My good friend Maal A Goomba of Bear Club long ago described a "goomba" as a "nigga in nature," and that's definitely a term I've come to endear. In Lawrence I'm within fifteen minutes in any direction out in nature, and it lends itself to an introspective moodiness that you can find in me and Tom Richman's music. In addition to that, being in the middle of the United States is a collection of a bunch of different influences: Southern rap, West Coast/Bay Area vibe, East Coast hip hop and we cant forget the Chicago vibes...all of those come together in the middle and form the goombawave. It was just our attempt to reconcile all those influences.
Anything in particular you are looking forward to in St. Louis? Any favorite spots of yours?
I've been playing cooler and cooler venues. The last time I came out I played Blank Space, and I thought that was awesome. Really, really like Swedlife, so I might do an in-store when I'm in town. You can definitely come check me out there, whether I'm DJing or not. Whats the name of that Mexican spot on Cherokee?
La Vallesana?
Yeah, that spot. You can find me there. I will be there as much as I possibly can. I fuck with that place.
------ Green & Gold St. Trap's Party featuring M!NT & MORRI$ Opening sets by Billy Brown, SlantE, Nightzel and Scarewolf 2720 Cherokee (2720 Cherokee Street; 314-664-9900) Door/show: 8 pm Tickets: $10 ($5 minor surcharge) 18+
See also: -Ten Bands You Never Would Have Thought Used to Be Good -The Ten Biggest Concert Buzzkills: An Illustrated Guide -The 15 Most Ridiculous Band Promo Photos Ever -The Ten Worst Music Tattoos Ever
Follow RFT Music on Twitter or Facebook. But go with Twitter. Facebook blows.