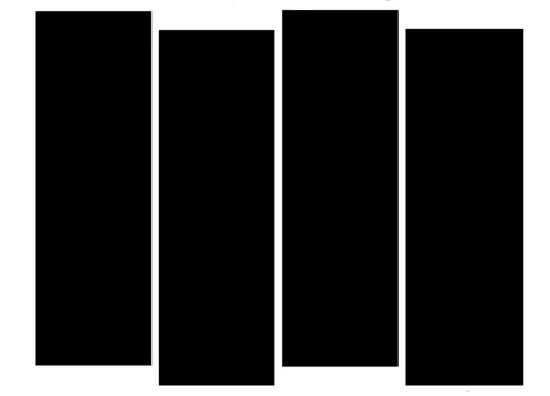 Black Flag's iconic logo.
Legendary hardcore punk band Black Flag will be playing Fubar on Friday, June 21. Tickets will be $25 in advance, $30 on the day of the show. This will be the Greg Ginn/Ron Reyes incarnation of the band, not to be confused with the Keith Morris/Chuck Dukowski/ Bill Stevenson reunion, which is currently operating under the moniker of, simply, Flag. Henry Rollins won't have anything to do with either one.
See Also: -The Best St. Louis Punk / Hardcore Shows in March
Bev Davies
Greg Ginn and Ron Reyes, circa a long time ago.
Still confused? We don't blame you -- both versions of the reunited band feature original members, but Greg Ginn is technically the trademark holder for the band's moniker. Here is an excerpt from Spin that sheds a little light on the "Black Flag" that will be coming to St. Louis:
This version is using the official "Black Flag" name and has announced that they are "putting finishing touches on a new album" that will be released later in 2013. The band's as-yet-untitled seventh studio album features Ginn on guitar, Ron Reyes on vocals (he sang for the group from 1979 to 1980), and longtime Ginn collaborator Gregory Moore on drums. "Dale Nixon," a pseudonym of Ginn's, is credited with playing bass. "Nixon" is also listed as the bassist on Black Flag's second full-length, 1984's My War. A live bassist for the upcoming tour has not yet been confirmed.
Touring with Black Flag will be Good For You, which features Mike Vallely of Mike V and the Rats / Revolution Mother, with Ginn on guitar. Opening the show will be St. Louis hardcore punk mainstay Ultraman.
Continue to page two for info on purchasing tickets.
See Also: -Cleopatra Records to Reissue Ultraman's Constant Weight of Zero LP, Ultraman Unaware
You can purchase tickets now through Ticketfly.
No release date has been given for the upcoming new Black Flag album. Regardless of reunion drama, this show pretty easily qualifies as a must-see for St. Louis fans of punk and hardcore, and the venue expects the show to sell out. Listen to 1980s classic Jealous Again EP, below, for a refresher -- this album features Reyes on vocals.
See also: -Ten Bands You Never Would Have Thought Used to Be Good -The Ten Biggest Concert Buzzkills: An Illustrated Guide -The 15 Most Ridiculous Band Promo Photos Ever -The Ten Worst Music Tattoos Ever
Follow RFT Music on Twitter or Facebook. But go with Twitter. Facebook blows.