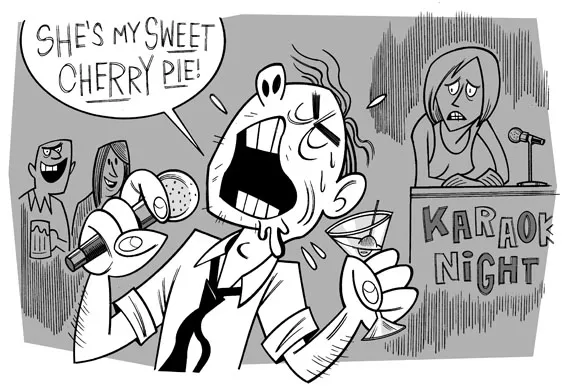 Illustration by Mike Gorman
Karaoke can be a dangerous endeavor. What can you sing that won't make friends shun you? How can you go balls-out during your next performance? Each week in "Ask a Karaoke Host," RFT Music writer and professional karaoke host Allison Babka answers your burning questions about maximizing your melodious mutterings and minimizing your friends' pain. Ask her stuff by e-mailing rftkaraoke@gmail.com or hashtagging #rftkaraoke on Twitter.
Author's note: After covering just about every karaoke angle possible over the past six months, I'm pooped. We'll be putting this column on hiatus after the March 20 edition, so if you've got crazy questions about choosing songs, performing onstage or enduring the audience's proclivity to point and laugh at you, now's the time to send 'em to rftkaraoke@gmail.com!
Besides "Theme from New York, New York," what else should be banned from a KJ's song list? -- Highway to Hell
Theoretically, nothing should be banned. If a song is in the book, it's meant to be performed. I get new songs every week for a reason: Why would I buy/license them and then prevent you from singing them?
That said, I do wish I could strike black lines through certain songs. I don't care how gifted of a performer you think you are, some numbers just sound ridiculous unless you're Matt Bellamy or Adele (Side note: Stop trying to be Matt Bellamy or Adele.).
If I owned SuperUnicornKaraokeLand, here's what I'd be excited to ban:
"Bohemian Rhapsody" by Queen: Four people wobble up to the mics with intentions of harmonizing, but they end up simply screaming over each other and giggling through the falsetto.
"Black" by Pearl Jam: Don't hate me; I love PJ as much as the next '90s kid! But I want to strangle myself with my flannel sleeves when someone performs this painfully dreary number and insists on doing all three minutes of the "Doo-doo doo doo doo-doo-doooooo" outro.
"Shoop" by Salt-n-Pepa: In my version of heaven, no one will know that this song ever existed. Goodbye, leggings girls.
"Sweet Caroline" by Neil Diamond: 1) It's SO overdone. 2) Diamond has a plethora of better songs. 3) It reminds me of the Red Sox. Yeah, fuck you, Sox.
Weird Al Yankovic songs: I'm only somewhat embarrassed to say that I listen to Weird Al on a fairly regular basis (True story: I brought the "Eat It" 45 to show-and-tell in first grade.). But his songs don't go over well on karaoke night -- especially when performers really only know the choruses.
The Glee version of anything: Friends understand that my brain assumes my life to be one long Glee episode. That doesn't mean I want people pretending to be Rachel Berry while performing a terrible, nearly Muzak'd version of U2's "One" in my bar.
At SuperUnicornKaraokeLand, I'd also employ a rule prohibiting you from performing a song more than once a month. Your rendition of "No Diggity" sure is swell (not), but people don't need to hear it every damn week. Branch out a little, Rerun.
Will you show me how you do everything? -- The Scientist
You mean let you watch me set up the speakers and amps, fiddle with the buttons and dials, do multiple mic checks, rearrange the songbook pages, distribute said books, load up the first hour's worth of videos, decipher people's handwriting on their song request slips, continually adjust the sound while people are performing, make last-minute changes to the song lineup because people are outside smoking or are too drunk to hear me call their names, monitor crowd mood, watch out for unruly folks and ensure that the bar is making money?
Fuck no. I've got shit to do, son. Find another babysitter.
Some karaoke nights can be magical, while others can be soul crushing. How do you as the KJ cope with a night that isn't going well? -- Fell on Black Days
When people aren't singing, I tend to take it personally. It's usually not my fault -- after all, sometimes I have to go along with the quiet mood of the bar -- but I still get bummed out when I'm not able to bring about a John Hughes-worthy party. Occasionally after taking requests, serenading folks with selections from "The Great Allison Songbook" and forcing my two friends into reluctantly performing six songs in a row, I just have to accept that the audience simply feels like drinking instead of singing. It always blows my mind.
When that happens, I do a few things to prevent myself from getting too far into a bitchy funk:
Play videos from the Clash, Dropkick Murphys, Morrissey and other artists whose songs people wouldn't perform anyway.
Tweet about how baffled I am that no one wants to sing.
Compile my next gig's video playlist and my own karaoke selections.
Return texts. I'm sure that some people only think I'm alive at 11:45 p.m.
Yes, when my phone inevitably dies, I do, too. I set the rig to auto-play and take frequent fifteen-minute pee breaks, counting down the minutes until I can get into my car and properly sing out my ya-yas that have been dying to escape all night.
As an in-demand karaoke host at many bars and events, Allison Babka receives her share of drunken song dedications, occasionally makes people cry and even has been glorified by a singing psychic. She sings entirely too many Miley Cyrus songs, and she hates herself for it. Bug her with karaoke nonsense on Twitter at @ambabka, and use #rftkaraoke.
Follow RFT Music on Twitter or Facebook. But go with Twitter. Facebook blows.