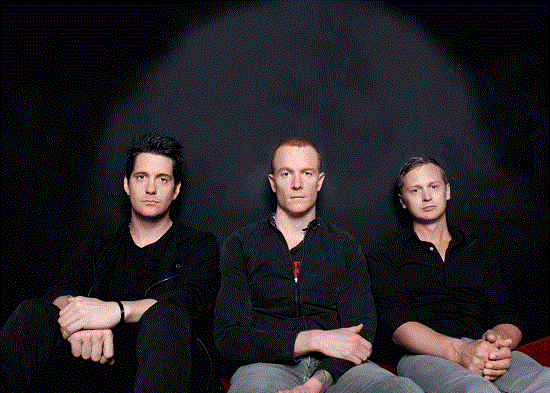 Eve 6, leading this list with thoughts about wicker cabinets.
For all the effort that is put into the art of making people laugh, often the funniest things in life happen by accident. A well-crafted joke by Louis C.K. or the Sklar Brothers is great, but most people would probably laugh harder at an old man's pants falling down on a wedding dance floor. If not for the brilliance of unintentional comedy, how else would America's Funniest Home Videos have lasted since its first winning clip of George Washington getting pegged in the crotch by his son while teaching him to play wiffle ball? Likewise, comedy musical acts like Flight of the Conchords or Lonely Island are good for a laugh too, but the real nuggets are found by sifting through the silt.
Eve 6, "Inside Out": "I burn, burn like a wicker cabinet." The simile is one of the most commonly used figures of speech in music. Alanis Morrisette thought irony was "like 10,000 spoons when all you need is a knife" (hate when that happens), Madonna had feelings "like a virgin" (obviously, a major reach) and Metric's collective heart kept beating "like a hammer." But nobody paints a verbal picture like Eve 6. Linkin Park may have burned "like a thousand suns" and Led Zeppelin may have burned "like a candle," but when you "burn, burn" only one item can properly capture the intensity of that heat -- a wicker cabinet. Certainly not one of those inflammable mahogany or cherrywood cabinets.
Hall and Oates, "Method of Modern Love": "M-E-T-H-O-D O-F L-O-V-E". Daryl Hall and John Oates possess many unique and special attributes: hair that grows as high as it grows long, an iconic mustache, songs practically invented for karaoke and spelling ability that would turn the annual Scripps Spelling Bee champion green with envy. While most fans are familiar with the first three traits, it has always been irksome to the '80s duo that few are aware of the one that matters the most to them. What other explanation could there possibly be for spelling most of the title of the song as the chorus? Little known fact: John Oates placed second in the 1997 Bee to this girl:
Bonnie Tyler, "Total Eclipse of the Heart". "We're living in a powder keg and giving off sparks." From one of the most over-the-top songs of all time comes one of the most over-the-top and indecipherable lyrics of all-time. The Beatles living in a yellow submarine (they didn't, by the way) makes more sense than the notion of living in a powder keg. Any explosion that might occur in that scenario, however, would pale to what would happen if Ms. Tyler's hair got anywhere near an open flame.
Snow, "Informer". "A licky boom boom down." No explanation required. The only explanation needed is how we, as a nation, permitted the second-worst Canadian music import behind Celene Dion to spend seven consecutive weeks at No. 1 on the Billboard Hot 100 chart with whatever this "song" was.
The Cars, "Drive". "Who's going to plug their ears when you scream?" Hold this piece of music trivia in your back pocket: This melancholy drone-fest with the most boring video ever made is the top-charting song in the U.S. of the Cars' solid-if-unspectacular career. Yes, this song peaked higher than "Let's Go," "Let the Good Times Roll," "Magic," "My Best Friend's Girl" and "Just What I Needed." Believed to be a plea to help a loved one fighting a drug or alcohol addiction, Benjamin Orr wonders who will "tell you when it's too late," "pick you up when you fall" and "drive you home" -- presumably offering to be that person. But don't get too loud -- he's having none of that.
Michael Jackson, "Beat It". "Show me how funky and strong is your fight." Call it a hunch, but I doubt the late King of Pop was particularly knowledgeable about the pugilistic arts (although it is possible that his singular glove was a bedazzled nod to boxing). Regardless, in no form of hand-to-hand combat is "funkiness" a useful skill, at least not since WWF superstar the Junkyard Dog (R.I.P.) passed away.
Kid Rock, "Only God Knows Why". "I've been sittin' here, tryin' to find myself. I get behind myself, I need to rewind myself." When the great lyricists of all time are listed, Mr. Rock is rarely included, and this probably illustrates why. It is hard to come up with a word to rhyme with "myself," there had to be better options than doing it twice with "myself." Also, unless the Kid is a practitioner of yoga, how exactly does he plan to get behind himself? Still, I'll give you a dollar if you can give me a better guilty pleasure song than this opus to the trappings of stardom.
John Cougar, "Jack and Diane". "Suckin' on chili dogs outside the Tastee Freeze." This lyric just raises a series of questions: Is there anyone who consumes a chili dog by sucking on it? Did the long-defunct Tastee Freeze sell chili dogs (because the one I remember from my youth sold ice cream)? Has a girl actually ever eaten a chili dog? Has there ever been a young man on an amorous expedition who would be foolish enough to eat a chili dog? Bad play, young Jack.
Salt 'n Pepa, "Whatta Man". "He spends quality time with his kids when he can." I have three young children, and if there is one thing I have enjoyed about fatherhood more than anything else, it's the fact that I am able to do it on my own schedule, whenever it is convenient for me.
You can (and should) follow Dave on Twitter @thegeeter.
See also: -Ten Bands You Never Would Have Thought Used to Be Good -The Ten Biggest Concert Buzzkills: An Illustrated Guide -The 15 Most Ridiculous Band Promo Photos Ever -The Ten Worst Music Tattoos Ever
Follow RFT Music on Twitter or Facebook. But go with Twitter. Facebook blows.