They Might Be Giants - Friday, Mar. 15 @ The Pageant
Oof. Does anyone else feel the subtle, oh-so-sleepy effects of daylight savings time? We're hoping no one fusses at us when we inevitably stumble in half-asleep, an entire hour late to the Monday morning staff meeting. Spring forward, you say? As long as that means more sun and shows, that's fine by us. Get a glimpse of the high caliber of concerts to come by reading this week's recommendations after the jump.
Note: Though we wish we could, we can't cover every single show happening in town in just one measly post. Look for plenty more recommendations this Friday in our weekend show post, and peruse the St. Louis concert calendar for more ideas anytime.
Mutilation Rites Monday, Mar. 12, 8 p.m. w/ Inter Arma, Ashes and Iron, Everything Went Black @ Fubar - $10-$12 By Rick Giordano From "The Best St. Louis Metal Shows in March": Mutilation Rites's name sounds like a death metal band, but it's record label Prosthetic is home to mostly hardcore, but the band plays black metal. Confused? Don't be, because the band rules. I avoided giving it a listen for the longest time because I thought the band name was dumb; little did I know the name was taken from a song by black metal legends, Inquisition. Great, so I'm superficial AND I'm a poser. Anyway, as many of you know, that fine line between stupid and clever discussed by Spinal Tap can be all too evident in this subgenre, but Mutilation Rites land perfectly on the latter side of said line. The band plays fast paced, raw black metal that moves from anger to sadness to eerie beauty with intensity and purpose, never sounding contrived and without the corpse paint clown outfits. This is without question some of the best black metal you'll see in this town anytime soon.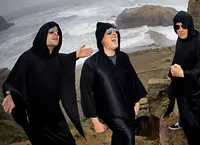 The Spits Tuesday, Mar. 12, 8 p.m. w/ The Scam, Maximum Effort @ Fubar - $12-$14 By Daniel Hill Fans of fun, infectious garage-punk à la the Ramones will feel right at home within the world of the Spits, whose dirty punk-rock sound is often accompanied by the band members' propensity to wear costumes onstage, occasionally constructed out of toilet paper.
Cotton Jones Wednesday, Mar. 13, 8:30 p.m. w/ Spectator @ Off Broadway - $10-$13 By Roy Kasten With the benefit of a few years' worth of hindsight, it's safe to say that Michael Nau made the right call in leaving Page France behind and putting his weight behind Cotton Jones. Alongside his keyboardist wife Whitney McGraw, Nau channels soft-touch psychedelia and sun-kissed '60s pop, but without all that cumbersome reverence to form that burdens so many pop auteurs. The music of Cotton Jones is both buoyant and scratchy, like Belle & Sebastian rolled in burlap. Take a spin through that band's myriad full-lengths, EPs and 7-inches for evidence of pure pop soul sung by true believers.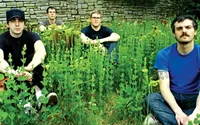 Maserati Thursday, Mar. 14, 7:30 p.m. w/ STS9 @ The Pageant - $30 By Ryan Wasoba From "The Six Best Songs With Ridiculously Long Titles": Since Athens, Georgia's Maserati is most often labeled a post-rock band, a twelve-word title such as "This Is A Sight We Had One Day From The High Mountain" may conjure twinkly guitars and an inevitable inspirational climax. Nope. This track is a steamrolling dirge with psychedelic flourishes, like Sabbath playing krautrock. The band's 2008 album Inventions For The New Season features now deceased drummer Jerry Fuchs, and "This Is A Sight..." is built around his slowed down tracks - presumably assembled while Fuchs was touring as a hired gun for !!! and/or LCD Soundsystem. At normal speed, Fuchs put an unmistakable spring in Maserati's steps. Now Mike Albanese from Cinemechanica has taken his throne, and I can't wait for a math-rock powerhouse drummer to make neo-hippy asses shake when Maserati opens for Sound Tribe Sector 9 at The Pageant in March.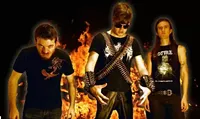 Behold... The Arctopus Friday, Mar. 15, 9 p.m. w/ Yowie, Sine Nomine @ Blank Space - $5 By Chris Glenn Danger and destruction are imminent, and an ominous presence dwells in the outskirts of our psyches: Behold the Arctopus is coming. Believe it or not, you really don't need to be a twelfth-level dungeon master to enjoy something as seemingly esoteric (read: nerdy) as prog metal. Anchored by the virtuoso hammering of a twelve-string Warr guitar and frequently wandering into the realms of improvisation and psychedelia — summoning, by sheer will, nano-nucleonic cyborgs — Arctopus still manages to keep things sounding heavy and intense.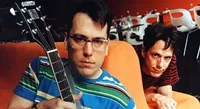 They Might Be Giants Friday, Mar. 15, 8 p.m. w/ Moon Hooch @ The Pageant - $25-$30 By Chrissy Wilmes From a 2011 show review: The large (not-quite-but-almost sold out) crowd at the Pageant last night was a perfect cross section of TMBG's fanbase: moms! twenty-somethings! hip toddlers! They were all in attendance, and they were all, of course, incessantly bouncing and singing along. Some of them were probably thinking, "Man, it's so loud in here!" And it was! Because TMBG puts the rock in nerd rock. In fact, it may be the hippest unhip band ever to grace our earballs. Who else can write songs about science, geography and the ABCs and then make them fucking rock (sans irony)? Even John Flansburgh's drug references were somehow family-friendly and, dare I say, borderline educational. (He mentioned a hankering for some hazelnut-or-perhaps-almond-flavored LSD.) It's almost enough to make you want children, just so you can raise them on such nourishing jams. Almost.
Gateway Men's Chorus with the B-52s' Fred Schneider Friday, Mar. 15, 8 p.m. Saturday, Mar. 16, 8 p.m. @ The 560 Music Center - $25 By Jaime Lees As a founding member of the B-52s, Fred Schneider has been a cultural icon, a LGBTQ pioneer and a champion of polyester for the majority of his life. His quirky, halting manner of singing has made him instantly recognizable and this weekend he will loan that distinctive voice to the Gateway Men's Chorus. Schneider is performing as a special guest with the award-winning St. Louis male choral arts organization.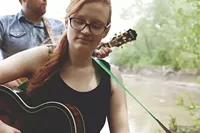 The Skekses Saturday, Mar. 16, 9 p.m. w/ The Thin Dimes @ Schlafly Tap Room - free By Kelsey Whipple Fronted by Elly Herget's sympathetic drawl, the Skekses produce world-weary folk so stark and introspective that it could soundtrack both a Wild West film and a Diablo Cody vehicle. (Actually, the now-defunct HBO show Deadwood would be perfect.) Funneled through lyrical references to crime, love and metaphorical monsters, that lilt partners with tender, paired-down instrumentation dedicated to the sounds of yesterlust: temperate banjo, acoustic guitar, upright bass and lazy, wandering beats measured out through maracas and tambourine.
Emmylou Harris Sunday, Mar. 17, 7 p.m. w/ Rodney Crowell, Richard Thompson Electric Trio @ Peabody Opera House - $30-$90 By Roy Kasten When you have a voice like Emmylou Harris' voice - with a tone, range and cool emotional charge that seems to come out of the mists of time - you need not fret over trifles of relevancy. Harris simply levitates above frays and fads, and yet she tests herself with sounds, notably her collaborations with soundscaper Daniel Lanois. And with songs, as on Old Yellow Moon, the new co-project with dean of Nashville songwriters Rodney Crowell. The two toss leads back forth with a spirit that's as swampy and honky-tonky as either have channeled in recent years.