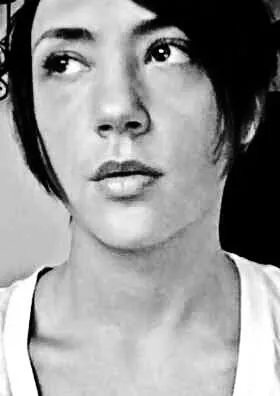 Photo submitted by Megan Harris.
Lee Harris.
Even in a crowded, dimly lit dance club, Lee Harris was an easy figure to spot.
He would be "the guy with the perfect hair and perfect V-neck shirt, with the camera around his shoulder," remembers one friend. He'd be making newcomers feel part of the group -- and making his friends laugh when the occasional straight guy mistook him for a woman and tried a few pickup lines.
"If you go to a bar where there is music or DJs, you feel like, 'I just walked into somebody else's party,'" remembers friend Billy Brown, who DJed many of the parties where Harris could be found, either on assignment for the RFT or otherwise. "He brought people together. I have so many friends because he brought [us] together."
Harris was found dead on Tuesday morning in Wood River, Illinois. He was in his mother's car, about a mile from the house where he lived with her, says his younger sister, Megan Harris.
Lee Harris was 28.
Megan Harris, who is 361 days older than her brother, said on Friday that "he was the wittiest person, and he took no shit from anyone, ever." She adds that the two were often mistaken for twins.
"Lee said what he thought, regardless of what other people would think of him for it," Megan Harris says. "I always admired the courage he had to be himself so completely. In one word, he was fearless. He loved music, fashion, horror movies, dancing and partying with his friends."
Brown befriended Harris via club nights like 2Legit and events at the now-closed SOL Lounge.
Harris' photos "helped us make connections outside of Friday and Saturday nights," remembers Brown.
"After a party or an event or whatever, everyone would be so excited to go back and look through Lee's pictures because he always captured what it was like," Brown says. "I have tons of photographer friends, and Lee is the only one who, without seeing the watermark or credit, I know that he was the one who took it."
Both Brown and Harris' sister recalled Lee Harris' sense of humor.
"I just keep thinking I'm going to get a text from him with some ridiculous YouTube video link," says Megan Harris. "What I hope people remember about Lee is that he loved to laugh and loved to make others laugh."
Megan Harris says the cause of her brother's death is pending a toxicology report but "it will either be from a heroin -- or what he thought was heroin -- overdose, or from carbon-monoxide poisoning.
"We don't want to lie about what happened," she continues. "The fact is, this could happen to anyone. If his story can help someone else, he would've wanted it to be told."
Friends will gather at 8 p.m. today at Blueberry Hill to remember Harris, and from 2:30 to 5:30 p.m. Saturday, a memorial will be held at the Knights of Columbus Hall (3305 North High Street) in Jackson.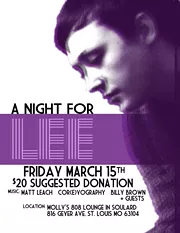 Click for larger version.
Brown and fellow DJs Corey McCarthy and Matt Leach have organized a party to remember Harris on March 15 at Molly's 808 Lounge (816 Geyer Avenue) in Soulard. Brown, who is a production assistant for the RFT by day, is suggesting a $20 donation, which he says will go to Harris' family.
I hired Lee on as a nightlife photographer for the Riverfront Times when I served as Web editor at the paper, after (easily) spotting him one night. He was engaging his friends and people whom he didn't seem to know, and taking all of their photos. I remember Harris as a passionate young photographer who took direction well, put his subjects at ease and hit his deadlines. We shared a few mutual friends, and I will miss him on my return trips to St. Louis.
Harris was a photographer for the RFT from 2009 to October 2011.
See a sampling of Lee's work for the RFT: Slideshow: I Am Music at the Atomic Cowboy Slideshow: The Friday Night Resurrection at Rue 13 Slideshow: Space Junk Dance Party at the Gramophone Slideshow: Get Serious.ly Murdered at the Atomic Cowboy Slideshow: U Can Dance at Rue 13
---
Follow @RFTMusic on Twitter. Folllow me, @nicklucchesi, on Twitter, or e-mail me here.