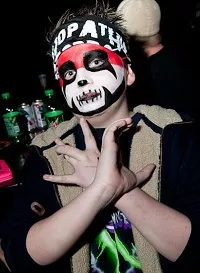 Psychopathic records affiliates Anybody Killa and Blaze Ya Dead Homie performed at Pop's last night as part of their Drive-by Tour. First off, I'm just saying, when the name of the tour is the "Drive By Tour," I feel like you shouldn't be allowed to even stop the bus. Like maybe just drive in circles in the parking lot or something, and perform through the vehicle's stereo system. I don't know, maybe I'm quibbling, but I feel misled.
Anyway, we sent photographer Jon Gitchoff to the show to catch the highlights. Pictures from the performance can be found as part of our complete slideshow for the evening. For the purposes of this post, we are just going to be looking at the night's best and worst dressed Juggalos.
See Also: -The Ten Most Psychopathic Juggalos at Last Night's Twiztid Show -We Test the ICP "Juggalo Locator" App, for the Sake of Journalism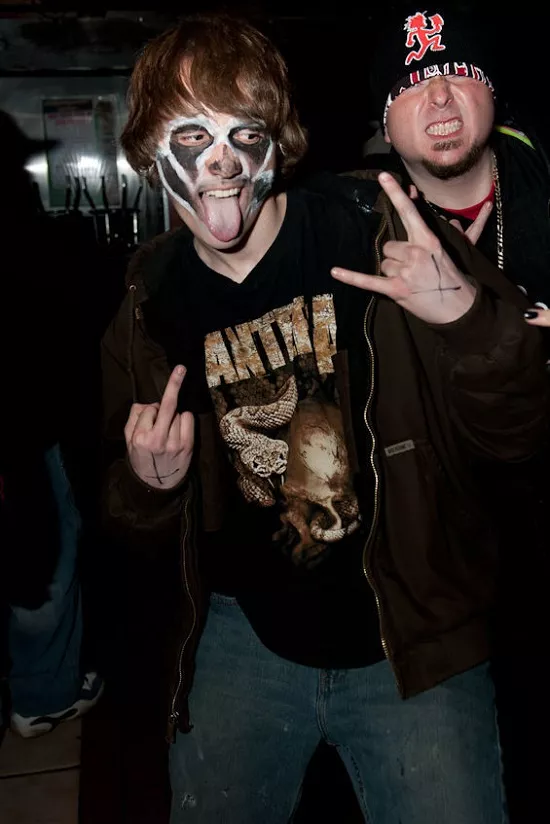 Number Ten
Between the obvious love for Pantera (I like to just call 'em 'Tera, because we're tight like that) and affinity toward psychotic clown rap, doesn't this dude seem like somebody you'd want to take with you on a long road trip? Also, I like the line of thinking, when approached by a professional photographer for a picture at a show, to strike this pose. Looking good, friend.
Number Nine
Sorry man, but did you apply that facepaint on the ride over? Uneven lines indicate a shaky hand. Nervous about the show, trembling as you got all gussied up? Either way that shit looks terrible. Step your psychopathic clown facepaint game up, bro. And what's with the "W C" hand signals? I think there are plenty of folks that would argue that you are actually repping the West Coast with that move, no matter how Wicked of a Clown you may think you are.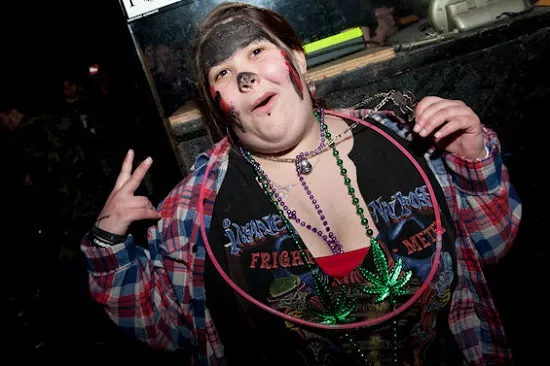 Number Eight
"Oh shit, the show starts in a half an hour and I don't have my costume together yet. Quick, hand me that shoe polish so I can just smear it all over my forehead. Has anyone seen my fancy gold pot leaf Mardi Gras beads?"
Number Seven
You aren't fooling me; you got tired of applying clown makeup halfway through. Or you didn't want to look like a complete idiot, just half of one. Well, this wicked clown shit is all or nothing, and your obvious laziness does not impress.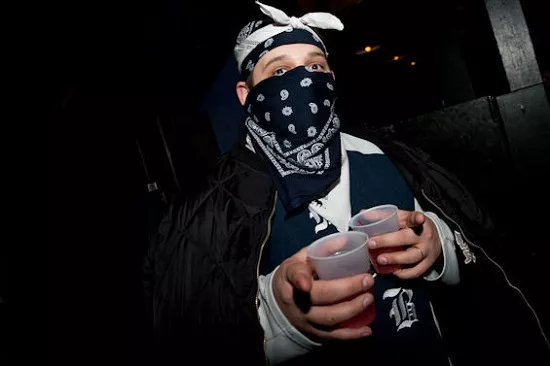 Number Six
This man's wardrobe / drink choices simply do not work in tandem with one another. Here's my prediction for the five minutes that immediately followed this photo being taken.
Bandanna-face goes to take a sip of one of the beers he is two-fisting, when he realizes he must first get the piece of cloth out of the way of his mouth in order to provide safe passage for the alcohol. Not wanting to set either one down, he attempts to pull his bandanna off with his drinks still in hand, spilling beer onto himself. Reacting from the cold liquid, he jerks his arm back, moving his shoulders and causing the jacket he has simply perched on himself to fall on the now-beer soaked floor. Frustrated, Bandanna-face sets both beers down, removes his mask, and picks up his wet jacket, disheartened and now entirely costume-less. And then some other wicked clown probably comes along and screams "Whoop whoop" in his face. I hear juggalos do that kind of a lot.
Number Five
Now THIS kid is looking good. Carefully applied makeup, a half a can of hairspray, sweet bandanna (on his HEAD, not face)....it all comes together nicely. But he looks like he's maybe fourteen, so we are assuming his mom pulled this outfit together for him.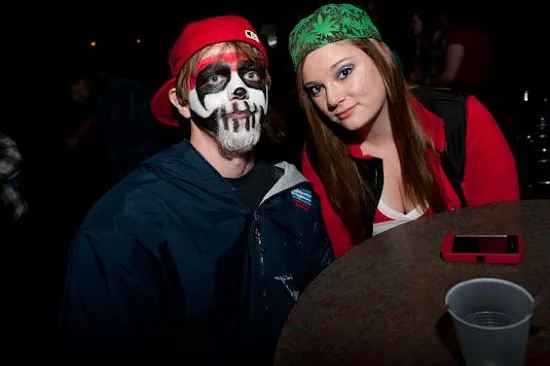 Number Four
No, not the guy on the left-- he's just a knockoff derivative of the last guy. I'm talking about the girl on the right: SWEET FUCKING POT LEAF BANDANNA. Did you pick that up at Ozarkland? Got to get me one of those.
Number Three
Not a whole lot to speak of here -- this lady's clown paint moves are lacking entirely. But my question is, what's the fur thing hanging around the legs there? Looks like you leg-locked a ferret to death, girl.
Number Two
Pretty good. Got a nice color-coordinated motif, sweet devil horns and whatnot -- but you could be at any show in this outfit. We need more clown stuff and hatchets and shit next time. And probably a bunch of off-brand soda, and a lot of shoe-polish. Honestly, you kind of look like a fool without all that stuff right now.
Number One
No help needed for this guy -- he's clearly got it all figured out. Shine on, you crazy juggalo warrior.
See also: -Ten Bands You Never Would Have Thought Used to Be Good -The Ten Biggest Concert Buzzkills: An Illustrated Guide -The 15 Most Ridiculous Band Promo Photos Ever -The Ten Worst Music Tattoos Ever
Follow RFT Music on Twitter or Facebook. But go with Twitter. Facebook blows.