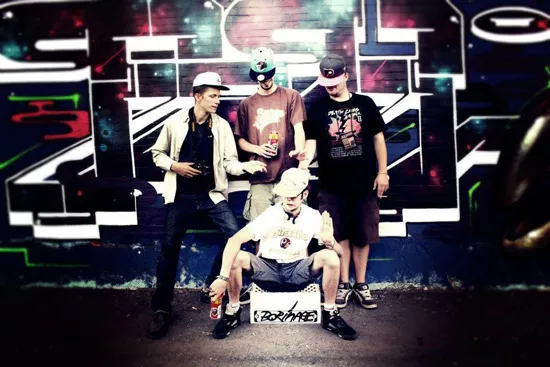 Juke Ellington - Saturday, Mar. 9 @ The Demo
Working for an alt-newsweekly can be pretty damn entertaining. Outside of reporting on the latest in local music, food and news, we get to investigate messed up Craigslist ads gone viral, exchange yo momma style comebacks to St. Louis city haters and even play the occasional pranks on each other (see details after the jump).
Posted by music editor Daniel Hill on the RFT Music Facebook page Wednesday:
"Someone up here at work is in possession of a Justin Bieber calendar, and has been using it to mess with me ever since I took over as music editor.

As many of you surely know, I co-wrote a review of a Bieber concert in October with my associate Kenny Snarzyk, wherein we snuck in whiskey and ended up being kicked out of the Scottrade Center. I didn't include the link in this post because nearly everyone has seen it by now -- it is one of our most-read of all time. (If you are in the dark, google "Crotching Whiskey". It should be the first result.)

Anyway, once a month, at the beginning of each month, a new great big glossy photo of the Biebs appears in a random place in my office. Today my office door was shut and a particularly handsome, sunglasses-ed Bieber was pasted to the door.

I have not yet had them tested for prints, so right now everyone is a suspect. I TRUST NO ONE"
All in day's work, folks, and then we've still got this awesome doozy of a weekend to look forward to. In addition to the ten you see listed here, don't forget about South by South City and Ryan Spearman's new CD release show -- narrowing down our long list to only ten events can be quite the challenge sometimes. What show will you see this weekend? Let us know in the comments. Still at a loss? Check out the RFT Concert Calendar, now available in a new and improved handy mobile app.
Friday (Mar. 8):
The Copyrights w/ The Haddonfields, The Mondales, Better Days @ The Demo 8 p.m. | $10 This evening of melodic, head-bobbing pop punk gets headed up by Carbondale's The Copyrights. (MS)
Muse @ Chaifetz Arena 7;30 p.m. | $45-$65 Space rock and new prog flank the classification of alternative rock in the Muse's almost decade-long catalog. Do we hear an orchestra in there somewhere too? (MS)
Rakim w/ Tef Poe, 12 to 6 Movement, Mask & Glove, Step or Get Left @ The Coliseum Music Lounge 7 p.m. | $25-$35 The word "legend" is thrown around a lot but, uhhhh, yeah. Rakim is widely regarded as one of the greatest MCs of all time, routinely topping critic's lists and even holding court alongside Eric B. in the Rock and Roll Hall of Fame. (DH)
Yonder Mountain String Band w/ The Deadly Gentleman @ The Pageant 7:30 p.m. | $22.50-$25 Oh yeah, I have eight tickets tot this show. Wanna win them? (DH)
Blues Control - Saturday, Mar. 9 @ Blank Space
Saturday (Mar. 9):
Blues Control w/ Eric Hall, Ou Ou @ Blank Space 8 p.m. | $5 In Drag City's Blues Control, the duo of Lea Cho and Russ Waterhouse construct impressive sonic landscapes with keys, guitar and a pile of wires and knobs. Watch them paint with sound along with a couple of St. Louis' finest electronics-based artists. (MS)
Juke Ellington w/ Moniker, iRell, 18andCounting @ The Demo 10 p.m. | $6-$8 All the way from Belgium, (not Chicago, birthplace of the juke/footwork sound), Juke Ellington's music would fit right in with that of our neighboring Windy City. Also, hi Tictic Bump! See, I'm listening. (DH)
Master w/ Sacrificial Slaughter, Fisthammer, Bastard, Hemmorhaging Elysium @ Fubar 8 p.m. | $12-$15 Chicago's Master have been masterfully (GET IT?!? OH SHIT) playing death metal since 1983, having worked with well-known labels like Nuclear Blast and Combat Records in the early days. This show announced like eight months ago or something, by the way -- "much anticipated," as they say. (DH)
Unknown Mortal Orchestra w/ Foxygen, Wampire @ The Firebird 8:30 p.m. | $12 Lo-fi indie sounds abound from this this trio based out of Portland and New Zealand. The distance between them generates some sort of a psychedelic fuzz, and it's apparent in the jangly feel-good songwriting. (MS)
Sunday (Mar. 10):
Clutch w/ Orange Goblin, Lionize, Kyng @ Pop's Nightclub 6:30 p.m. | $20-$26 Nine albums and over twenty years in, Clutch still plays hard-hitting, aggressive rock. The band's newest album, Earth Rocker is due to be released on March 19, so expect to hear some new jams at the show. (DH)
The Aggrolites w/ The Pinstripes, Unifyah @ Old Rock House 8 p.m. | $15 The Aggrolites hail from Los Angeles and have played buoyant reggae beats since 2002. Watch 'em go bananas on Yo Gabba Gabba. (MS)
Follow RFT Music on Twitter or Facebook. But go with Twitter. Facebook blows.