Jason Stoff
Girl Talk at last year's LouFest.
Last night C3 Presents -- the company that will be partnering with LouFest this year, also responsible for Lollapalooza and the Austin City Limits Festival -- hosted a "Media Happy Hour" at Five Bistro. Many members of the local media were in attendance -- in addition to RFT Music, there was the Post-Dispatch, Go Magazine, Eleven Magazine, KDHX and CBS. And probably more that we didn't get a chance to talk to.
See Also: -LouFest Will Be September 7-8, 2013 In Forest Park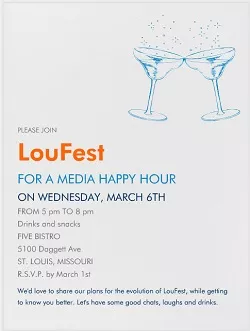 With C3 comes fancy flash player e-vites.
The purpose of this event was not expressly clear on the fancy e-invites that were sent out, only that there would be "drinks and snacks" and that they'd "love to share our plans for the evolution of LouFest."
The drinks were plentiful and free, the snacks were fancy and tasty, and the info was....scarce. All we could glean from the many friendly representatives of C3 that were in attendance is that the official lineup announcement will be in late April. Essentially, this seemed like a meet-and-greet, wine-and-dine situation.
Pretty Little Empire was playing on the stereo when I arrived, which some took as a "hint," but we looked into it and the music was put on by the venue, not by C3 or anyone else involved, so it was decidedly coincidence. I also heard the band Alabama Shakes mentioned in more than one casual conversation, but not directly in reference to the fest itself. At this point it wouldn't even credibly qualify as hearsay, but as I said, little info in general was provided.
Toward the end of the night tequila shots were passed around, and a toast was shared by the representatives of C3, LouFest founder Brian Cohen and all the media in attendance. The organizers remained coy and acknowledged that we in the media were assuredly hoping to hear something about the lineup, but that we'd have to be patient. So, in conclusion:
1. Lineup to be announced in late April 2. "Media Happy Hour" means tequila and fancy snacks 3. Pretty Little Empire is not a lineup hint 4. I heard two C3 people mention Alabama Shakes in casual conversation, but that most likely doesn't mean anything
More to come as we learn it, obviously.
See also: -The Top Ten Ways to Piss Off Your Bartender -Crotching Whiskey at the Justin Bieber Concert and Getting Thrown Out: A Review -The 15 Most Ridiculous Band Promo Photos Ever -The Ten Worst Music Tattoos Ever
Follow RFT Music on Twitter or Facebook. But go with Twitter. Facebook blows.