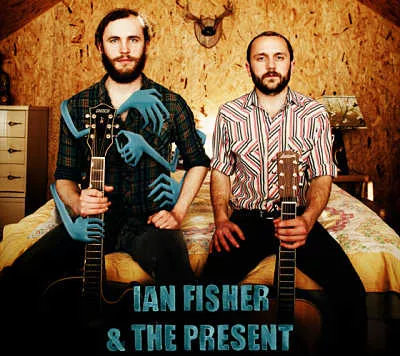 Album Art by Jarred Gastreich and Anna Kohlweis
In our music feature this week, we dive into the nomadic existence of Ian Fisher and the Present, a duo comprised of Ste. Genevieve native Ian Fisher and St. Louisan Ryan Carpenter. Fisher has carved out a living in Europe as a traveling minstrel, booking shows with Carpenter and other friends in Austria, Germany, Italy, France and beyond.
We couldn't fit all of Fisher's and Carpenter's interview gems into print, so below, we've gathered their thoughts on time travel, the Kirkwood Kaldi's location and a karaoke question they couldn't quite answer.
Allison Babka: Ian, you have a ton of projects with similar names. What's up with that?
Ian Fisher: Originally, I played music with Simon Bauer in Berlin, and we had a project called Ian Fisher and the Future because my friends said I looked so pessimistically at the future and it would just be ironic for me to be with the future. Then I formed a band with Ryan, Simon and other friends, this indie-country band that I thought would be ironic to call Ian Fisher and the Past. I'd seen this trend of revisiting old things, and that was largely what the Past was -- taking those older elements and bringing that to the modern day.
And then Ryan and I started playing more as a duo, which was something that slowly developed out of cost necessity. It's nearly impossible to organize a six-piece band and practice and tour on a level where we're not losing thousands of Euros.
Ryan Carpenter: It's super easy to just hop on a train with two guitars -- or a plane or a bus or hitchhike.
Fisher: So we started playing more and realized that was going over just as well or better than the whole band, and we decided to give the project a name. Since Ryan's personality is such a positive, conscious thing as opposed to mine, which is very cynical and reserved, we decided to call it Ian Fisher and the Present instead of Ian Fisher and Ryan Carpenter.
Carpenter: He's pessimistic when thinking about the future, and I'm always so in the moment. It's funny, on the day of a concert, Ian will be like "I hope the sound is ok" or "I hope they don't fuck us over with money" or "Ugh, this is going to be shitty, Nobody's going to be here." And I'm just like "Ahhh, this is great! This is going to be fantastic!"
Fisher: On a theoretical level, the main reason it's called Ian Fisher and the Present is because I exist everywhere but the present.
Carpenter: And I only exist in the right here, right now. When we were thinking about this time thing, we were like, "That's it. That's what we have to call it."
How do you cope with constantly traveling or dealing with the same person in close quarters for weeks at a time?
Fisher: If I were to take everything seriously that happened on tour, I would have quit touring the second or third day. The only way to really function on tour is to take it like it is and accept the fact that everything is going to be completely and utterly fucked up all the time.
Carpenter: It's so surreal. You just have to match that surreality with your own. I feel so bad for some of the people we try to have normal conversations with.
Fisher: We get pretty surreal about shit. When you're on tour, you start developing inside jokes, and you just assume people are going to get it...
Carpenter: [Giving Fisher a disbelieving look] You don't assume people are going to get it. You like when people don't get it.
Fisher: That's true. The difference between Ryan and me is when people don't get something, I don't care and he does.
Carpenter: I want them to get it, so I want to explain. But how do you explain this stuff that happens to you?
Fisher: Some people jive with this idea, and those that don't - well, go fuck yourselves.
Carpenter: [Laughs]
Fisher: It's true. I don't give a fuck.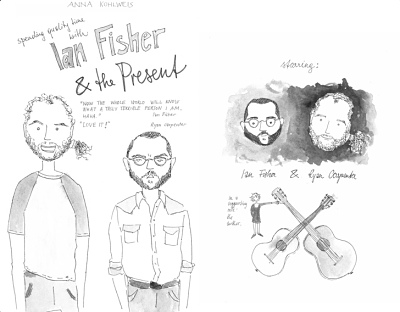 Ian, what happens when a venue pisses you off?
Fisher: [Smiles] I turn into an angry little dwarf.
You Hulk out?
Carpenter: He Hulks out after the show. He powers through the show with a terrible attitude, and then he's like "Fuck this place, let's go. Fuck these people. Fuck everything. Fuck you. Fuck me. Fuck everything. Let's get the fuck out of here."
How many "Fuck you" places are there?
Fisher: Not that many. We play a lot of good places.
Carpenter: There are several places in Sicily that are of the "Fuck you" variety. But there can be assholes anywhere.
I was poking around on the blog and saw the comic book...
Carpenter: It is so perfectly on. We were hanging out with our friend Anna (Kohlweis) in Vienna, just being who we are, and she was like, "You know, you guys would make a really good comic." We were like, "Yeah, that's a good idea! You should do it" and then forgot about it. A week later, she said "Comic's done!" Ian was all, "Great, the whole world's going to know what a terrible person I am," and I was, "Yeah! Fantastic!"
Is Anna the same person who did your poster art?
Carpenter: Yes, the poster, and she's like the art overseer of Ian Fisher and the Present. We have physical versions of the comic at the shows now. People look through it, and -- even after seeing us interact with each other on stage for only an hour -- they're like, "This is perfect!" It's pretty funny and well done.
I noticed that you kept the blog updated regularly and were on Facebook a lot during the recent European tour. Did you also keep physical journals?
Carpenter: [Grinning] I'll let him show this.
Fisher: [Pulls out a worn four-inch book] It's not like a day-to-day thing -- just random thoughts.
Carpenter: He's got, like, twelve different books in every pocket. Addresses, which bus to take where, a calendar book. It's ridiculous. When you travel so much, you've just got to have everything on your person at all times.
I tried keeping a journal. The first time I went to Europe in 2011, I didn't write anything down. I wanted to keep the stories alive by telling them, as I was really interested in oral cultures and storytelling traditions. The second time I went, I thought maybe I should write some stuff down, so I half-heartedly tried but gave up. This last time, I thought, "I am going to keep this fucking journal." I was pretty studious the first week, but I had so much to write about so much every night. I was falling behind, and eventually the amount of experiences on this last tour just added up so much that I was at a loss to try to write them down. It became totally futile to continue.
Ian Fisher & The Present - Rotted On The Vine from Jarred Gastreich on Vimeo.
What do you do when you've got rare downtime?
Carpenter: It's really hard for Ian to sit still. [Turns to Fisher] I'm sure that when I was fifteen minutes late picking you up, you were just beside yourself.
Fisher: No, I was just writing in my journal.
Carpenter: I picked him up at the Kaldi's in Kirkwood, and he said he was having a hell of a time observing the people in there. I used to work there. It's just strollers full of kids and business lunches.
Fisher: It's so ridiculous. It seems like everybody's reading the Bible on their iPads. [Reads his notes from his journal] "So the great American highway, the no man's land of the small town, out there not on the other side of town but in its own space perceptually. We're the great mid-American coffeehouse, where small-town city folk go, where half the tables are filled with 30-year-old men dressed like they just came from the sale at the Men's Warehouse on their way to a golf course. So progressive. They with the new Bible application, talking about the first commandment and the first amendment."
That's great. [Laughs, shaking his head] And I don't feel above any of this shit. It's just like [sighs]. When I was younger, I wanted all of this. To me, the coffeehouse in Kirkwood was really civilized and advanced. Nowadays, I look at that like prison. I couldn't deal with that anymore.
Carpenter: Yeah, Kirkwood's weird too, because it's like a town...
Fisher: But it's not. It's like a regular suburb, but with smaller yards.
Carpenter: It's a snow globe.
I write a karaoke advice column for the RFT. What are five songs that you would karaoke here in the United States that you would not touch overseas?
Fisher: I would probably do "Rock Me Amadeus" by Falco here.
Carpenter: [Laughs] Falco is like the Jesus of Austrian pop music. I used to stay at a place in Vienna that was right by a staircase named after Falco - the Falcostiege.
Fisher: I would probably do an American country song here, but from the '90s. If I were doing karaoke in Europe, I would have no qualms about doing an old country song, but if I did a new country song, they wouldn't get it. They would get it here, so I'd do a Garth Brooks song, like "Friends in Low Places."
Carpenter: We would do Hank Williams over in Europe. I would do some Pavarotti here, but I wouldn't touch it in Italy. Some crazy aria.
Fisher: [Sings in Italian]
Carpenter: [Sings back]
Fisher: What would be funny here but not there?
Carpenter: "All of the Lights," Kanye West?
Fisher: But it would work there, too.
Carpenter: But it wouldn't be as good.
Who would take which part?
Fisher: [Smiles] I would be Rihanna.
Carpenter: And the whole time I was rapping as Kanye, I would go over to people who were about to give their orders to the waitress, push them out of their chairs and rap to the waitress.
Fisher: I would probably do one of my own songs if I were doing karaoke in the United States. I would have to do one of my own, because a lot of the places we play in Europe actually give a fuck about original music. Most of the places here, in order for people to listen to it, it would have to be in the form of a cover.
As a karaoke host, I would not let you do it [Makes a buzzer noise].
Carpenter: No, we would do it, but I would sing his part.
Fisher: And I would dance around like Michael Jackson
Do you have Ryan's sweet dance moves?
Fisher: Only after a copious amount of alcohol.
See also: -The Top Ten Ways to Piss Off Your Bartender -Crotching Whiskey at the Justin Bieber Concert and Getting Thrown Out: A Review -The 15 Most Ridiculous Band Promo Photos Ever -The Ten Worst Music Tattoos Ever
Follow RFT Music on Twitter or Facebook. But go with Twitter. Facebook blows.