Rum Drum Ramblers, playing Friday night.
This weekend, Off Broadway is hosting the very first South By South City festival, a celebration of the St. Louis music scene inspired by SXSW fest in Texas. Friday, Saturday, and Sunday night, $5 gets you in to see 5-6 native musical delights, plus samples of beer from the finest breweries in town.
Steve Pohlman, owner of Off Broadway and organizer of the three-day event, graciously answered a couple of questions we had. A full lineup with set times follows our brief email Q&A.
What inspired you to hold the South by South City Fest?
Steve Pohlman: The idea came from a late night conversation at the venue after a show and sort of took off from there. We wanted to do something that focused on local music and resulted in the bands making at least a little bit of money. We started talking to different people who are either local musicians or supporters of local music here in town and people seemed to think it was a good idea.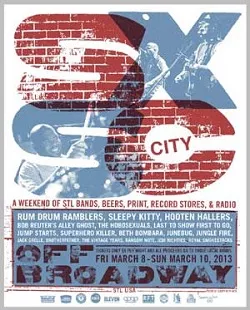 Is it a collaboration with any organization?
KDHX, Riverfront Times, and Eleven Magazine got on board right away, as did the Speakers in Code and I Went to a Show folks. It was a natural to have Euclid Records, Apop Records and Vintage Vinyl involved, and what made things really fall into place was getting Big Muddy and Tower Groove Records and the Loud Label help us out with getting bands on board. Things just sort of came together in terms of the lineup because of their involvement.
The last piece was beer. And we are lucky to have working relationships with Schlafly, Urban Chestnut and 4 Hands Brewery, and they all fit into the idea of celebrating what's happening here locally, musically and otherwise.
Do you want this to be an annual event?
Our idea is that we do it again next year and make it bigger and have it expand outside of our room. We wanted to do it as simply and cleanly as possible the first time, just to make sure we weren't going to screw it up!
Friday: Royal Smokestacks 7:30pm
Beth Bombara 8:25pm
Junebug 9:20pm
Jump Starts 10:15pm
Sleepy Kitty 11:10pm
Rum Drum Ramblers 12:05am
Saturday: Hobosexuals 7:30pm
Last To Show First To Go 8:25pm
Jedi Nighties 9:20pm
Jungle Fire 10:15pm
Superhero Killer 11:10pm
Hooten Hallers 12:05am
Sunday: Jack Grelle and The Johnson Family 7:15pm
Ransom Note 8:10pm
Brotherfather 9:05pm
Lewis Dubbs and The Missouri Flyguys 10pm
Bob Reuter's Alley Ghost 10:55pm
Follow RFT Music on Twitter or Facebook. But go with Twitter. Facebook blows.