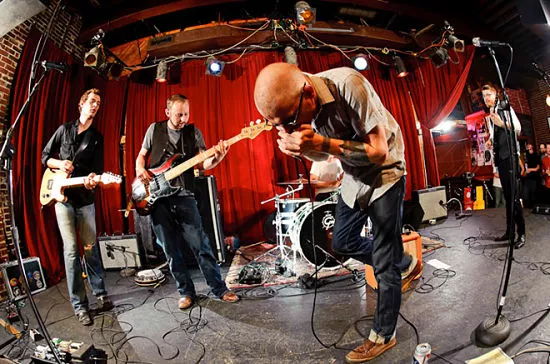 Kentucky Knife Fight Album Release - Saturday, Mar. 2 @ Off Broadway
Hang in there, fiends. Springtime looms visibly in the horizon, and there's plenty to be excited about when the seasons of the sun finally return (not to mention, Black Hole Sun). Check out handy local event guides for comedy and EDM to get yourself through March, and consider paying a visit to a traveling freak show this weekend to spruce things up a bit while it's still dull and gray out. Plenty more fun awaits as long as you're willing, right after the jump.
Friday (Mar. 1):
Demonlover w/ Acid Baby Jesus, Hellshovel, Little Big Bangs @ The Heavy Anchor 9 p.m. | $5 Demonlover has a fancy new tape, and they'll be selling it alongside merch from bands hailing all the way from Michigan and Greece. Bring a few extra bucks and support the whole lot! Your ears will thank you later, that is, if they ever stop ringing after The Little Big Bangs and company blow them away. (MS)
J.D. Blackfoot @ The Sheldon 8 p.m. | $45 Cleveland's master story-teller J.D. Blackfoot comes to the Sheldon to deliver The Ultimate Prophecy. NOTE: Not to be confused with the deceased soul singer of similar name. (DH)
Les Gruff and Billy Goat CD Release w/ Langen Neubacher and the Defeated County, Ben Sturdevant, Le'Ponds @ Plush Singer-songwriter Billy Croghan releases Americana-spiced "A Cup of Coffee, An Apple and a Suicide" alongside fellow folkin' singer-songwriters. Grab a copy and have a gittar-pickin' good time. (MS)
Saturday (Mar. 2):
999 Eyes Freakshow & Surreal Slideshow w/ Music by That Damned Band @ Cicero's 8 p.m. & 10:30 p.m. | $10 Sword swallowers! Fire breathers! Beds of nails! Burlesque shows, if you're into that sort of thing! Read more about it here. (DH)
Kentucky Knife Fight Album Release w/ The Ladybirds, Pretty Little Empire @ Off Broadway 9 p.m. | $10-$13 We've heard the new Kentucky Knife Fight release and it is mighty good. Check out our review here; check the band out live at the show. (DH)
The Pomegrantes - Sunday, Mar. 3 @ The Firebird
Mikey Wehling and the Reverbs EP Release w/ Adult Fur, CaveofswordS @ The Demo 8 p.m. | $7/$10 Check out the uber-smooth sounding Nests in Tree, a collaborative EP with Adult Fur, before heading to Midtown's latest hot spot to see it live. (MS)
Soulfly w/ Incite, Lody Kong @ Fubar 7 p.m. | $20-$24 The "Maximum Cavalera" tour! I feel like if they are going to call it that, it should probablly feature all of Cavalera's bands. Gimme some Sepultura; the early shit only, too. Fine, Soulfly will suffice, but don't fuck this up again, Max. YOU'VE BEEN WARNED. (DH)
Sunday (Mar. 3):
Healing Powers (formerly known as Pomegranates) w/ Bluefish, Since 1902, Men Working in Trees @ The Firebird 8 p.m. | $10-$12 This Ohio-based quartet officially changes its name after seven years reppin' antioxidant pop infusions. Luckily, "Healing Power" sounds just as good, if not better, for you! (MS)
Lechuguillas w/ The Hecks, Hastas, Nrml Ppl, Anodes @ mushmaus 9 p.m. | $5 The original four-band bill just turned into a full-fledged Sunday night party: The Hecks and Hastas recently arrived on the scene to contribute to the Illinois side of things along with noise-heavy Lechuguillas. Bring a few extra bucks to pick up a brand new zine: After Hours, featuring words and art by local talent Matt Questionmark and Lauren B. (MS)
Miss Tess and the Talkbacks w/ Rum Drum Ramblers, Rev Matt @ The Gramophone 8 p.m. | $5 Miss Tess has versatility to spare and a fantastic, haunting voice to boot. Local favorites the Rum Drum Ramblers open the show! (DH)
See also: -The Top Ten Ways to Piss Off Your Bartender -Crotching Whiskey at the Justin Bieber Concert and Getting Thrown Out: A Review -The 15 Most Ridiculous Band Promo Photos Ever -The Ten Worst Music Tattoos Ever
Follow RFT Music on Twitter or Facebook. But go with Twitter. Facebook blows.