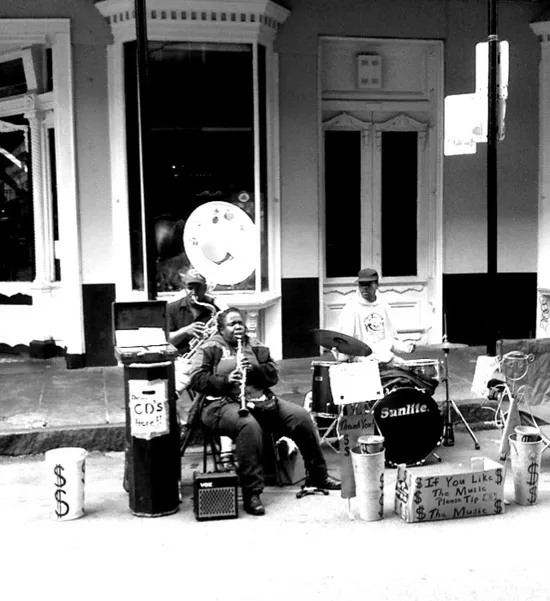 Jay Farrar
A photo from Falling Cars and Junkyard Dogs
In this week's print edition, Senior Writer Roy Kasten interviews Jay Farrar, longtime leader of Son Volt and first-time author, about the band's new album Honky Tonk (due out March 5) and his new book Falling Cars and Junkyard Dogs (due out March 19). "The impetus to write the book was born out of conversations with my brothers when we would get together," Farrar says of the new collection, "and we'd talk about our experiences with my father. The end result would be, that was weird but that was good."
See Also:

-Son Volt, Uncle Tupelo Part of a new Rock & Roll Hall of Fame Exhibit -Show Review: Son Volt at the Pageant, Friday, November 6
Here are some further reflections from Farrar on the inspiration and process of writing the book, and a bonus recommendation of one of his current favorite honky-tonk collections.
Counterpoint Press, Farrar's publisher, generously granted permission to quote from the new book; those passages appear in italics below.
On bending the rules:
I always looked to Gertrude Stein, Jack Kerouac, William Burroughs and Charles Bukowski for inspiration. If you are going to work creatively within a medium you have to bend the rules of the medium to be challenged and inspired.
As a songwriter, you don't have to follow other people's rules or structure. You can just make up your own. I found that idea to be incredibly helpful. Whether it's writing lyrics or making up new tunings. Some of the guys who influenced the book -- which is a chronicle, it's non-fiction, it's prose -- some of the writers that influenced my writing were music writers. I see that in some of the stories. Oddly enough the guy who most inspired me to write the book is George Carlin and his autobiography "Last Words."
On discovering country legends on television:
Rewind to high school in the early 1980's, when I had the VCR set to record vintage Grand Ole Opry shows from the 1950's that broadcast every morning at 5 a.m. The shows were filmed in vivid, saturated color and most of the country stars of the day paraded through from George Jones to Ernest Tubb to the Carter Family to bluegrass's Bill Monroe.
This would have been the early 1980s, when the VCRs had all these arcane buttons to have it record automatically. We were able to set it to record the Grand Ole Opry at 5 a.m. in the morning. These were performances from the mid to late '50s, Webb Pierce, Ray Price, June Carter, Bill Monroe, Faron Young and Marty Robbins. There seemed to be a certain group of guys who did that. That's where I first came across the sonic and visual elements of the multi-fiddle style. Sometimes on the Opry there'd be more than three. The twin-fiddle sound drew me in.
On playing at Stovall's and listening to the great country musician Ralph Mooney:
It could be argued that Ralph Mooney is one of the most underrated, under-appreciated and gifted musicians of all time. The transcendent pedal steel guitar accompaniment that Ralph contributed to recordings by Buck Owens, Wynn Stewart and Waylon Jennings is unequaled in its inventiveness and scale of output.
Playing at Stovall's was inspirational [for recording the new album]. That's where I was learning to play pedal steel over the last year and half. Colonel Ford plays there, and I play with them, and soaking up that environment is a big part of it. It's an original honky tonk dating back to the 1930s. But also the drive from St. Louis to there, which is 45 minutes, that allowed me to become immersed in Buck Owens and Wynn Stewart and anybody Ralph Mooney played for.
When you take into consideration that he's a co-writer of "Crazy Arms" and the impact that Ray Price and Patsy Cline had with it, it was like Mooney was Johnny on the Spot for everything that was important, at least for the type of music I like. Buck Owens and Wynn Stewart. Both of those guys are huge for me: They brought a rock & roll aesthetic to country music.
On being an observer:
How many times I've heard the expression "could have been a star." What's a star? Isn't "being a star" subjective? Being an observer seems paramount to me and anonymity is priceless.
I had three older brothers, I was pretty much an observer by default. Within that hierarchy there wasn't a lot of room to say anything or do anything. So I was an observer; I'm fine with that. That's also reflected in the photography in the book and that's basically what I try to do when I'm writing music. It's all based in observation. I was contrasting that with the idea of being on stage, where you are the observed.
On growing up in the shadow of East St. Louis:
The most lasting memory-related association that I still have with East St. Louis is of my dad and brothers and I taking pieces of cardboard and sliding down a steep ravine of frosty frozen mud (there was no snow) to a creek bed bottom below. This East St. Louisan was laughing all the way down.........
That is the environment I grew up in. We were sandwiched between Belleville and Millstadt. I guess it was a result of my parents being born in the 1930s. My brothers and I were allowed to live in an anachronistic childhood. We were set free. I'm thankful for that now. There were no real restrictions. It was great to get out and use your imagination however you wanted to use it.
Recommended honky-tonk listening (if you can find it; the collection below has gone out of print, though the Mercury compilation Definitive Collection 1955-1962, has some of the same cuts, and can still be readily found):
The Best of George Jones Vol. 1, Hardcore Honky Tonk
Farrar writes by email:
It's songs from the Mercury label from 1955-1962:
- crystalline and spirited vocals
- twin fiddle
- ubiquitous "tick-tack" baritone guitar
- copious amounts of reverb and delay
- quality production (in an era of sketchy production and sonic quality).
See also:
-Crotching Whiskey at the Justin Bieber Concert and Getting Thrown Out: A Review

-The 15 Most Ridiculous Band Promo Photos Ever
Follow RFT Music on Twitter or Facebook. But go with Twitter. Facebook blows.