Lumpy, about to puke on the crowd at Black Sheep Cafe
"One of these days, you're going to face the meat...one, two, fuck you!" This is fucking punk. It's creepy, in your face, and not smart enough to be a real metaphor. It's just getting screamed at you. Brainchild of former Sweet Tooth drummer Martin "Lumpy" Meyer, Lumpy and the Dumpers is a local super-group of St. Louis scumbags. They're huffing slime and commiting crimes until the Belleville PD finally catch them to take all their puke-y goo away.
See Also: -The Best St. Louis Punk Shows in February -Shaved Women Employs a Relentlessly DIY Approach to Music -Our Complete DIY Punk / Hardcore Coverage
All originals were initially written and performed by Lumpy himself, but after one show with Trauma Harness playing as the Dumpers, learning only the future local classic "Face The Meat," Meyer rounded out the line-up with some top shelf punx. Now with Ben "B.O." Osborne (of Cardiac Arrest/Totally Gay Cop/etc. fame) on guitar, Ben "Uncle Grampa" Smith (of Corbeta Corbata/Doom Town legend) on bass, and then simply Johnny B (Shaved Women/Trauma Harness) on the drums, the dumpers truly came to sweat, melt, and crawl across dirty basements all over St. Louis.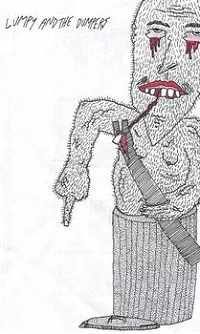 All of the band's releases so far have been on cassette, with hand drawn, Beavis & Butthead-esque artwork -- Lumpy originals. Meyer's preference for old '90s technology didn't stop the Dumpers from having a Bandcamp page for everyone who wasn't included in the 30-40 people lucky enough to trade a fix of slime for these aforementioned, obscure demos.
Chances are if you go to a DIY show in St. Louis, you'll catch the dumpers seven to twelve minute set (depending on if they cover the Ramones or Flipper). Lumpy and The Dumpers are here to freak you out into a mighty, slam dancing frenzy. If any of this intrigues you and want to witness these mutants in person...ask a punk.
Check out the band's music on Bandcamp: Lumpy & The Dumpers
Sidebar: Meyer's brother, former guitarist of Sweet Tooth/current member of Sick Rats in Portland Oregon, Erik Meyer's house burned down. A donation Paypal is set up at erikkmeyerdonate@gmail.com if you feel so inclined. Either way, if you run into the Meyer boys give your sympathies and slime balls.
See also: -Crotching Whiskey at the Justin Bieber Concert and Getting Thrown Out: A Review -The 15 Most Ridiculous Band Promo Photos Ever -The Ten Worst Music Tattoos Ever
Follow RFT Music on Twitter or Facebook. But go with Twitter. Facebook blows.