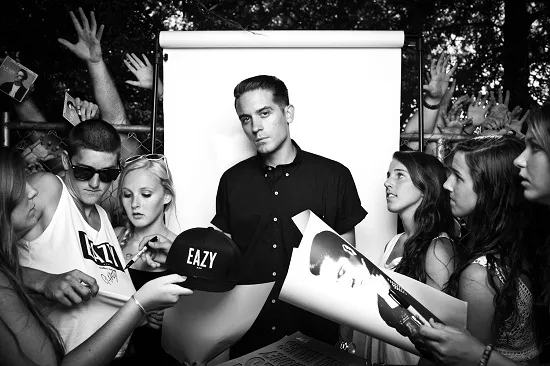 G-Eazy: Thursday February 21 @ Old Rock House
For most musicians, it can take a village to create everything that goes into a strong career, but most musicians aren't rapper G-Eazy. Early into his career, the young Bay Area native has criss-crossed the country on tour multiple times, shared the stage with such industry heavyweights as Drake and hit number three on the iTunes Hip-Hop Chart with his new release Must Be Nice...all as an independent artist. And he has no plans on slowing down now.
In anticipation of his show Thursday night at the Old Rock House, we caught up with G-Eazy after he got done visiting hip-hop juggernaut Hot 97 in New York City (calling the experience "super awesome") to chat about what goes into an independent artist's career and one of his favorite venues to play in the country, which just so happens to be in St. Louis.
Evan Jones: How's the Must Be Nice tour going so far?
G-Eazy: The tour has been incredible. The biggest part is that I'm finally headlining. Ever since my first tour, it was always something I dreamed about: to eventually headline my own tour. I've been on quite a few runs opening up for other people. But with headlining your own tour comes risk, like it's really on you to pack out those rooms and sell the tour to make it successful. When you're opening, it's less pressure on you. Going out on this run...it's been incredible. Most of the shows are selling out. It's just been a lot of fun.
How does it make you feel to be selling shows out consistently on the tour, especially being your first headlining tour?
On one hand it's the coolest feeling in the world, and I'm actually excited about it; on the other (hand), we try to hold ourselves to that standard, so to speak. I'm thrilled, and on the other hand this is what we should be doing if we want to be accepted at that level. At the same time, it's just been amazing. Especially staying independent, and doing all this myself, is really gratifying to see the shows do so well.
Some kids have posted comments on your social media accounts wanting to know how you're selling out these shows without a label. What work goes into your career to get the sold out shows as an independent artist?
It all comes back to the music in the first place. Sometimes a label can help you get in the studio with other big producers or songwriters. Its always been my thing to make the records, on my own, my way, in my studio and produce everything myself; I take pride in that. It was just a process for me, working hard and practicing and getting better at my craft to the point that the music was good enough to catch on.
Past that, labels can help in terms of music, the marketing side and strategy and all that. My manager and I, that's what we geek out on. We both studied music business in college, and that's all we think about. I do the music myself, then between him and I we do the strategy. Its just fun to see it actually work though because we dreamed about doing this for a long time, but see it actually come to fruition a little bit is fun.
You're touring right now to support your new album Must Be Nice. How has that material progressed from your previous work?
Musically speaking, it's a step forward. I wasn't relying on using samples this project. I run all the music and did all the beats from scratch.
As far as subject matter goes, every album is a snapshot of who I am and what I'm about at that chapter in my life. This one, this one captures me fresh out of college as a young 20-something trying to figure life out. Where music is starting to work out, but its not quite there yet. Its kinda like me looking through the glass saying "Must be nice to be a successful musician and to travel the world playing shows" and all that.
Up until now, whats your nicest moment been musically?
The biggest moment so far was probably the New York show the other night at Highline Ballroom. We usually do better on the West Coast, but I've always had this love for New York City and always wanted to be received here and to be able to sell out shows in New York. So to finally have this crazy, sold out packed show at the Highline Ballroom in New York City was a moment.
After this tour wraps up, what are your plans for the rest of the year?
After the tour ends, I'm going straight into the studio. I'm basically gonna lock myself up there for a good four or five months to work on the next project.
When can your fans expect that to be released?
Late summer/early fall.
This is your third time in St. Louis, and I believe the last two shows were sold out. What brings you back to St. Louis?
St. Louis is a really fun city, I have a lot of friends there. The venues are all great. One of the first places I played was the Gramophone [4243 Manchester Ave St Louis, MO 63110; 314-531-5700]. That's one of my favorite rooms in the country, the Gramophone is an awesome place. Some cities you have good experiences in, and some cities you don't. In St. Louis, I've always had fun whenever I'm there. ------------------------ G-Eazy w/ Skizzy Mars and Mvstermind (MME) Old Rock House (1200 S. 7th Street, 63104; 314-588-0505) Doors: 7 pm Show: 8 pm Tickets: $15 advance/$20 day of show All Ages
See also: -Crotching Whiskey at the Justin Bieber Concert and Getting Thrown Out: A Review -The 15 Most Ridiculous Band Promo Photos Ever -The Ten Worst Music Tattoos Ever
Follow RFT Music on Twitter or Facebook. But go with Twitter. Facebook blows.