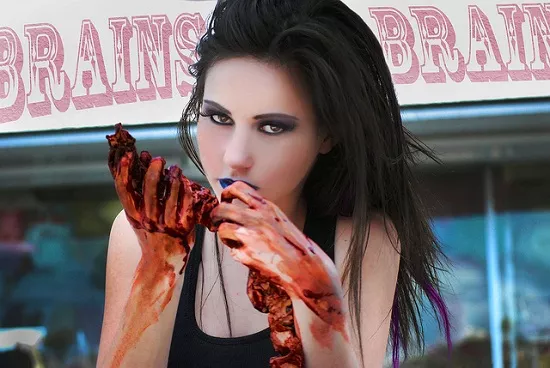 via Intoxicating Artistry
On this day in 1847, the Donner Party was rescued from a disastrous trek to the West Coast that caused the survivors to eat their fallen pioneers. In honor of this legendary tale, here are the six best references to cannibalism in song. Let us know your favorites, and we'll think about how delicious the fingers typing the comment would taste charbroiled and doused with Sweet Baby Ray's.
See Also: The Top Ten Ways to Piss Off Your Bartender
6. The Rolling Stones - "Too Much Blood"
With fear of being eaten by Keith Richards for saying this, the above music video for "Too Much Blood" is a massive ripoff of "Thriller." The Stones arguably stayed relevant through massive movements in pop music by playing the "we can do that too" game. "Miss You" was the band's disco tune, and "Too Much Blood" is its horror obsessed light funk track. Overall a decent song though; Mick Jagger's monologue about a guy chopping up his girlfriend, keeping her body parts in the fridge, and eating her piece by piece is perfectly twisted. Maybe Jagger just handled that part because Vincent Price was unavailable.
5. Slayer - "213" Morbidity can be goofy without substance behind it (see: Gwar). This is likely why, in its career-long journey to scare your parents, Slayer has written two songs about cannibalistic serial killers: "Dead Skin Mask" about Ed Gein and "213" about Jeffrey Dahmer. The latter is the better song, with its intro playing like an encyclopedia of sweet riffs. Tom Araya belts out lines about "Primitive instinct / A passion for flesh" and "Absorbingly masticating a part of you" that are as menacing as any "you're going to die" metal track. 4. At The Drive-In - "Arcarsenal"
The only lyric on At The Drive-In's "Arcarsenal" that makes any sense on first listen happens to be about eating people. Cedric Bixler-Latava asks "Have you ever tasted skin?" and suggests "Sink your teeth into it." It's gross. Gross like eating people gross, not gross like how The Mars Volta's post-De-Loused In The Comatorium output was gross. And at the time At The Drive-In dropped Relationship Of Command, the album "Arcarsenal" opens, the band was so reckless on stage that nobody would be shocked if Bixler-Latava actually chomped down on some dude's arm during a show.
3. Hall & Oates - "Maneater"
Yeah, it's figurative, but what if it wasn't? (Oatesmeal?) 2. Radiohead - "Knives Out"
Although I would argue that "Where I End And You Begin" is a better track, its ending lines of "I will eat you alive" aren't as literally cannibalistic as "Knives Out." Thom Yorke encourages the listener to "Cut him up / Don't look down / Shove it in your mouth" and "Squash his head / Put him in the pot." There's an element of an old-timey Warner Brothers cartoon with a cauldron of rabbit stew, but the playfulness of imagery over the sinister harmony is the stuff of horror cinema.
1. Aphex Twin - "Come To Daddy"
"I will eat your soul." This is one of three repeating lines on "Come To Daddy," sharing space with the song title and the alternate phrase "I want your soul." The industrial jungle track might be Aphex Twin's most important song, helped in no small part by Richard D. James' evil distorted cannibal threat. "Come To Daddy" cannot be fairly discussed without mentioning the masterful music video by Chris Cunningham. Today it seems perfectly aligned Come To Daddy EP is Aphex Twin's most solid release, and the sales boost from the title track's video brought quite a few people into Richard D. James' universe by accident. For better or worse, there would be no Skrillex without "Come To Daddy." So next time you are annoyed hearing or reading about a dubstep track with a killer bass drop, just channel your energy towards the offending party and say "I will eat your soul."
See also: -The Top Ten Ways to Piss Off Your Bartender -The 15 Most Ridiculous Band Promo Photos Ever -The Ten Worst Music Tattoos Ever
Follow RFT Music on Twitter or Facebook. But go with Twitter. Facebook blows.