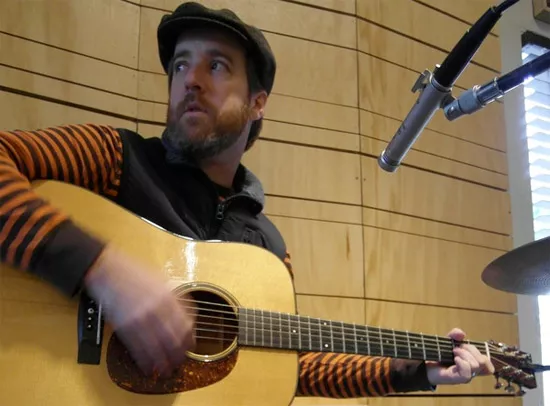 Courtesy of Joe Stickley and Centro Cellar Studios
Joe Stickley has been around. Married with two daughters, the math teacher by profession and songwriter and singer by vocation has, with each new project and clutch of songs, patiently developed into one of the more underrated of the not-quite elder statesmen of folk/rock/Americana music in St. Louis.
A fourth-generation descendent of Irish immigrants, Stickley, along with longtime mandolin and guitar slinger Sean Allen Canan, has been holding a three-year-long residency at McGurk's Irish Pub in Soulard, where the two deliver their old-timey, acoustic take on blues, rock and Irish music with all taps open. But Stickley's history with St. Louis music goes back further than that the fruitful Stickley & Canan collaboration. He played in punk bands as a young man and then, beginning in 2001, focused on original music with Joe Stickley's Blueprint, an ensemble that was ahead of the indie chamber-rock curve. Now, with the solo EP, Wasn't It Pretty, Stickley asserts himself as one of the most compelling and artful singer-songwriters in town.
Stickley and I sat down for a couple of pints and a chat on the eve of his CD release (technically a double-release party with the populist Americana rockers of Chicago Farmer) at Off Broadway on Friday, February 15.
Roy Kasten: You can hear the Irish influence in your voice and on the new album, which is not remotely an Irish folk record, but it's still there.
Joe Stickley: It's in the music I've heard, and other things too. I don't think too hard about my inflection or the way I sing. It's changed over time. All the singers I've grown up liking are there in my voice. Let me ask you a question: Do I remind you of anybody?
I'd say there's an Anglo-Irish quality in the timbre of your voice. I'm not an accentologist, but to my ears you have no trace of Missoura twang. You sound more connected to something clearer, with precise diction, a high tenor that evokes an Anglo-Irish tradition.
I wish I could say something that interesting about my voice.
That's my job.
I do think, as far as phrasing, and the way certain lines are delivered, I do think about it a lot. When I write a song, it will float around for a while, and there could be two avenues to go, as to how a line can be delivered. But mostly it's a feeling. I do like formulating the songs; eventually the melody and the lyric just come out the way they should. It's organic. I digress.
I don't have much of a background in music theory, but clearly there's some mathematical basis in music. Does your math training figure into your songwriting?
On some sort of atomic or organic level, yes, it does. I've always loved poetry, looking at syllables, length of line. With my songs, when I teach them to the guys I play with, it's funny. They'll say, "This is one of those Joe things." You gain a half measure here or lose one there. When I'm writing a song I just feel that. The way a math background would tie in is in the joy in certain patterns, the flow, the breaks. To be honest, when it feels right, it feels right, but it does come down to a series of ones, and twos and threes and fours, the chord changes.
How did you make the decision to do a solo EP, rather than record it as Stickley & Canan or Joe Stickley's Blueprint?
I'd been thinking about it for years. I thought about just doing a solo record, but you get into the studio and you want the songs to have more. I'd bring Sean [Canan] in to do guitar or a drummer. It's not that we decided not to an album together, but it felt that after doing McGurk's for three years with Stickley & Canan, it seemed like this was the time to do it. I could travel to Columbia [Missouri] myself, I could go to my friend Will Reeves' studio, and for better or worse, I could control how the songs sounded. An EP seemed like the right way to do it. It's not as ambitious as a full-length.
I also realized that the songs were ballads and that they were connected thematically. It seemed like the right project to do on my own, before doing the next Stickley & Canan thing, which we've already started recording. I was at a point in my career with this record where I didn't owe anybody anything. Maybe years earlier, I might have felt this is pretentious or I'm an asshole for just doing my own thing.
It's not that the songs you record with Stickley & Canan wouldn't be personal, but the themes really are anchored in your experience.
That's pretty right on. The songs would change if it were a different project. That wouldn't be a bad thing, but it wouldn't be my thing. This record is more introspective and personal.
One of the things I like most about the EP, and this surprised me, but it's a very optimistic collection. It's not dark or brooding, but it's hopeful about the present and future. You could take "Wasn't It Pretty?" in many ways, but it's the opposite of "Wasn't It Ugly?"
I thought that the title and that song itself were a good way to steer the record as a whole. Putting the songs out as a collection it was my hope that it could come across as something not too sad, something ultimately hopeful but also realistic. As far as looking at the future, present and even the past, there's this sense of holding on to a dream. The song is remembering that there were dreams there, and more dreams to come. With a collection of ballads, I worried about it being too soft, but at the end of the day, I went about them as honestly as I could.
You have a life and a career that's not dependent on music, of course, but do you think that having these multiple identities, Joe Stickley of Joe Stickley's Blueprint, and the Stickley & Canan thing, and then the solo thing, what do people do with all that?
I think it's an evolving thing. If I had a cohesive identity, I don't know, maybe I could be more successful, or maybe it would be less confusing.
But it might not be as much fun.
These are the chapters of my life. I enjoy the solo thing; making this CD was awesome, but I love playing with Sean, having that communication with him. We play a hundred shows a year. If you can enjoy someone's company like that, it's a blessing. But you're right, that's a collaboration. It's not me behind the wheel.
Follow RFT Music on Twitter or Facebook. But go with Twitter. Facebook blows.