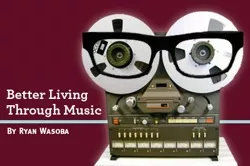 Art and life co-habitate, informing, imitating, and enriching each other constantly. Each week in Better Living Through Music, RFT Music writer Ryan Wasoba explores this symbiotic relationship.
Almost one year ago, I crammed my guitar, my xylophone, and myself into a crowded midsize car with half of the local band Humdrum and rode to Chicago. The band was making a record with Steve Albini, and I was "overdub minimizer" (my own title). It was surreal to meet such a presence; in addition to his celebrity status among fellow recording nerds, he is regarded as the beacon of ethics in a changing artistic and technological world.
Of course, this is ridiculous because Steve Albini is just a person. So is sex offender Mystikal, whose rape charges remind me of a choice Albini quote from a 2010 interview with GQ Magazine:
Most people in their daily lives are pretty reasonable. A lot of people that end up being in bands give themselves license to act like assholes because they're involved in music.
You normally wouldn't expect a guy who made an album called Songs About Fucking and fronted a band named Rapeman to be a poster boy for morality, and I am not a member of The Church Of Steve Albini. I am deeply inspired by the concept at the root of many of Albini's outspoken opinions: if your life is music, then all decisions about your music are life decisions. He holds musicians, a demographic of people who tend to be irresponsible and impulsive, accountable for all actions. His attitude lifts the veil of things that are acceptable because they're compartmentalized into the aspect of "business." It also erases the idea that what happens in personal life should be disregarded from one's artistic life (sorry, dude from Surfer Blood who was arrested for domestic violence).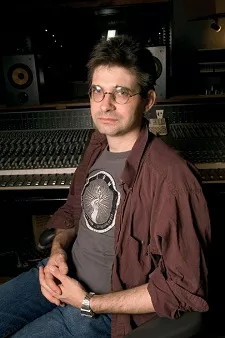 Steve Albini is so divisive because he has little use for the fake-nice filter that people use for the sake of professionalism; this is the most exaggerated result of his life/music dynamic. This isn't to say Albini is unprofessional. As a recording engineer, he's the best on earth at capturing sound in an honest and accurate fashion. He is also an avid supporter of transparency, and his rates are public knowledge to anyone who inquires. Similarly, his opinions are available to anybody curious enough to ask them. He's not the guy who will go on an unsolicited blog rampage about Odd Future or Amanda Palmer, but he may offer a response if asked.
In the aforementioned GQ interview, Albini was asked about Sonic Youth - one of many subjects that interviewer Aaron Lake Smith was in over his head asking about. He expressed disappointment in the way the band handled its major label deal. Thurston Moore replied, using the term "myopic" as an insult that could read complementary. Albini's view is myopic because it is his own, because he is the only Steve Albini just like Thurston Moore is the only Thurston Moore. And if music and life are so entwined, should we not all be so myopic?
When Humdrum and I returned, the burning question seemed to be "Was Steve Albini a dick?" The answer, absolutely not. He said exactly one thing that could be perceived as rude: when bassist Dan Meehan asked Albini what he thought of the take, he responded "It sounded the exact same as every other take you discarded for no apparent reason." He told one dirty joke which I will repeat in private but will not type out, and he played a lot of online Scrabble during long takes. He did not eat once during the session even though he writes a food blog. Towards the end of the second day, a voice came over the intercom saying "Steve, Neurosis is here."
In the months since, I have found all of Steve's idiosyncrasies inspiring. The tattered jumpsuit he wears every day with his Electrical Audio studio's logo printed on the back is a symbol of his transcendence over the conflicts that plague so many of us. I have always aspired to negotiate my life priorities and my artistic priorities. There's no better way to learn such a craft than to spend time with somebody who has it perfected.
Follow RFT Music on Twitter or Facebook. But go with Twitter. Facebook blows.