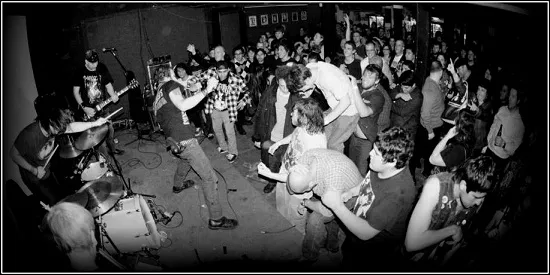 The legendary punk band Reagan Youth is coming to town. How can a band with a dead singer tour, you ask? Well, Reagan Youth is pulling a Germs and coming to St. Louis' own Fubar on April 23rd to "hate hate" all over the city, despite the fact that lead singer Dave Rubenstein died in 1993 as a direct (and chilling) result of the murders of serial killer Joel Rifkin.
See also: -The Best St. Louis Punk Shows in February -Our Complete DIY Punk / Hardcore Coverage
Reagan Youth is one of the original New York hardcore punk bands that played regularly at legendary punk club CBGB's in the '80s. It's hard to run into a punk who doesn't know a few songs off of the "A Collection of Pop Classics" compilation of the band's EPs. American anarcho-punk forefathers known for their far-left politics and fast, noisy but technically skilled hardcore anthems, Reagan Youth only put out two records during their original stint. The band broke up in 1990 after its namesake Ronald Reagan left office.
Reagan Youth was a non-racist band who famously "Hated Hate," but who frequently used racist imagery in order to help drive home the band's point that Reagan was evil. The name of the group is in fact a parody of the "Hitler Youth" of World War II.
Singer Dave "Insurgent" Rubenstein, who had long been battling with heroin addiction, died in 1993 after well-known serial killer Joel Rifkin murdered his girlfriend (who had been prostituting herself to support both of their spiraling habits), Tiffany Bresciani. This was the was last victim Rifkin took before his arrest and trial that ended with a 203 year prison sentence. From Rifkin's Wikipedia entry:
Police finally caught up to Rifkin on June 28, 1993, when state troopers spotted him driving his pickup truck without license plates on the Southern State Parkway. A high-speed chase ended in Mineola, where he crashed into a utility pole directly in front of the courthouse where he eventually stood trial. Troopers detected a foul odor from the back of the truck. It came from the corpse of prostitute and dancer Tiffany Bresciani, 22, the girlfriend of Dave Rubinstein (a.k.a. Dave Insurgent, a member of the 1980s punk band Reagan Youth)
Rubinstein committed suicide shortly after.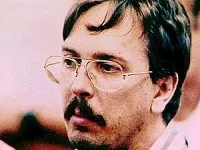 Serial Killer Joel Rifkin
The band reformed in 2006 for one show and due to an overwhelming positive response, that one show snowballed into a permanent reformation. Come out and hear these songs played the way they were intended. If you're worried about the whole, "I only see bands with original line ups" cliché, be aware that Reagan Youth hasn't had an original line up since before they recorded their first classic EP Youth Anthems for the New Order.
Today's generation of punks has been lucky that so many older bands have been reuniting, thanks to the nostalgia train and increased internet popularity. It is always special to hear these classics played by the individuals who wrote them instead of having to only hear covers. The nostalgia tours and reunion shows actually make earning a profit as a punk band feasible -- too bad the business model usually involves breaking up in your prime and then waiting a couple decades. Fubar has been home to many great reunion/"whoa they never broke up?" tour stops (recently: The Meatmen, TSOL, Verbal Abuse, etc.). Reagan Youth will soon be added to that list of '80s icons as well.
Trivia: -At local St. Louis/Chicago hybrid hardcore band The Breaks last show, one of the last songs they ever played was "USA" by Reagan Youth.
-In the movie Airheads, starring Brendan Fraser, Steve Buscemi, and Adam Sandler, their fictional band The Lone Rangers' big hit single worth holding a radio station hostage over is actually a cover of Reagan Youth's "Degenerated" with a watered-down approach and Fraser's "Wayback Weekend"-esque nasally vocal delivery.
The awful butt-rock cover of this legendary song.
The song with the infamous (and satirical) "seig heils."
-European hardcore band of the early 2000s era Dead Stop was rumored to have ALLEGEDLY been beaten up by Boston hardcore band Righteous Jams in their home country of Belgium when Dead Stop covered "Reagan Youth" after the members of RJ misunderstood the satirical nature of the "seig heils" in the song's chorus.
-According to New York Daily Times, around the time he entered prison a rivalry between Rifkin and mass murderer Colin Ferguson broke out. After Rifkin interrupted a phone call by being too loud, Ferguson snapped at Rifkin, saying, "I wiped out six devils and you only killed women." To which Rifkin responded, "Yeah, but I had more victims." Ferguson then punched Rifkin in the mouth and Rifkin ended up being place in solitary confinement for over four years.
Follow RFT Music on Twitter or Facebook. But go with Twitter. Facebook blows.