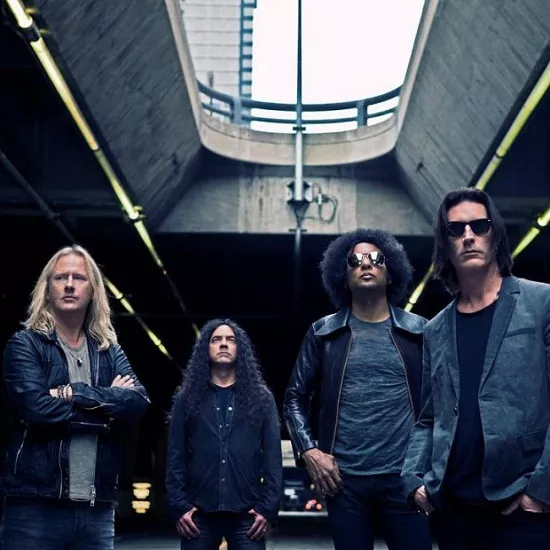 105.7 the Point has just announced the lineup for this year's Pointfest, the station's annual gathering of "Everything Alternative" (not sure what, exactly, it is "alternative" to at this point, but I digress). As always, the event will be held at Verizon Wireless Amphitheater. This year's headliner is Alice In Chains, and the show is May 12.
See also: -Show Review + Photos + Setlist: Alice in Chains and Creature with the Atom Brain at the Pageant, Monday, February 22 -Alice In Chains, Deftones and Mastodon at the Scottrade Center -Alice in Chains at the Pageant, 2/22/10
What's that you say? Didn't the singer of Alice In Chains die like, a really long time ago?
Answer: Yes, original singer Layne Staley died of an overdose in 2002, but through the use of extensive layering and studio magic, the band has managed to find a guy named William DuVall that can kind of sound like the inimitable deceased vocalist. So much so, in fact, that the band has even recorded new material in recent years. See for yourself:
Continue to page two for the complete lineup as well as ticket information.
Here is the complete lineup:
-Alice in Chains
-Three Days Grace
-Papa Roach
-Bullet For My Valentine
-Volbeat
-Hollywood Undead
-Sick Puppies
-Halestorm
-P.O.D.
-Stardog Champion
-Bloodnstuff
Local acts have yet to be announced for the event.
Tickets go on sale at 10 a.m. Saturday, available through Ticketmaster
See also: -The 15 Most Ridiculous Band Promo Photos Ever -The Top Ten Ways to Piss Off Your Bartender at a Music Venue -Crotching Whiskey at the Justin Bieber Concert and Getting Thrown Out: A Review
Follow RFT Music on Twitter or Facebook. But go with Twitter. Facebook blows.