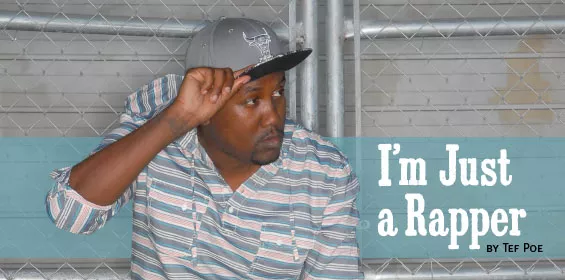 Editor: Tef Poe is an artist from St. Louis City. Through powerful imagery and complicated honesty, he has earned a reputation as one of the best rappers telling the story of St. Louis, which is about much more than one place. Poe has been featured in music publications such as XXL and Urb Magazine. His project The Hero Killer was released on January 21st and will followed up by a full-length with DJ Burn One entitled Cheer For The Villain. Follow him on twitter @tefpoe. Get The Hero Killer here.
As an entertainer one of my biggest inspirations is James Brown. He was ahead of his time not only creatively but also on the business end of things. He had the mindstate of mogul, dominating the music industry in a time when that sort of thing was unheard of. He did it all with style and what appeared to be an effortless stride to the finish line. Every week with this column we try to give you something you won't get anywhere else. This week I decided I'd just talk candidly about the hectic nature of my life as an artist right now, and maybe offer a little bit of insight..
See Also: -106 & Park's Freestyle Friday Champ Tef Poe Releases New Song: Listen
I still want to write a comprehensive column entry every week and fulfill my obligation to our faithful readers. I love writing this column because it forces hip-hop heads to read and a lot of us just don't take time out of our schedules to do that.The lack of literacy is an incredibly large problem in urban America, and just maybe by being someone's favorite rapper I can use this public platform as a means to help correct this problem.
This year has started off at a very critical pace for me. Everyone doesn't always become a fan of an artist directly through the music they create, so I juggle a few hats at a time. I'm always under the gun in one area or another and now everything is moving faster than it has ever moved. Last week on 106 & Park's Freestyle Friday I had to summon the spirit of David Freese to get me out of there alive. There were a few weeks in between then and my last match -- the industry typically shuts down for four weeks after the holidays. Over the course of the break I tried to keep my brain sharp but I honestly didn't do much writing. We spent a few weeks finishing up Hero Killer and piecing together the campaign we'd build around this project. Trackstar the DJ was in the midst of prepping for Killer Mike's European Tour so he needed the music ASAP. During the first round of last week's battle I took a deep breath and then suddenly everything hit me at once like a massive tidal wave. My brain refused to work while I was spitting my bars and I couldn't connect my punches.
Now, I freestyle better than anything I've ever done in life. It's like second nature to me. I freestyle and speak English both on command and with minimum effort. There I was, standing on camera being filmed for a national TV show, and I can't seem to get the words to flow properly. I made it through the first round, took another deep breath and said to myself, "Just start rapping and don't look back." I had no idea how the judges would call it, honestly, because for the most part I blacked out. When it was all said and done I walked away with the win. I didn't have time to soak it in because I had to immediately begin to think about what I wanted to say in this weeks column. Sometimes I start to feel like I'm neglecting my responsibilities because I'm not always capable of giving my all to each and everything on my to-do list.
My next EP, Cheer For The Villain, drops April 1st -- but with the mental preparation necessary for the freestyle competitions, I don't have much time left to finish recording the project. If I can win three more weeks they'll retire me; the last guy that was retired from St. Louis is a personal friend of mine by the name of Big Will. He made history when he pulled this off many years ago. Truth be told I hate battling and that's the primary reason I stepped away from it. It's hard to write decent songs while you're in a battle-emcee mindframe. I think this week I'm going to try and relax and keep a sound mind. I need to finish this album, but I'm going to center most of my mental energy around being prepared to answer the call to arms. My mind and my spirit have to both be in tune with each other to pull this off. I need my spirit to give me the heart required to fight back. I need my mind to function properly and react quickly to the enemy's punchlines. I feel like I still haven't used this platform to properly showcase my abilities to the rest of the country -- I stepped back into the ring because I feel I'm capable of competing and winning.
I can't lie -- I've always had a passion for traveling, writing, creating music, performing, meeting new people and challenging myself. I can happily say most of these things take place in my life on a regular basis at the current moment. Hopefully after this BET run is complete I can spend some time in L.A. working on a few special projects that I don't have the liberty of being able to discuss publicly. I'm in a challenging position and I'm taking a few gambles, hoping they all pay off some kind of way. In the back of my mind I'm knowing eventually one may not pay off, but that's the price I'm willing to pay. Me and the homies are psycho's -- we've yet to actually fly to New York. We spend over twenty hours a week driving across America.
I feel more comfortable having the crew with me in these types of scenarios and it's just cheaper to drive at the current moment. This definitely takes a torturous toll on us all but we're strong in spirit and motivated to succeed. I'm not defined by any one thing that I'm doing, which makes my life a little easier. I was named Unsigned Hype in The Source a few months ago. Some people would give an arm for this stamp. I dreamed of being Unsigned Hype when I was a child. I watched Freestyle Friday when I was growing up -- now I can officially add it to my resume. When it's all said and done I can walk away knowing I've accomplished a few things I never thought I'd be able to do in this lifetime. Most importantly I can proudly say none of these things are capable of destroying my identity. We live for the moment and die for the movement. This summarizes how I feel about the entire saga of my life at the current moment. I'm pushing myself harder than ever, and things are hectic, but like the King of Soul famously said, "I feel good."
Follow RFT Music on Twitter or Facebook. But go with Twitter. Facebook blows.