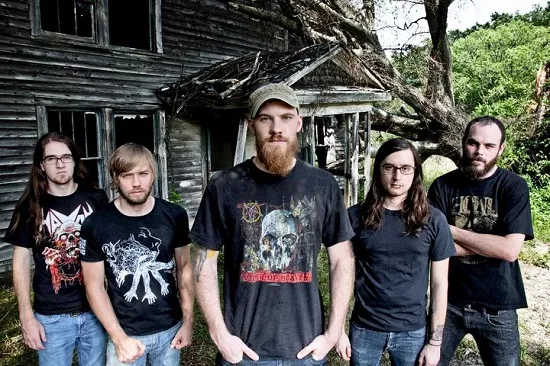 Wretched - February 7 at Fubar
Looking for a good place to see flashy and exciting music played at high volume, have your mind blown by dark and powerful sounds, or just stomp around like a drunken goon with your shirt off? Then a heavy metal concert might be just the place for you. Each month I'll be offering my top picks of the upcoming metal shows in town that I think shouldn't be missed, and I'll try really hard not to make fun of the ones that do not fit my personal tastes (see this month's Mushroomhead concert.)
See Also: -Getting Bored and Angry at Lamb of God: Review and Photos -Yob at Fubar, 9/13/12: Review and Photos
Wretched with Lyluth, The Arcane Horror, Oceans of Icarus, Skywalker at Fubar February 7 7:00 p.m. / $12 Wretched is a technical death/thrash band from Charlotte, NC that plays with more melody than the average death metal band and writes way less about pizza than the average thrash band. The group's technicality is top-notch, but never comes across as contrived or unnecessary. Unlike metal bands like Born of Orsis, who seem to cut and paste twelve different guitar clinic lessons into a single pointless song, Wretched is actually capable of writing songs that sound like -- believe it or not -- songs.
The band is currently touring in support of its upcoming album Son of Perdition, which will be released March 26 on Victory Records. Don't let the terrible roster of medio-core that Wretched calls a label deter you from giving the band a listen, though. Opening the show is a bunch of locals who could range anywhere from bad-fucking-ass to straight-up-juggalo. You'll just have to roll the dice on that one, but at least if you crap out Fubar has the lounge bar next door to offer escape.
D.R.I. - February 20 @ the Firebird
D.R.I. with ThorHammer, The Basement at the Firebird February 20 7:30 p.m. / $15 Who says you can't be a snot-nosed punk all the way into your fifties? D.R.I. (short for Dirty Rotten Imbeciles, for all you posers out there) is hard evidence that there is no time limit on playing with raw attitude, aggression, and intensity. The band has been going strong since 1982 and in that time has had an undeniably huge influence on what we've come to know as punk, hardcore, and metal alike.
D.R.I. hasn't released a new album since 1995 and I believe it's because, frankly, with the arsenal of songs the band has already got it doesn't have to. But the good news for old school fans is that means there's no chance of having to wait through song after song of new material before digging into the classics. Bust out the Bermuda shorts, flip your hat backwards, and get ready to party like it's 1989. Also taking a shot every time you see someone in a jean vest would be a really good drinking game to end up in the hospital from. Circle pit!!
Meshuggah - February 23 @ Pop's
Meshuggah with Animals as Leaders, Intronaut at Pop's February 23 7:00 p.m. / $25
If you are from Belleville, IL and have a goatee then Meshuggah is your favorite band. Strange, but it's a fact. To the rest of us average metal fans Meshuggah is the band that can make our heads explode with their impossible to decipher quantum physics riddles they call songs, all while keeping the same heads steadily grooving back and forth at the same time. Years before the Dillinger Escape Plan or Between the Buried and Me, and before "math metal" was even a term, Meshuggah were creating crazy-complex and crazy-heavy jams that have become the holy grail of what ninety percent of today's fill-in-the-blank-core bands fall short of emulating. Witnessing these musical gymnastics being executed live should be something that all metal heads and fans of music in general will not want to miss. Plus it's probably a really long drive from Sweden to Sauget, IL.
Opening the show is Animals as Leaders, an all instrumental band fronted by one the best guitar players living on the planet today, Tosin Abasi. (For evidence of this statement see the recent issue of Guitar World magazine with Tosin standing back to back with his hero, Steve Vai.) The band plays intricate yet beautiful melodies backed by heavy and complex rhythms with insane technicality and precision, and are way better than drinking outside in the parking lot. Also opening is the heavy, psychedelic, and always excellent Intronaut, who have a new album coming out March 19th on Century Media.
Follow RFT Music on Twitter or Facebook. But go with Twitter. Facebook blows.