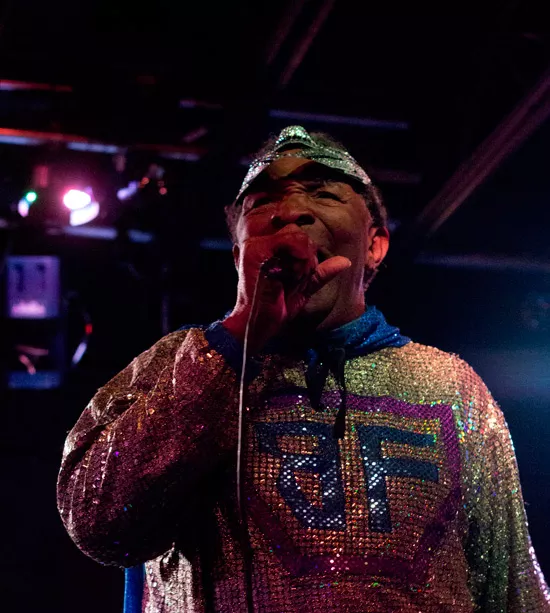 The Firebird. 2/6/2013.
"Yo, this is fucked up. Listen."
Blowfly shuffled on stage last night to spit his piece on pussy hell, incredible fucks and the real first rap. In a world with justice, it would have been shoulder-to-shoulder and cramped, but the Firebird was only half full, with enough room to break dance but no one shaking their asses. If you don't know Blowfly, you need a damn history lesson, but that's not my job. I was blessed by Blowfly's raunchy, raucous performance last night, but not before a baptism by Black James.
See Also: -Method Man Kicked Me in the Face While Holding My Friend's Hand
Mabel Suen
Baptisms by Black James. Oh lord.
Black James brought dancers (who would later fill in for Blowfly's missing crew) and piled on this swerving jam for thirty minutes. Taxidermy, pink hair, sweat and squeals sum it up. You don't see Blowfly for the brains, but for the balls, so I imagine Black James hit the brakes on the heady stuff for the sake of congruity. Her mystic shriek felt gutsy on a bill that, for the most part, was about novelty rather than subtlety.
"We want the bitches who want the dick daily." The FuFops kept things real classy, double-fisting PBR tallcans and slinging hybrid R&B faux rap. Mikey Wehling and the Reverbs sounded stoked on the 'Dead and funk and pushed plenty of synth. These openers were brilliantly picked for the show -- here we have weird women, followed by pervy dudes, then stoner jams. Then, Blowfly's set married all three.
Blowfly was quick to grab my girlfriend, kiss her hand and tell her how he "fucked some bitch that looked just like her last night." After calling my dick "puny," he shared wisdom about his own giant dick, as well as some thoughts on Michael Jackson's ghost.
Mabel Suen
Blowfly unmasked with Blyre Cpanx, some of St. Louis' local talent.
Blowfly's backing band had its quirks but mostly stayed its ground for the show. Mikey Wehling from the Reverbs sat in at times, making that guitar rip hard.
"You here to get ya' ears fucked," the Fly would explain. Don't claim to be normal if you're chilling at a Blowfly show. The crowd was a mixed bag of white-trash, rap nerds and uncategorized weirdos. Blowfly cheesed hard, pointing that long black finger at every last woman and confronting them with promises of "pussy poundings." With sequins to the gills, Blowfly looked like a '60s Batman reject -- a villain of some kind, kicked off of the set for grabbing Catwoman's ass.
At times the lyrics were lost, be it through his own tired voice or the house sound. The comedy was clear as a bell though, as Blowfly fired hard with sloppy words, bringing the depraved down to Earth and then back up into space again. The show wound down by the time the crowd finally started loosening up, but I expect Blowfly's still getting started.
Number of cell phone cameras up when Blowfly took the stage: 8
Overheard at the show: "That's going in the spank bank."
"This is like the Backstreet Boys tryin' to be N.W.A."
"What about 'Who'd I eat Last night?'"
"I couldn't help but feel dirty."
"Blowfly made me had to fart." (Incorrect grammar, but this is what I heard, verbatim.)
Click through for more photos from the show.
Follow RFT Music on Twitter or Facebook. But go with Twitter. Facebook blows.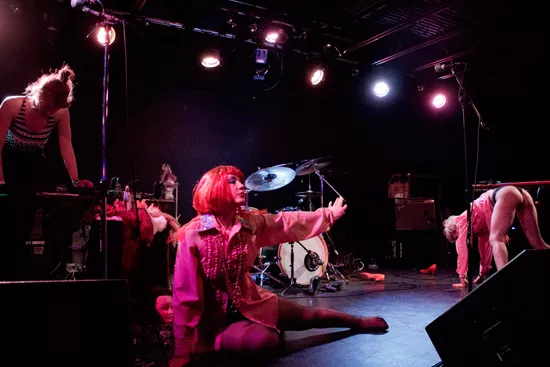 Mabel Suen
Black James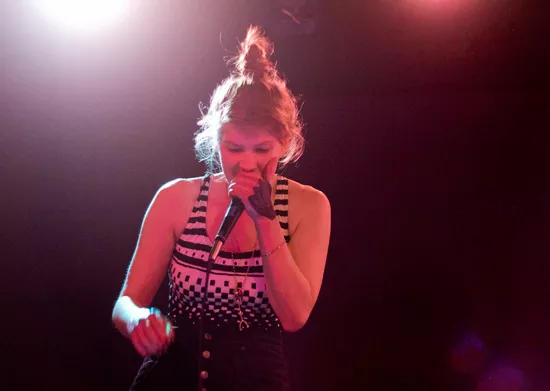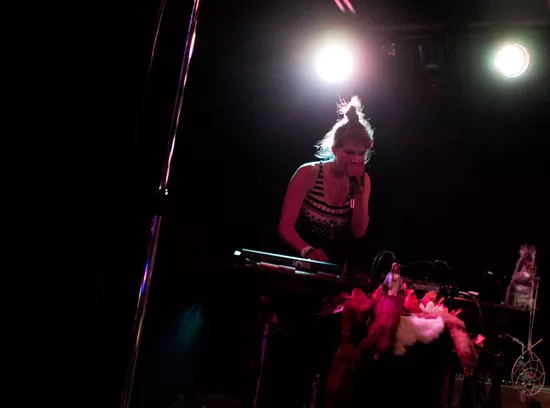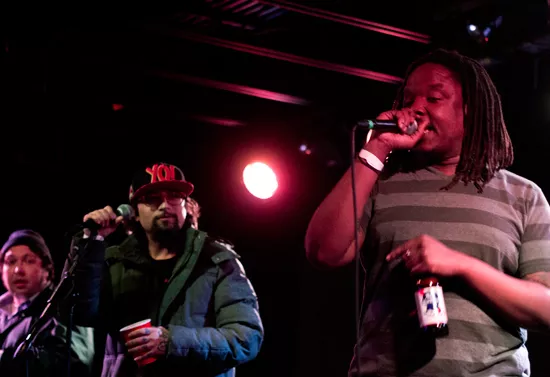 Mabel Suen
The FuFops
Mabel Suen
Mikey Wehling and the Reverbs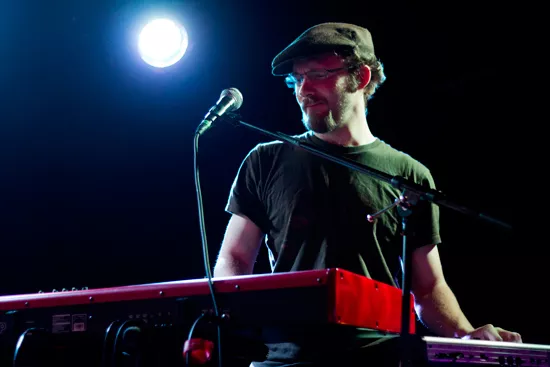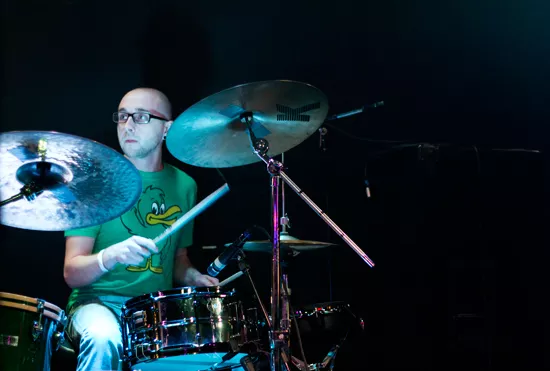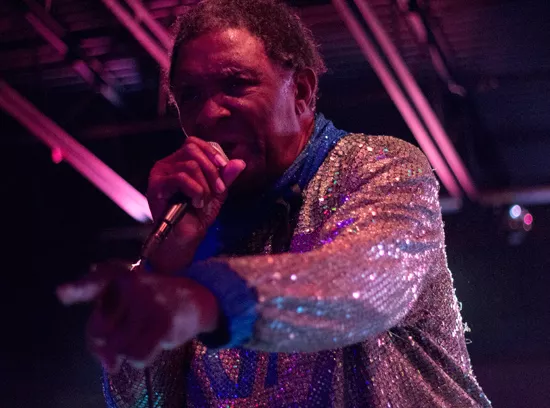 Mabel Suen
Blowfly's infamous finger point.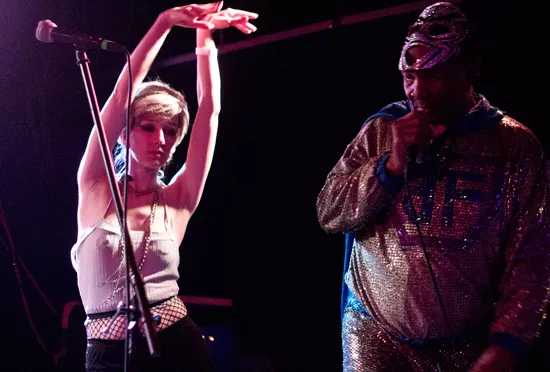 Mabel Suen
Borrowed back-up dancer Melanympha Meatbeat.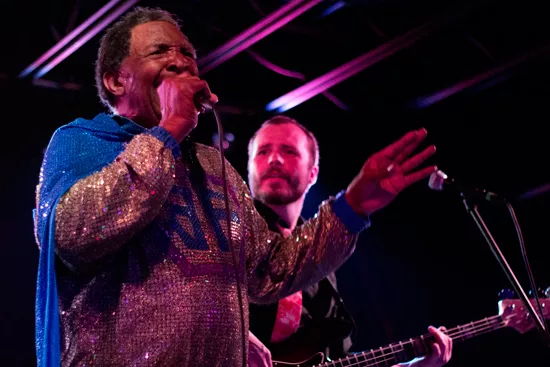 Mabel Suen
Local artists Blyre Cpanx and Mikey Wehling lend their talents to Blowfly's set.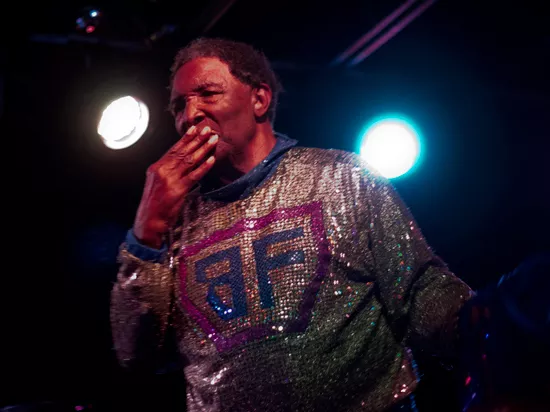 Mabel Suen
A Blowfly goodbye!