Adrien Goulet
"World Champion" Judah Friedlander
In this week's print edition we interviewed Judah Friedlander: standup comedian, "World Champion", and one of the stars of NBC's recently-wrapped sitcom 30 Rock. Friedlander is an exceptionally engaging and approachable interviewee, and as such we were unable to fit our whole conversation into the paper. Here's what got left on the cutting-room floor. (Friedlander will be making an appearance at the Firebird this Friday, February 8 at 8:00 p.m. Tickets are $20.)
See Also: -Stand-Up Comedy: It's Like Rock & Roll but with More Assholes
Judah Friedlander [on the subject of his persona as the "World Champion"]: I've been doing stand up since '89 and I remember probably some fifteen years ago, every comedian was taking the persona of "Hey, you ever notice this?" or "Hey let's all relate on this." It was almost like there was a best friend kind of a thing. It's like "Hey I got this problem and you guys probably do too." That was the angle they were taking and I just decided to take an opposite approach. I couldn't relate to anything anyone's doing because my life is just so phenomenal.
And that's changed a lot over the years, but that was the initial thrust behind the World Champion persona. And this was going back seventeen years ago.
A lot of it now has changed into the ridiculousness of what a self-promotional society we live in. Social media, Twitter, Facebook -- we'll even go back to MySpace -- everyone is just constantly bragging about themselves, so that's all they're doing. They're just showing off on Instagram. They're sharing what delicious meals they've eaten; it's just non-stop. So some of my act is kind of an undercover commentary on that.
Kelsey McClure: It's almost satirical.
And recently I have been doing a lot of material about the ridiculousness of politics in this country and public policy, so I talk a lot about my Presidential platform because I'm going to be the next President.
Right.
That's a new direction for the World Champion. I'm always working on new material and things are always kind of pushing into new directions. And I'm taking it to new directions because for me the most exciting stuff is doing new stuff, so I like to do it as much as I can. Doing the same stuff over and over again is boring.
And I imagine if you are doing multiple sets a night and you are doing the same set for each show it just wouldn't be worth it.
Yeah. Let's say I do four shows in one night. There might be 50% the same material, but of that material that's done, it's not done in the same order or anything. And then there's probably 50% of a mix of coming up with things on the spot as well as trying out some brand new jokes. And included in that material that I am repeating, some of those are jokes that I am working on or developing. So a joke might start as a one-liner but after a couple weeks of shows where I get to work on that bit four times in one night, that one-liner might become a one-liner with three jokes attached to it. So it grows into something, or a bit, and then I also figure out where it might fit within my act the best. So even if some jokes are repeated it's a mix of trying to figure out where they fit and how to build a joke.
I read that you feel like you have to work harder to develop new material as you become more recognized, because crowds will laugh easier. Is that true, in your experience, with your success with not only 30 Rock but also from touring more?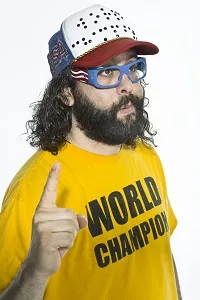 Well. I won't necessarily say that's true. Whenever someone is well known they might get a big applause at the beginning; the crowd might be a little easier the first couple minutes. But after that you have to do good stuff. One of my goals when I tour is that people are actually there to see me as opposed to just going to a comedy club to see a comedy show. Which is great. One of my goals is to draw, to get people to see me this year and next year.
So you're wanting to do venues where people are there to see your act specifically.
Yeah. That's kind of how the business works. If people aren't coming to see you, you can't really get paid. Stand up comedy is something that does not exist without the audience; it doesn't. It's a mix of stuff going on there. It is the comic who's bringing the show to the audience, but the audience is necessary.
That's interesting because in a city like St. Louis, and especially in the last three years, the one place comics get paid is if they do the comedy club. And like you said, the audience isn't there to see so-and-so on Friday night, they're there because it's a comedy show and they know they can go and have a good time.
Yeah and their office may have won free tickets to the comedy show. So they're just showing up and they have no idea what they're walking into. It would almost be like, you work in an office and your office won free tickets to a music club but you have no idea what genre of music they are going to be playing. It could be country, it could be rap, it could be teen pop, it could be Korean pop -- and sometimes things go that way. As a comedian what you're trying to do is build an audience, and I like a mixed audience. That's one of the reasons I love performing in New York, is for how diverse audiences are.
It's not one demographic.
Yeah. I like a diverse audience. I try to make my comedy as specific and unique as possible yet appeal to everybody so that a Harvard student and a Janitor can both enjoy it equally. That doesn't mean I pander to anybody, but I try to make it funny enough so that I can transcend different demographics.
I think there is -- and especially when it comes to the younger generation of comedians who have Twitter and Facebook -- an oversight in that they spend almost as much time trying to build an audience as they do to develop material.
That's what I am saying and what I was talking about earlier, kind of mocking self-promotion. It's unbelievable. When I started in '89, people weren't even using the internet back then. And your only thought was "Alright, how do I write funnier jokes and how do I get funnier on stage?" And that was it. There was nothing else. Nothing else. And the only way to get more of a following was to keep getting funnier, and word of mouth, and the other way was to get on TV so people would see it and want to come out. And doing radio shows was one way, and the only other way was going to the photocopy place and printing up flyers and putting them up around town. That was pretty much it. The business has completely changed, and often that's the case with show business or any business: The person who is better at marketing is the more successful comic.
I'll go to some cities -- and I won't say any names or anything -- but I'll see some comics that have no television exposure and they're not good comics, and yet they're packing it in because they're very good at self-promotion. And they have a whole team of people working for them. It's bizarre.
Do you think "Shame on that comic?"
No. It's just the way our society is. There's no shortcuts to good comedy. There's shortcuts to financial success, but financial success doesn't necessarily equal good comedy. Good comedy will always just stand on its own, whether 5 people come to see it or 5,000. Good comedy is just good comedy.
Let's say at a sporting event they are announcing the singer who's going to sing the national anthem - they never lead it off with any kind of critical acclaim they've gotten, they actually just say how many records they've sold. It seems like in the past ten, twenty years critique is paid less attention to, and it's just the amount of sales you do is your critique, basically. That equals critical success and to me it seems like a lot of people, whoever is more popular is better. And that's not necessarily the case -- and usually not the case. I mean look at 30 Rock. It doesn't get nearly the ratings that other TV shows get. Now what's funny is debatable, but I think most critics are going to say that 30 Rock is better than Big Bang Theory, but if you voted nationwide Big Bang Theory would probably win. They have more people watching -- a lot more. Does that mean it's a better show?
Debatable. Again.
So a comic who is doing all of this marketing, hey, that's your thing. But it has nothing to do with my opinion of their comedy. If it's good, great. If it sucks, it sucks. And often the best promoters are not the best products.
It seems strange and like it's a stand-alone thing, but in comedy you almost have to give up work to get work, and then you will still have to suffer or live very frugally for a long while.
Yeah. I'm still on that mentality. I remember I used to have a day job working at a front desk at a gym. I worked from 7 a.m. to 4 p.m. and then I would go home and take a nap for a couple hours, go out to do spots, and I wouldn't get home until around 2 or 3 a.m. because some of the clubs I couldn't go on until really late. So I was never getting more than like 3 hours of sleep at a time.
How long did you say you were in that routine for?
I started in '89 but I was in school then too, and then I think it was '97 or '98 where I stopped having a day job.
And in terms of writing material at the beginning did you write a lot out or just develop material on stage or ...
All of the above.
So in a way then having a day job was just an extension of developing your comedy because it allowed you to sit at a desk and write.
I always keep a sheet of paper in my pants pocket and a pen. And if an idea ever pops into my head I can jot it down. I'm not a person that really that sits down and says "Okay, I'm going to write now." It's sort of just an ongoing process for me.
Is it easier for you to take an idea and run with it rather than sit down and say 'I'm going to write jokes for the next hour?'
I usually have a full joke when it comes to me. Well, it may not be a joke, but it's a concept or a theory or something and I'll expand on it. And then I come up with a lot of new lines on stage. There's something about being on stage... I write a lot on stage as well. So I might do the first joke to get the laugh and then the brain is working at such a fast speed I want to keep that clap going, so I'll come up with an additional joke right on top of that. That I may not be able to do sitting down at a desk, because I don't have that pressure. But when you are doing stand-up in front of an audience there is that pressure to get that next laugh immediately, so it just kicks the brain into a faster working mode. I tend to come up with more stuff on stage or sometimes in conversation hanging out with some other comic friends of mine, but that might be from riffing off each other or ripping on something.
See also: -Crotching Whiskey at the Justin Bieber Concert and Getting Thrown Out: A Review -The 15 Most Ridiculous Band Promo Photos Ever -The Ten Worst Music Tattoos Ever
Follow RFT Music on Twitter or Facebook. But go with Twitter. Facebook blows.