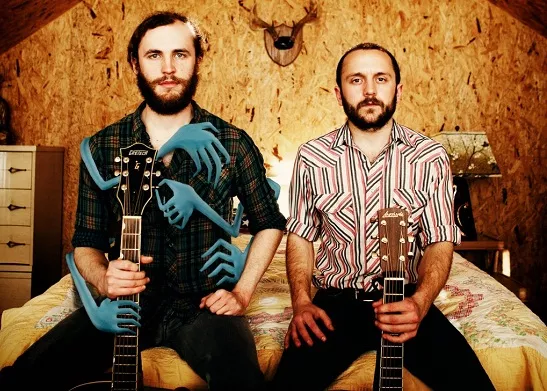 By Jarred Gastreich & Anna Kohlweis
Press Photo
Ian Fisher & the Present debut a new video today for "Why Do I Go?" off of the band's latest, self-titled effort. The video was shot in Vienna, Austria (half of the duo takes up residency in Germany) by Anna Kohlweis with assistance by Yavuz Odabas. In it, Fisher and Ryan Carpenter (aka "the Present") burn things and display a shocking lack of concern for fire safety, backed by the band's stripped-down, mournful (and beautiful) folk music.
The song featured in the video can be downloaded for free at the band's Soundcloud page. You can stream or purchase the entire album on the band's Bandcamp page, and physical copies will soon be available (March 1st) via Vienna's Seayou Records.
See also: -Homespun: Ian Fisher & the Present
In our January 24 issue, we ran a Homespun review of the new record. In it, RFT Music writer Christian Schaeffer had this to say:
Ste. Genevieve native, occasional St. Louisan and current resident of Berlin Ian Fisher has logged many miles and songs on both sides of the Atlantic in the past few years...His latest record comes under the aegis of Ian Fisher & the Present, and he's backed by the unobtrusive harmony and guitar accompaniment of local musician Ryan Thomas Carpenter (and little else) on this acoustic album. The duo decamped to Ste. Genevieve to record in a tiny cabin on the family farm. The "cabin in the woods" story may smack of Bon Iver-ian mythmaking, but the aesthetic comes across as appropriately stripped down: Chiming acoustic guitars and close-up vocals make up the arsenal here. Folk music needs little else, after all, and these are folk songs informed by a pretty wide swath of the Great Americana Songbook.
Check out the video below:
Follow RFT Music on Twitter or Facebook. But go with Twitter. Facebook blows.