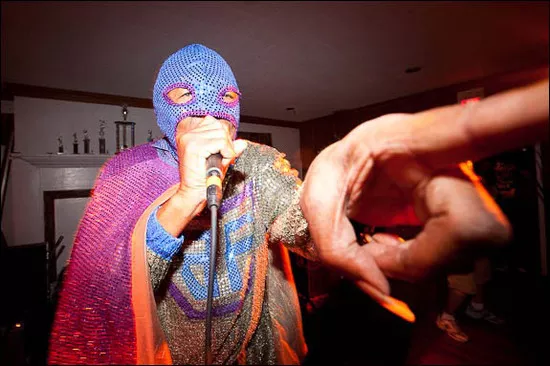 Rebecca Smeyne
The 'Fly promises it won't hurt...
Before South Florida achieved its cocaine cowboy status and notoriety, Miami was known for a vibrant musical community that nurtured nascent Latin fusion sounds, old school soul, funk, R&B and jazz. Miami's historical Overtown district is a shell of its former self but at one point in time, before the I-95 expansion project divided and destroyed the community, it was the birthplace of iconic crooners Sam & Dave and the home of late-night funk joints.
An early performer on this circuit was a young man from Cochran, Georgia who had been busted by his grandma as a wee lad for foul-mouthed parodies of popular music. That man was Clarence Reid; singer, performer, producer, songwriter and general all-around straight-laced smoothie. The beast within that his grandma inadvertently unleashed was the now five-decade strong funk monster known as Blowfly, and that beast is coming to the Firebird tonight for a show starting at 9 p.m.
As the original dirty rapper, Blowfly's 1965 album Rap Dirty easily predates other contenders and while it is true that his form is more an amalgam of funk and ghetto sprechgesang, his influence on all generations of rappers and hip-hoppers since then is undeniable. While the 90's where not an especially productive era for the 'Fly, his rediscovery in the early 2000's by some enterprising punk rockers has led to a comeback backed by scene hitters like Afroman and Jello Biafra.
Now on a short tour of the Midwest where Blowfly promises to make nice white girls think twice about what they've been missing, we had the chance to ask the 'Fly and drummer "Uncle" Tom Bowker a couple of questions about the President and the 2010 documentary, The Weird World of Blowfly.
I had a couple of black girlfriends when I was in college in the late 90's. I can't say that I don't miss it, but since then, for whatever reason, I've gone back. What gives? Blowfly: I was singing to a girl, not a male freak like you! But if you ever get some sugar in your tank and need some dick, I'll bet you go black again!
Ok...
"Rapp Dirty"
There's been a lot of mixed feelings about the documentary, specifically the way you two are portrayed, any thoughts on the experience as a whole? "Uncle" Tom Bowker: It's twofold; on one hand I'm glad the film is out there and spreading the gospel of Blowfly. Having "Blowfly" be a searchable term on Netflix, Hulu, IMDB and iTunes opens doors and means a lot less explaining to the uninitiated. The film looks good, and as entertainment, it is better than most music documentaries.
On the other hand, the film was re-cut after the premiere at SXSW in 2010 and the end result is that a small minority thinks that the 'Fly and I don't get along.
Which is the cut I've seen and yup, it does seem that way. UT: That is dead wrong. We are enthusiastic partners in musical perversion. Some self-declared critics think that Clarence should be in a nursing home and not doing what he loves, which is performing and being funky. To them, it is somehow "sad" to be vital and able to rock with authority into your 70's.
Not only to me, but to the guys in the band and his fans across the globe, it is truly heroic and inspiring.
And 'Fly, how do you feel? BF: Being a movie star is great. I love the movie.
"Should I Fuck this Big Fat Ho?"
Ok, all bullshit aside, do think Obama's done a good job, you know, met and/or exceeded expectations? BF: No! Jesus himself couldn't do that. Obama is helping everyone who is righteous, which is good. However, he ain't the first Black President, like you've said before, I did that in 1988!
Well, there was Jefferson. BF: All the guys are screaming!
And Clinton who loved cheeseburgers and BBWs. BF: All the bitches are creaming!
And now Obama. BF: There's a nigga in the White House again!
"Girl, Let Me Cum in Your Mouth"
What's next for Blowfly? BF: There's our new album, Black in the Sack coming out on LP. We've got CDs and tapes on the road with us, but it ain't out until it's out on record. After that, we are gonna go back to Australia for the third time, so I can hang out with my friend the Transmanian Devil and give those freaks down under, the same thing you're gonna see after you read this: the World's Baddest....onstage with a live band.
Which is The Greatest Show on Earth! What you hear at a Blowfly show may be disgusting, but it's 100% true!
"Blowfly's ABC's"
Follow RFT Music on Twitter or Facebook. But go with Twitter. Facebook blows.