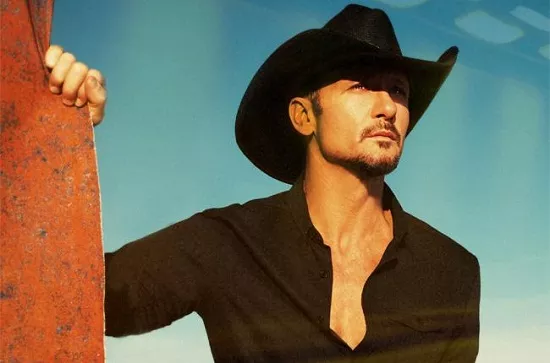 Country music has always mystified me. On the one hand, the songs always seem to focus on alcohol, failed relationships, and poverty - subjects that have spawned fantastic art for years. On the other hand, popular country music has been virtually unlistenable for at least the last twenty years.
You could blame it on sterilized production techniques. Or maybe that the only Country & Western singers gaining any recognition are the megastars playing arenas, doing beer commercials and promoting pick-up trucks. But in my opinion, the cold hard truth is that there are simply not enough psychotic assholes making country music anymore.
Tim McGraw recently announced that he has dumped the booze sauce for five years now, for the sake of his wife and children. Now, I'm not saying that anyone was truly counting on a guy that looks like a copy machine repairman in Ohio to fix the music industry, but he did have a few things on his side. Tim McGraw grew up in Louisiana as the bastard son of a baseball player, ending up with an abusive stepfather. Supposedly when he first started performing, he picked fights with the audience members. In 2000, he was charged with assaulting cops when Kenny Chesney stole a police horse. Each of these situations points to the fact that McGraw clearly had it in him to join the ranks of Country Western's greatest. Lets have a look at a few of the legends of the genre and the lunatic behavior they were known for:
-Hank Williams Sr. was fired from the Grand Ole Opry for being a drunken pill popper.
-Merle Haggard grew up in a fucking boxcar.
-Lefty Frizzell crashed a Cadillac into a judge's home.
-George Jones blasted cocaine, got charged with attempted murder, and got thrown into a mental hospital.
-Johnny Cash was repeatedly arrested throughout his career for possession of barbiturates and amphetamines. He also once burned down over 500 acres of a California forest.
-Waylon Jennings famously flushed 27 grams of cocaine down his toilet to avoid arrest. At one point his addiction cost him $1500 daily to maintain.
-Townes Van Zandt struggled with drug and alcohol addicition his whole life, often living in motels, unheated shacks, and sleeping on friends' couches.
-Billy Joe Shaver shot a dude in the face outside a bar in Texas.
It's a fact: Genius is often linked with mental illness, and mental illness coincides pretty well with chemical problems. Hell, there's even studies out there now that show that alcohol can enhance creativity and problem solving skills.
While McGraw may have saved his marriage, his family and ultimately his life, he's secured his spot in the comforts of sanity and will now create even more boring music than before.
At least the world still has Trace Adkins, a man who amputated his own finger, survived a tractor accident, an auto accident, being shot in the heart by his ex-wife, and even lived through authoring the song "Honky-Tonk Badonka Donk." Randy Travis has had a good run lately too - last summer he was found naked lying in the middle of a Texas back road, and when police showed up to arrest him, he threatened to kill all of them. Maybe this kind of behavior isn't good for society, but it sure would make a hell of a country song. Forget your wife and children, Tim: Won't you please think of the music?
Follow RFT Music on Twitter or Facebook. But go with Twitter. Facebook blows.