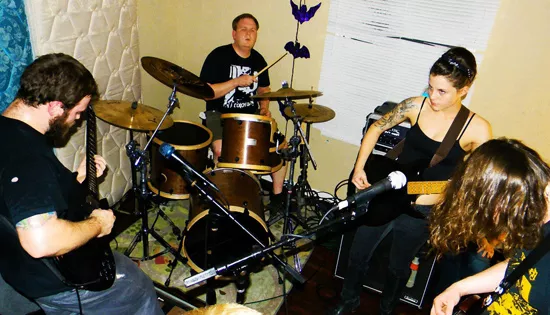 Kyle Holliday
Anodes - Saturday @ The Radskeller
Between the Superbowl, Mardi Gras and Valentine's Day, there's no shortage of excuses to celebrate something somewhere sometime soon lately, or even retroactively. Find a place to party this week from a varying list of tasty shows -- just choose your flavor. This week's recommendations await after the jump.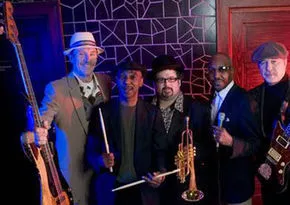 Soulard Blues Band Mon., 9 p.m., February 4 @ Broadway Oyster Bar - $5 By RFT Staff The Soulard Blues Band has gigged around town for more than twenty-five years. Most notably, its weekly residency at Broadway Oyster Bar perfectly accompanies the Southern-themed vibe complete with booze and Cajun food. Bassist and sole remaining founder Art Dwyer, a blues aficionado on local community radio station KDHX, holds down the band with his casual plucked lines. The rest of the rhythm section follows suit, allowing room for solos to float between rounds of drinks and a comfortable swing.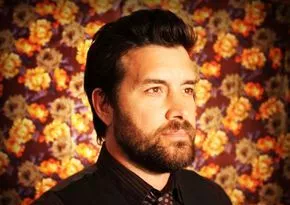 Bob Schneider Tues., 8 p.m., February 5 @ Off Broadway - $20/$23 By Roy Kasten Even with his used-car-salesman name and pop sentimentality - song title "The World Exploded Into Love" isn't ironic - Bob Schneider still belongs to the Texas songwriter tradition, and not just because he remakes blues progressions in his own anti-hipster image. Or because he leads a band that fuses twang and rock 'n' roll like ZZ Top did when still on top of the charts. Schneider cares about songcraft - be the compositions satirical or bittersweet - even when, as on his latest album A Perfect Day, he lets the yacht rock flow. Hoist a piña colada or just a longneck with him in concert; his stories and humor always have the bite and charm of his native Austin.
Blowfly Wed., 9 p.m., February 6 w/ The FuFops, The Reverbs, Black James @ The Firebird - $12 By Michael Dauphin Anyone familiar with Clarence "Blowfly" Reid knows that he is a profanely dirty man, but it isn't his unrivaled vulgarity alone that has guided him through the last 45 years of his career - the man is quite talented. After spending the early part of his career writing soul classics for the likes of KC & the Sunshine Band, Betty Wright and others, Reid created Blowfly. And with that, he started releasing highly-regarded "party albums" in which he recreated Top 40s classics with a very, very NSFW twist on the lyrics (i.e. "Shitting on the Dock of the Bay," "I Wanna Be Fellated"). It's important to remember that there is a genius inside this pervert, which may be an actual Blowfly lyric for all I know.
Water Liars Thurs., 8 p.m., February 7 @ Off Broadway - $5 By Ryan Wasoba When former Theodore singer Justin Kinkel-Schuster headed south last year to cohabitate with drummer Andrew Bryant, Water Liars officially became a Pittsboro, Mississippi band rather than a St. Louis band. Locals are only allowed to be upset because we cannot claim ownership of the duo slated to drop the awesome record Wyoming in early March. Water Liars' new album is a heartfelt take on Americana filtered through fuzz pedals and a cross-country road trip in a car with filthy windows. When Water Liars' tour vehicle pulls up to Off Broadway, write "wash me" on the back and say "welcome home" to Kinkel-Schuster.
DeRobert & The Half Truths Fri., 9 p.m., February 8 w/ The Right Now @ Off Broadway - $10 By Roy Kasten The history of soul music is the history of a hundred little labels that could (and then couldn't) withstand the music industrial complex, which - Daptone and Tru Thoughts notwithstanding - assimilates any groove that stands in its way. Today one of the most reliably funky little imprints going is G.E.D. Soul out of Nashville, home to DeRobert & the Half-Truths. This is a band that, like its label, stands athwart the dance mega-trends with the towering delivery of singer DeRobert and all the blaxploitation boogies, loungy rubdowns and James Brown workouts you can handle. Together, G.E.D. Soul and its best band are among the hottest keepers of the soul flame.
Doom Town Fri., 9 p.m., February 8 w/ Pillow Talk, Spending Habits @ Blank Space - $7 By Joseph Hess Doom Town feeds post-punk through a wall of guitars, punctuated by howling vocals. Bassist Ashley Hohman drives home strict verses with sharp riffs and Ben Smith's shrill guitar recalls the Minutemen at times, lending an urgency to the band's solid songwriting. Doom Town lives in limbo between punk and rock, kicking conventions with classy hooks, dual singing and heavy rhythmic pitter-patter. Lots of Doom Town's jams can be yours for free, through a quick Google search. Now that you're indebted, bring cash for wax, because the band will sling their second vinyl outing at this event: A split EP with Black For A Second, released by local label Tower Groove Records.
Anodes Sat., 8 p.m., February 9 w/ Regret the Informer, Trauma Harness, Laika @ The Radskeller - $5 By Mabel Suen Since last spring, local post-hardcore outfit Anodes has embarked on two separate tours and spent multiple weekends in neighboring Midwest cities, personally delivering its polished, pummeling melodic compositions to new ears. Anodes' self-titled EP mitigates the hoarsely yelled dark-and-heavy intensity of the band's live performances in a variety of formats - self-released CDs, tapes through locally-run tape label Pissfork Anticulture and most recently, 300 records put out by another St. Louis based label, Static Circuit Records. The next items on the prolific quartet's agenda include a split through Middle Man Records, some other yet-to-be-announced super secret splits and another round of travels. This time, the band tackles a nine-day stretch of road with Kansas City's Regret, the Informer. Come out to see both bands in their prime during this final show of their nine day tour.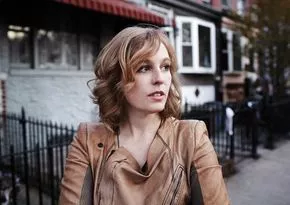 Tift Merritt Sat., 9 p.m., February 9 w/ David Wax Museum @ Off Broadway - $20/$23 By Roy Kasten Tift Merritt has never fit neatly in the career seams sewn for her. Too modest to be the next Shelby Lynne, too restless to find the following of Lucinda Williams, the North Carolina native nevertheless earned such comparisons. Her finest album, Tambourine, is soaked in country soul and gospel grace. Merritt may never be an Americana star selling millions of copies, but she doesn't need to be. She's one of the most reliable and heartbreaking singer-songwriters working today.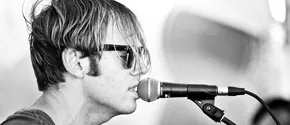 Geoff Rickly Sun., 6 p.m., February 10 w/ Vinnie Caruana, A Loss for Words, Koji, Brian Marquis @ Fubar - $12 By Jason Rosenbaum From a 2011 post about Thursday: Thursday may have been the next big thing in rock music. But at a 2009 show at the Pageant, they were an afterthought. Those 23 words may seem hyperbolic. After all, how many times has some dorky music "expert" declared some rock band "the next big thing?" But Thursday was literally declared one of "the next big things" when Spin Magazine put lead singer Geoff Rickly on their cover in 2004. At the time, the designation seemed apt. The New Brunswick outfit's album War All Time debuted at number seven on the Billboard 200. Their prior album, Full Collapse, had become a paramount example of "screamo" - which blended the fast-paced violence and melodic professionalism of post-hardcore music with, well, screaming.