[Update 9:15 p.m. - The website is working again! Get the album now]
[Update 6:45 p.m.: According to Consequence of Sound, the album is called mbv and contains nine tracks. It will be available for purchase on the band's website in three formats: digital download, CD, and limited-edition vinyl. Here is the tracklist:
01. she found now 02. only tomorrow 03. who sees you 04. is this and yes 05. if i am 06. new you 07. in another way 08. nothing is 09. wonder 2 ]
[Update 6:23 pm: MBV's official website has already crashed from the volume of people trying to get to the new album. Keep checking back for more updates.]
Fans of the seminal shoegaze outfit My Bloody Valentine have been waiting for a new release from the band for 22 years. Frontman Kevin Shields made some remarks onstage in London on Sunday, hinting that new material would be released this week -- "might be out in two or three days" was the exact wording. That estimate came and went, and some rabid fans started going a little crazy, but today the album was finally, officially released.
See also: -My Bloody Valentine Doesn't Release New Album, Beleaguered Fans Slowly Lose Minds
From the band's Facebook page: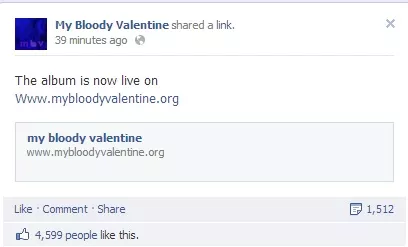 The album can be found on the band's official website, www.mybloodyvalentine.org.
On Friday we ran a story in regards to the passing of the "two to three days" deadline and the ensuing borderline-insane reaction of fans on Facebook. In that, RFT Music writer Jaime Lees had this to say about the band:
The band's stellar 1991 LP, Loveless, has long been hailed by critics and fans as one of the best albums of the decade. It is the most famous to carry the shoegaze tag, but MBV's sound was more than just dreamy loops and psychedelic swirls -- the guitar-driven band also had a reputation for being the loudest live band, like, ever. My Bloody Valentine shows were often cited by experienced concert-goers as the loudest they'd ever endured -- even besting Dinosaur Jr. Its projected volume has been described as "brutal," "intolerable" and "unholy."

Along with contemporaries Slowdive and The Jesus and Mary Chain, MBV helped to build and define the shoegaze genre -- and then all but disappeared near its peak in the early 90's. Over the years, Shields has repeatedly promised the release of new songs, but nothing has yet materialized (much to the dismay of fans).
Dismay no more, dear MBV fans. Your day has finally come.
See also: - Crotching Whiskey at the Justin Bieber Concert and Getting Thrown Out: A Review - Bam Margera's Video for Terrible New Song "Bend My Dick to My Ass" (NSFW) -The 15 Most Ridiculous Band Promo Photos
Follow RFT Music on Twitter or Facebook. But go with Twitter. Facebook blows.