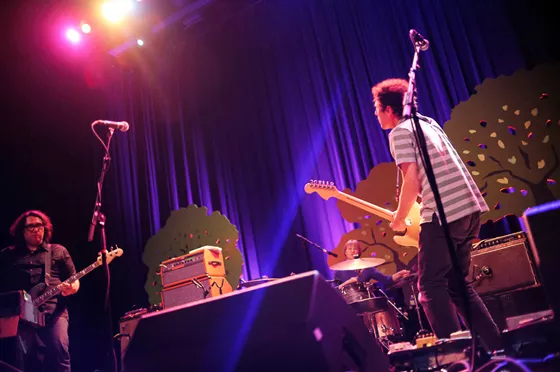 While Georgia Hubley sang "Cornelia & Jane," last night at the Pageant I thought about her band's Twitter handle, @therealYLT, and wondered if I expected to see the real Yo La Tengo or my imaginary "best live band ever" version of the group constructed of only the most exciting scraps of its 29-year career. I thought about the way the band's music integrates casually into my life and wondered if it is bad fan behavior to hope Yo La Tengo is anything but casual back. I was able to think in depth about such things while one of my favorite bands played its fourth downer in a row, during a set that mostly crawled through its ninety minutes.
See Also: - Photos: Yo La Tengo and Calexico at the Pageant
I have come to accept that part of Yo La Tengo's aesthetic involves wearing its audience's patience. There was something subversively punk rock about the band stretching its drone-rocker "Pass The Hatchet, I Think I'm Goodkind" further than its already long running time or interrupting a lulling stream of ballads with the Motown hues of "Mr. Tough." Ira Kaplan seriously needs to make an entire album of his squalling noise guitar temper tantrums. I have no hesitation saying his solo on "We're An American Band" last night was the single greatest guitar solo I have ever experienced in person.
Photos: Yo La Tengo and Calexico at the Pageant
Yo La Tengo mostly focused on tracks from its excellent new album Fade, but oddly highlighted the slow-moving back half of the record. Even Georgia Hubley looked bored behind a keyboard while her husband Kaplan sang "The Point Of It." In her usual spot on the drum throne, her playing was bogged down. I have not missed a Yo La Tengo show in St. Louis since 2004, and this is the first time the band sounded tired.
But even when not on top of its game, Yo La Tengo can create powerful moments.
Jason Stoff
Calexico last night at the Pageant.
Members of co-headliner Calexico helped craft some highlights with cameos on a few numbers; its best contribution was the chaos added to "Moby Octopad." Its opening set was impressive in scope, with all eight members constantly shifting instruments. The band tours with two different accordions. Calexico shape-shifted into a mariachi band and a flamenco ensemble, but its most successful tunes were its most Americanized.
As for the real Yo La Tengo, I was overall pleased. There is no reason to be bummed if the band is a bit too laid back. That's just what happens when Yo La Tengo stops being polite and starts being real.
Critic's Notebook:
Personal Bias: In the opening paragraph, I called Yo La Tengo one of my favorite bands. More specifically, Yo La Tengo is the only one of my favorite bands that I often forget is one of my favorite bands.
Overheard: "Party! Party! Party!" just before the band's encore, from a (probably [very]) intoxicated young woman.
By The Way: If I was the kind of guy that yelled things at shows, I would have yelled "I have it!" which is the English translation of Yo La Tengo and a surprisingly fun thing to yell.
Setlist:
-I'll Be Around -Stupid Things -We're An American Band -Avalon Or Someone Similar -Tears Are In Your Eyes -The Point Of It -Cornelia & Jane -Mr. Tough -Ohm -Before We Run -Moby Octopad -From A Motel 6 -Pass The Hatchet, I Think I'm Goodkind ENCORE -Little Black Egg (Nightcrawlers cover) -(The) Farmer's Daughter
See Also: - Photos: Yo La Tengo and Calexico at the Pageant - Yo La Tengo's Six Best Cover Songs - Yo La Tengo at The Blue Note, 6/20/11: Review and Setlist - Show Review + Setlist: Yo La Tengo at the Pageant, Sunday, January 24 - Holiday Jams 2010: Yo La Tengo, "Rudolph the Red-Nosed Reindeer," Live at Cicero's, 1987