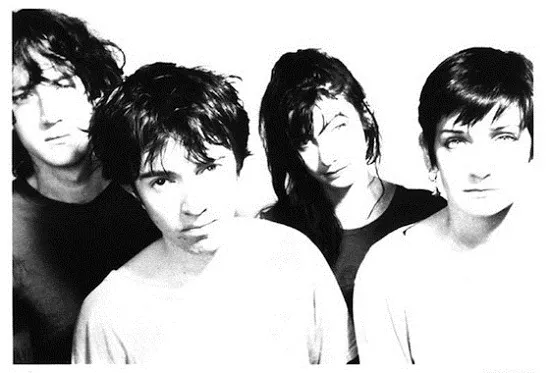 Press photo roughly as old as the band's last release.
[The album is now available!: My Bloody Valentine Releases New Album, MBV After 22 Years: Get It Here]
Shoegaze legends My Bloody Valentine had fans on the edge of their seats all week in anticipation of the band's first album in more than twenty years. Frontman Kevin Shields' onstage remarks in London on Sunday hinted that the new material would be released this week -- "might be out in two or three days" was the exact wording.
See also: -San Diego Fireworks Fiasco: Like 29 Seconds of a My Bloody Valentine Show -Why Yes, My Bloody Valentine is Reuniting. Or Reactivating, More Precisely
The band's stellar 1991 LP, Loveless, has long been hailed by critics and fans as one of the best albums of the decade. It is the most famous to carry the shoegaze tag, but MBV's sound was more than just dreamy loops and psychedelic swirls -- the guitar-driven band also had a reputation for being the loudest live band, like, ever. My Bloody Valentine shows were often cited by experienced concert-goers as the loudest they'd ever endured -- even besting Dinosaur Jr. Its projected volume has been described as "brutal," "intolerable" and "unholy."
Along with contemporaries Slowdive and The Jesus and Mary Chain, MBV helped to build and define the shoegaze genre -- and then all but disappeared near its peak in the early 90's. Over the years, Shields has repeatedly promised the release of new songs, but nothing has yet materialized (much to the dismay of fans).
"Two or three days" have come and gone since Shields' last tease, and that dismay has officially been warped to bloodthirsty near-insanity. Here is a timeline of this descent, in the form of posts by fans on the band's Facebook page.
Stage One - Cautious Optimism: For awhile, some expressed optimism. Fans more experienced with the unreliable nature of MBV's release dates remained skeptical, and helped to keep the dreamers grounded.

Stage Two - Escalating Anxiety: As time wore on things got more tense, and sanity began to unravel.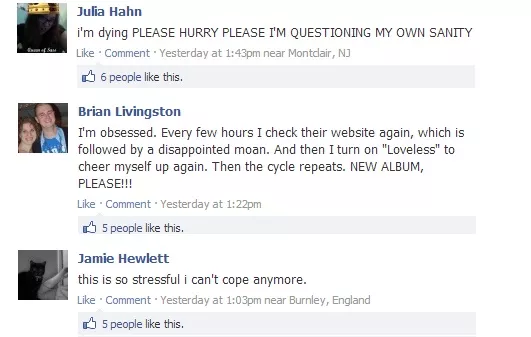 Stage Three - Things Get Weird: After the three-day deadline passed, things took a bizarre turn for the worse.
Stage Four - Rage: And then fans got just plain angry.


Stage Five - Acceptance:

Follow RFT Music on Twitter or Facebook. But go with Twitter. Facebook blows.