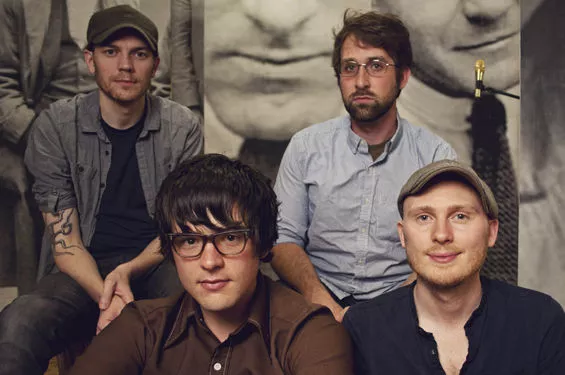 Whitney Barclay
So Many Dynamos in 2013.
This week's music feature on So Many Dynamos is the latest piece on the band in the pages of the RFT. In that feature, singer/keyboardist/guitarist Aaron Stovall says the group's latest release (a self-titled EP that comes in the form of a digital download whose only physical presence is a 'fridge magnet), could serve as an introduction to the decade-old band for fans discovering them for the first time.
"Since it had been so long and so much had happened in music in the course of the last three years," he says, "it was almost an introductory piece to the full album."
Which got us thinking, the RFT has written a lot about SMD over the years, what better time than now to dust off some of those not-quite-new-anymore stories? This is not an exhaustive list, because where's the fun in that? And we're not calling it an oral history, because nobody likes oral histories.
2004 - The first mention as far as we can tell: A Critic's Pick in the March 31 issue for an April 4 show at the Lemp Arts Center. The band had released a five-song CD-EP, Are We Not Drawn Onward to New Era? and John Goddard wrote this: "What a concept: fresh, energetic indie rock from the bi-state area that you can dance to."
2004 - In former staff writer Mike Seely's April 28 feature, "All the Young Punks", Seely wrote of the band as "a battalion of bangers from the metro east" who "make elbows to a keyboard at the end of a tune seem as sweet as Chopin."
2005 - Jordan Harper wrote of the band's plans to perform in "every one of the lower 48 states before fall rolls around." Guitarist Griffin Kay (who resigned his duties in 2011), said at the time, "We've all quit school, and we're going to quit our jobs. And we figured, let's play in every state other than, you know, Alaska and Hawaii."
2006 - The band played the 2006 RFT Music Showcase. "Taking cues from destructo-pop bands such as Les Savy Fav and Thunderbirds Are Now!, So Many Dynamos make music that's off-kilter and somehow still danceable," wrote then music editor Annie Zaleski.
2007 - In an "Introducing the Band" feature on this music blog, then SMD guitarist and founding member Ryan Wasoba (now a regular contributor to this newspaper) wrote: "Thor Axe is the So Many Dynamos triumphant math/metal side project."
2007 - The band appears on the cover of the RFT for this feature titled, "Circuit Breakers." Of the band's major label prospects, Wasoba told Zaleski: "We have feet in doors. It's really weird. We've always been blissfully separated from [the industry side of things]. We've always been proud of how far away from that we are."
2008 - In March, Zaleski wrote of the band's performance at South By Southwest: "So Many Dynamos proved that they belonged among the showcasing talent in Austin."
2008 - In '08: "The members of So Many Dynamos are showing no signs of scaling back their tireless work ethic." The band played the Music Showcase main stage that summer.
2008 - The band was mentioned again in this interview with Chris Walla of Death Cab for Cutie. Walla produced The Loud Wars, So Many Dynamos' album, released on Vagrant Records in June 2009.
2008 - SMD is part of a "decent showing" at CMJ Music Festival in New York, playing a show at the Bowery Poetry Club downtown.
2009 - The band again played the RFT Music Showcase, sort of fresh off the news as "the first local band in recent memory to sign to a prominent indie imprint" in inking a record deal with Vagrant.
Egan O'Keefe
So Many Dynamos in 2009, after the record release show at the Firebird for The Loud Wars. Kay (second from left) and Wasoba (far right) have since left the band.
2009 - So Many Dynamos play the record release show on June 27 for The Loud Wars at the Firebird. Here are photos from that show.
2009 - The Loud Wars was one of Christian Schaeffer's top ten local releases of the year.
2010 - The Dynamos returned to South by Southwest in March and were written of finally getting its own showcase at Emo's in Austin. "With new guitarist Nathan Bernaix in tow, the group just returned from its first trip overseas, where it played Scotland, Belgium, England and France. Writing (and hopefully recording) new music is in the cards for the band later this year," wrote Zaleski.
2010 - "Oh, the Dynamos. So adored, even after all these years (!)," wrote Diana Benanti. "We were sad to see guitarist/RFT contributor Ryan Wasoba leave the band, but the apparently seamless transition of new guitarist Nathan Bernaix (ex-Target Market) has us excited for its future." The band returned for another Music Showcase in 2010 performance, the first on Washington Avenue.
2010 - In April, the first-annual LouFest lineup was announced. Among the national artists (She & Him, Broken Social Scene, Jeff Tweedy) were So Many Dyanamos. See the 2010 LouFest lineup.
2011 - So Many Dynamos headlined the "Gringo Stage" at Cinco de Mayo on Cherokee Street.
2011 - We wrote of the band when nominated for a 2011 RFT Music Award: "It's been nearly two years since So Many Dynamos released its last album, The Loud Wars, on Vagrant Records. Yes, a prominent indie label picked them up. Yes, people outside St. Louis have now heard of them. And you know what? People here have forgiven them. People here even still love them. It's amazing."
2011 - Guitarist Griffin Kay's record collection was profiled and he remembered when the group received the Flashlights LP in the mail, thinking "We're a real band! We're on vinyl."
2012 - So Many Dynamos is inducted into the ... wait for it ... RFT Music Hall of Fame.
2012 - Aaron Stovall spoke with Kiernan Maletsky about the increasing importance of collaboration and the value of living in the city of St. Louis. "No longer does it seem like band vs. band. It's more like band vs. the Internet," Stovall said in the interview, which previewed the second-annual St. Louis Arts Project.
2012 - The So Many Dyamos self-titled EP was one of our 50 favorite St. Louis records of 2012.
2013 - So Many Dynamos will return to Austin in March, for you guessed it.
Follow RFT Music on Twitter or Facebook. But go with Twitter. Facebook blows.