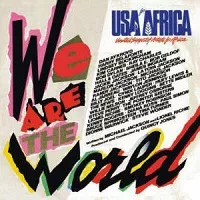 Way back in the '80s, people liked feeling magnanimous. "I hear there are starving kids in Ethiopia." "Fuck that! We can feed people with a song!"
And thus, the idea for "We Are the World" was born. Maybe. I haven't actually talked to Lionel Richie about his motivation for coordinating the song, but I'm pretty sure he'd say something like that.
See also: -Attention Twelve-Year Old Youtube Commenters: Your Favorite Music Decade Sucked, Too -The 15 Most Ridiculous Band Promo Photos -The Ten Worst Music Tattoos
"We Are the World" was a feel-good ballad that gathered 1985's best vocalists and musicians for a circle jerk in the name of helping poor Africans. Richie, Cyndi Lauper, Huey Lewis, Sheila E., Dan Aykroyd (WTF?), Michael Jackson and his wannabe-famous brother Tito all piled into a Hollywood studio to record the anthem that presumably would free Ethiopians from hunger once and for all. On January 28, 1985, the final night of recording, God wept.
Don't you feel the emotion? I mean, look at Kenny Rogers' face at 0:47!
As glorious as "We Are the World" obviously was, it doesn't represent the quality of all charity singles. Many recent supergroups of the privileged class turned to everyone's favorite songbird Miley Cyrus to ensure success, but unfortunately, it just wasn't enough. Organizers simply didn't pay attention to the blueprint for perfection that Richie had presented, instead churning out self-serving muck that made all of us question why any of the so-called artists involved had ever left their day jobs. Thus, in honor of the 28th anniversary of the final recording day for "We Are the World" (best milestone ever), we present you five popular charity singles that sucked harder than a Hoover.
"Send It On," Disney's Friends for Change
In 2009, the Disney Channel's most omnipresent teen stars set aside their love triangles and quadrangles to sing something written by a Swedish guy. That country puts out lovely furniture, but songs? I saw the sign that said "Hell, no." That didn't matter to the kids, though, and neither did the fact that the lyrics provided to them failed to mention anything about international environmental issues -- their chosen cause. Miley, Demi, Selena and those formerly chaste Jonas boys still were thrilled to vocalize their theoretical love for the earth and then trample all over it with 38 gazillion tons of tour equipment and vehicles.
"Everybody Hurts," Helping Haiti
After a horrible earthquake devastated the Republic of Haiti in 2010, the world scrambled to send help to the country via funds, doctors and builders. Simon Cowell, on the other hand, decided that his gift would be "Everybody Hurts." Whereas the original R.E.M. song was a gorgeous, angelic symphony of hope, Cowell's version was a choppy clash of incongruent voices. Leona Lewis, James Blunt, Irish boy band Westlife and Cowell's favorite makeover project Susan Boyle completely destroyed the flow of the song, sometimes appearing only in two-second segments (like our girl Miley, who graces us at 1:43). Rod Stewart and Jon Bon Jovi made the most of the situation, but it was a lost cause. The video itself continues to make my heart swell, though.
"We Are the World," Artists for Haiti
Haiti apparently was a great uniter and a shining inspiration for bad rehashes of songs. For the 25th anniversary of the original "We Are the World," Lionel Richie and Quincy Jones gathered more than eighty musical celebrities (I hesitate to call them all "singers") for a reworked single that would aid Haiti relief. Because the men wanted the younger generation to take up their burden of saving the world, Justin Bieber led the group, along with Nicole "Sluttiest Pussycat Doll Ever" Scherzinger, Josh Groban, an autotuned Lil Wayne and our favorite siren Miley, who cares about everything everywhere. But the fun didn't end there! This little ditty also brought us a horrible new rap, incomprehensible weird shit from Wyclef Jean and a creepy Michael/Janet duet thanks to "video magic." At least Jamie Foxx did a sweet Ray Charles impression.
"Just Stand Up!" Artists Stand Up to Cancer (live version)
I'm all for girl power, I swear. I believed in the Spice Girls' mantras during the '90s and read Sisterhood of the Traveling Pants, so I'm quite in touch with the power of the vagina. However, this live version of "Just Stand Up" was an abomination. "But how can a song that features Beyonce, Carrie Underwood and Mary J. Blige be bad?" you ask. Because it was missing Melissa Etheridge, Sheryl Crow and LeAnn Rimes, who provided heart on the studio version and wisely stayed home when it came time to perform on live TV in 2008. It's great that the Entertainment Industry Foundation established Stand Up to Cancer to raise funds and awareness for disease research, but this single was the pits. Even Miley-effing-Cyrus couldn't help it.
If all of these songs are considered lame, then what should a post-'80s charity single sound like? Elton John had a nice run of them, with his rehashed versions of "Candle in the Wind" (for the Diana, Princess of Wales Memorial Fund) and "Don't Let the Sun Go Down on Me" (a duet with George Michael, for children's, education and AIDS charities). Both of St. Louis' own Songs for Joplin collections also feature good songs that don't overreach in the name of charity. However...
"Bad Cover Version," Pulp
Pulp's whack at self-indulgent philanthropists might be the best example of all. The lyrics for 2002's "Bad Cover Version" have nothing to do with charity, but the video skewers "Do They Know It's Christmas?" and other well-known celebrity masturbation. Too bad Miley was only two years old when this song was released.
Follow RFT Music on Twitter or Facebook. But go with Twitter. Facebook blows.