Are you a fan of quality punk rock? Is your upcoming weekend looking rather boring? Do you like watching and/or being an unstoppable slam-dancing trainwreck of a party animal? Then there's something afoot - the Dudes Magazine 20th issue release-party-stravaganza-bration-palooza at Lemmon's this Friday and Saturday. The locally-operated, widely-distributed publication for all things absurd, manly and punk (operated by a man / myth that calls himself "Nighthawk") sent out an open invitation to the rest of St. Louis to attempt to out- drink/slam/incoherently-yell them at the best punk rock pizza venue in town (operated by by Daren Gratton of the Haddonfields/Winchester fame - also the organizer of said event).
"This weekend will be really fun and worth all the work we've put into it," says Gratton. "Everyone's gonna go nuts for Masked Intruder."
For those not familiar with the hilariously stellar work Nighthawk & Co. produce over at Dudes Magazine, here are some quick taste-test excerpts of advice from their Facebook page:
"Showering every day is excessive."
"Guess who watched porn on the boss's computer at work last night? HINT: it's the same dude who jacks off in the bathroom at work. Senior Driver."
"You know you were fucked up at work the night before when you wake up and burp and it tastes like White Castle, but you don't remember going there because you blacked out on the drive home, and the only way you're sure you went there is the receipt in your car."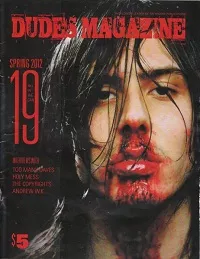 And that's just some short examples of the troublingly relatable thinking going on at Dudes Magazine, which is currently one of best reads around with which to laugh yourself off the toilet. Or find out what you favorite bigger, current punk bands are gossiping about these days.
The aforementioned Nighthawk (gotta be his real name; it's written on the back of his leather jacket) started up the magazine in 2003. "It wasn't until around issue 6 or 7 we got the idea to actually start interviewing bands," says Mr. Hawk on the transition from low-end zine to legit magazine. "Then we started printing at Cam Printing, downtown on Pine. This next issue is coming out on news print!" This guerrilla-style hybrid of music journalism and hilarious writing contributions landed Nighthawk a job with famed punk publication Razorcake. "I can basically go anywhere and do whatever I want, except in St. Louis," jokingly crows the Hawk with another beer swig. "It's great to be able bring all these bands in just because they like the magazine."
"Go Blues, 2 day passes are available for $20 at Apop & Lemmons for a little while longer, it's 21 and up, and some of the touring bands need a place to sleep," says Gratton.
"Yeah, come get drunk, get a copy of the magazine, go crazy for the bands. Why wouldn't you?" says Nighthawk.
Maybe if you want to be a boring dud of a nobody you can miss Masked Intruder, Lipstick Homicide, Hospital Job, Business Papers, Rad Payoff, Nato Coles & The Blue Diamonds Band or Spruce Bringsteen. If you want to "be productive" and "a useful member of society that isn't hungover for days afterward" you could miss great locals like the Haddonfields, the Winchester, and Breakmouth Annie. No skin off my nose if the king/queen of chumps/chumpettes doesn't want a limited edition copy of the 20th issue of Dudes magazine (complete with "Dudes Digs" DVD - this ain't your grandma's episode of cribs). Seriously, come out to Lemmon's this weekend. You don't have to have a brain to lose your mind.
Complete line-up on the next page.
Official line up:
FRIDAY- 8:00-8:30-googolplexia 8:45-9:15-Eaten Back to Life 9:30-10:00-Breakmouth Annie 10:15-10:45-The Heat Tape 11:00-11:30-Raging Nathans 11:45-12:15-Tight Bros 12:30-1:00-Lipstick Homicide 1:15-1:45-Business Papers 2:00-2:30-The Haddonfields
SATURDAY- 5:45-6:15-30 Helens Agree 6:30-7:00-Better Days 7:15-7:45-Guy Morgan 8:00-8:30-Rad Payoff 8:45-9:15-Dethwarrant 9:30-10:00-Cool Mutants 10:15-10:45-The Hospital Job 11:00-11:30-Spruce Bringsteen 11:45-12:15-Nato Coles and the Blue Diamond Band 12:30-1:00-Masked Intruder 1:15-1:45-Sass Dragons 2:00-2:00-The Winchester