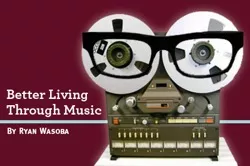 Art and life co-habitate, informing, imitating, and enriching each other constantly. Each week in Better Living Through Music, RFT Music writer Ryan Wasoba explores this symbiotic relationship.
Let's ignore the question of whether or not Beyonce lip-synced the National Anthem at Monday's Inauguration and assume she did. Let's ignore the question of who cares or should we care and assume we should. The underlying discussion here is one of morality. Is it dishonest to lip-sync, or is it a necessary evil of modern music?
See Also: -Who the Hell Cares if Beyonce Lip-Synced the National Anthem at the Inauguration? -YouTube View-Count Scandal Grazes Beyonce and PSY Alike, Shows Viral isn't Always Viral -Nostalgia Is The Enemy Of Critique
Every legitimate, successful singer has lip-synced at one point in his/her career. That's just what you do when you make a music video, meaning everyone from Michael Stipe to Shakira to John Gallagher from Dying Fetus is guilty. I am not playing the "everybody else is doing it" card to justify, because there's nothing to justify. This is part of music as we know it, and lip-syncing is a byproduct of music entering into realms where it might not necessarily belong.
There are scenarios in which lip syncing equates to lying. If Chris Martin mouths the words to a recording next time Coldplay is on Saturday Night Live, that would be immoral. It would also probably sound better. The practice was initially developed out of practicality, and it is today generally used in situations that are not conducive to live performance. It is not a cheat, it's a compromise.
One such practicality was discussed by Jennifer Lopez on Tuesday's The Daily Show. Asked about lip-syncing, she talked briefly about the phenomenon of "slapback," and it went a bit over Jon Stewart's head. Lopez was referring to the delay that occurs between a sound leaving a singer's mouth and the sound echoing from the venue's speakers. Even with efficient in-ear monitoring, this can be distracting. Sound travels roughly 1,000 feet per second; if Beyonce hears an echo from 1,000 feet away, she is hearing a full second of delay. One second can be an eternity in musical terms. Pre-recording the performance is a safeguard against such technical roadblocks.
I get a feeling that those who feel duped are not necessarily upset at Beyonce but bummed to learn how commonplace lip-syncing is. It's like finding out that, as Big Boi once said, "Santa Claus is nothing more than Vanilli." Once the concept is understood, it seems no more dishonest than, say, doing multiple takes during a recording or adding pre-recorded laughter to a television show. A pop singer lip-syncing for the sake of quality control is no worse than a technical metal band playing to a secret metronome live. You would be surprised how often that occurs.
The issue has less to do with the actual lip-syncing - considering the liberties Ms. Knowles took with the anthem, she did a mighty fine job lining up her motions - and more to do with the public demonization of lip syncing. This is one of the last technical aspects of music that is definitively wrong in most minds. Comparatively, auto-tuning is now recognized as an aesthetic choice rather than a cheat. It's generally acceptable to sing to a backing track instead of a band. People understand gray areas in music, but the thought of giving leniency to the monochrome act of lip-syncing might take some time.
The chances of artists stopping lip syncing are as slim as the chances of Obama taking away your guns. The big take-home lesson here is to learn the truth about something and think before you get upset. But since that hasn't happened in Washington over health care, debt ceilings, or immigration, I doubt Beyonce is going to be the torchbearer.
Follow RFT Music on Twitter or Facebook. But go with Twitter. Facebook blows.