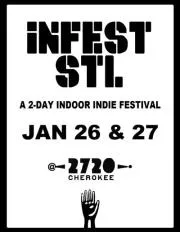 This Saturday and Sunday, a few dozen local and regional bands perform at InFest STL, a two-day indie festival at 2720 Cherokee. The event is totally free. This is not a battle of the bands, and the acts are in no way competing with each other, but that's no reason not to pit twenty-five confirmed artists against each other in a single elimination tournament to decide who rules the InFest.
See also: -Swastikas, Lemmy and Screaming Christians: Picking the Winner of the Mayhem Festival -S.L.U.M. Fest 2013: Videos and Music by All of the Winners -The 15 Most Ridiculous Band Promo Photos
We have assembled a panel of three judges. Jonathan Willinger is a St. Louis native who currently lives in Chicago, where he is director of publicity for a prominent record label. Chris Bay is the interactive web producer for KDHX and the host of the "Gold Soundz" program. Ryan Wasoba is a dog owner from Edwardsville, Illinois.
All matches have been chosen at random, and due to the odd number of groups, the following bands received automatic byes into round two: Andy Hyland, Suzie Cue, Le'Ponds, MusicEmbryo, The Potomac Accord, Ocean Rivals, and Pretty Little Empire.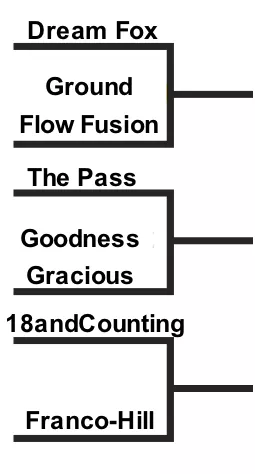 Match 1: Dream Fox vs. Ground Flow Fusion 8-bit electronica duo battles a solid jam band.
Jonathan Willinger: Although I am normally not a fan of chiptune bands, I think Dream Fox might have to win this round. Chris Bay: Ground Flow Fusion can hold a groove together pretty well. That and their Doobie Brothers cover ("Long Train Runnin'") gives them my vote. Ryan Wasoba: The main complaint is that Dream Fox is stuck to a tired format. Even so, the Nintendo electro thing is still more unique than what Ground Flow is doing.
WINNER: Dream Fox
MATCH 2: The Pass vs. Goodness Gracious Louisville, KY synth-pop unit against a man/machine hybrid hip-hop group.
JW: Goodness Gracious wins this round because of the obvious Nate Dogg influence. RIP. RW: I love the concept of Goodness Gracious, but something doesn't sit well. The Pass seems more committed. CB: I bet The Pass would destroy a Passion Pit cover. But their own tunes are rad, so there's no need to do that, I guess.
WINNER: The Pass
MATCH 3: 18andCounting vs. Franco-Hill Luck of the draw pits two hip-hop artists affiliated with the FarFetched collective against each other.
CB: This is a tough one; both are incredibly talented. I've never seen Franco-Hill live, so I just checked out some videos and man, they're amazing. Expansive, smooth, tight. RW: Franco-Hill is great, but 18andCounting is next-level great. JW: I can get down with 18andCounting.
WINNER: 18andCounting
MATCH 4: Eric Hall vs. Zagk Gibbons Ambient noise-monger versus loop-monster.
JW: Eric hall here by a quite a bit. It reminds me of a bunch of stuff coming out on Spectrum Spools, Hooker Vision and similar labels. CB: Zagk Gibbons immediately brings to mind Mogwai, Tortoise, Cul De Sac and Don Caballero, all beautiful and more balanced in that regard. RW: Sorry to keep voting you down, Chris, but I have to agree with Jonathan and go Eric Hall. I've seen Gibbons live. It's impressive but not as creative as Hall.
MATCH 5: Mikey Wehling & The Reverbs vs. It! Moody lo-fi pop up against Femme Fatality v2.0
JW: Mikey Wehling reminds me a bit of that band Gayngs. I'll go with him. CB: Is not Wehling & Co.'s new record with Adult Fur enough to get them a bye to the next round?
WINNER: Mikey Wehling & The Reverbs
MATCH 6: Superfun Yeah Yeah Rocketship vs. Kid Scientist Electro-shockster versus loungey quartet
RW: I want it to be clear that I am voting for Kid Scientist and not against Superfun Yeah Yeah Rocketship. CB: Kid Scientist. I feel like this decision says more about my sense of humor than my musical tastes. Or maybe I just don't like comics and barfing enough to enjoy songs about comics and barfing. JW: I saw Superfun... a long time ago. I like how confrontational he can get.
WINNER: Kid Scientist
MATCH 7: Union Electric vs. Burrowss Alt-country engages in fisticuffs with rowdy garage rock in an extremely close match.
CB: (Disclaimer: both of these bands include KDHX associates of mine. Matt Stuttler of Burrowss as a writer, Tim Rakel of UE as a DJ). Another tough one. Those Burrowss kids put together one hell of a debut record last year, and I love 'em, for sure. But The Union Electric has an idealism and sonic patina that's undeniable. RW: Potentially tough because Mic Boshans from Union Electric is a longtime buddy. But Mic is in 300 bands, so that is less relevant than it should be. Burrowss barely ekes by here. I just prefer the vibe. JW: The Union Electric sound almost exactly like Uncle Tupelo. Burrowss has a riff or two and some kind of energy. I'll go with them. WINNER: Burrowss
MATCH 8: Justin Torres Loop Project vs. Sinfinis One-man jam band versus co-ed trip-hop.
JW: Justin Torres at least seems like he's being honest here. I don't know if I can say that about the other band. CB: I'm going to have to go with Justin Torres, based solely on his cover of "Jellyfish," which is one of the few String Cheese Incident songs that I actually kinda maybe enjoy sometimes.
WINNER: Justin Torres Loop Project
MATCH 9: Picture Day vs. Humdrum
JW: Humdrum is a band to get behind. They have some songwriting chops. CB: Picture Day is solid and consistent, but not that distinctive. Humdrum takes big chances that often pay off. Also, their tune "I'll Find You" is one of my favorite songs from a local band in the past two years or so. RW: Humdrum is the band I'm most personally connected to out of all the ones playing. Since the band already won and my vote doesn't matter, I'm going to vote for Picture Day.
WINNER: Humdrum
As this is a two-day event, it is fitting for our competition to stretch over a second day as well. Tough challenges await our competitors in the next round. Click ahead to start placing your bets on Round Two of the InFest STL Tournament Of Champions.
Follow RFT Music on Twitter or Facebook. But go with Twitter. Facebook blows.
ROUND TWO: