Annie Zaleski
Jon Hardy and the Public, circa 2008.
St. Louis musicians are a pretty generous bunch; it seems like they're always lending their tunes to local productions, sharing how-to tips and staging benefit shows. And so it goes this weekend when three of St. Louis' widely-praised bands come together to honor the memory of one of their own during a concert for the late Tony Perolio.
See also: -Tony Perolio Fit A Lifetime of Accomplishment into His 30 Years -The Blind Eyes' new album, With a Bang, Track by Track - Jon Hardy on his Hard Year and the Public's Return to the Stage
Jon Hardy and the Public will headline a special show at 8 p.m. Saturday, Jan. 26 that also features the Blind Eyes and Arthur and the Librarian. Admission to the event at Off Broadway is free, with an at-the-door suggested donation of $10 for the Leukemia and Lymphoma Society. Readers also can contribute online.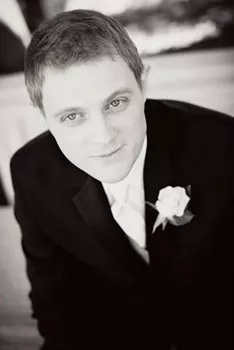 Perolio was a Marine, engineer and drummer for Jon Hardy and the Public who was just 30 when he succumbed to leukemia-related issues on Jan. 25, 2012. Now, a year later, Perolio's former bandmates are marking the anniversary with a way for local music fans to help combat this particular type of cancer.
"The idea for a benefit show came from Tony's wife, Jess," says Jon Hardy, vocalist and guitarist for the Public. "In the aftermath of his death, Jess began thinking of a way to both honor and celebrate Tony as well as help others who are struggling with similar illnesses."
That was enough of a reason for members of the Blind Eyes and Arthur and the Librarian to sign on for the event. Both bands had crossed paths with Perolio a number of times.
"I met Tony in the summer of 2007, right in the middle of his cancer treatments," says Arthur Crittenden, vocalist, pianist and guitarist for Arthur & the Librarian. "We bonded pretty quickly over our fondness for ghost investigation YouTube clips, good music and banana bread."
Many area performers knew Perolio as a hard-working musician and a gifted drummer.
"As a musician, I can say that he was a total pro (which, honestly, goes for everybody involved with Jon Hardy and the Public) and a rock-solid backbone for that band," says Seth Porter, vocalist and guitarist for The Blind Eyes. "They are the kind of group that makes you want to go immediately into the nearest practice room just to keep up."
The Leukemia and Lymphoma Society is a nonprofit health organization that funds blood cancer research and offers patient assistance. All donations from the Jan. 26 show will go directly to LLS.
"I want to support this organization because they actually supported my friends," Crittenden says. "From what Jess has told us, LLS helped them handle some of the burden of finances during Tony's initial treatments."
"Supporting groups like the Leukemia and Lymphoma Society that are working against that sickness, that are working to treat and comfort those who are ill is one way that we all can alleviate suffering," Hardy says. "It can seem small yet is a very important and impactful act that will truly help other people."
Though the concert will honor one who has passed, fans shouldn't expect a downer of a time. Instead, Hardy plans to reflect Perolio's intensity and commitment.
"We want people to walk away full of excitement, full of music and full of the belief that everyone and anyone can change the world," Hardy says.
Follow RFT Music on Twitter or Facebook. But go with Twitter. Facebook blows.