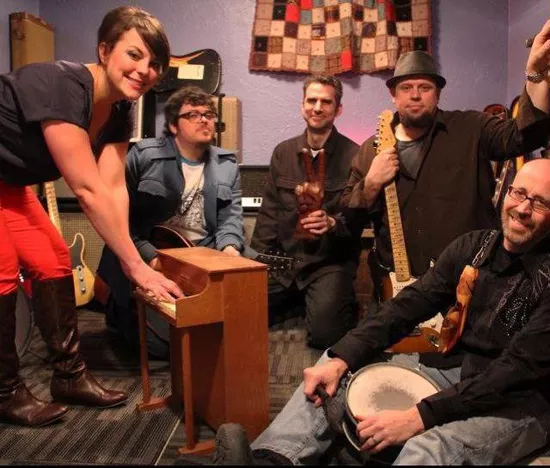 Junebug CD Release - Friday @ Blueberry Hill
We all all know how that one saying goes: If you're bored, you're boring! But hey, we're people, not grizzly bears, so there's no reason to be snoring in some sort of hibernation space over the next few days. Our city has a wealth of exciting performances to catch this weekend. Don't sleep on it -- you can do that on Monday.
I'm not sure what kind of music the late, great Martin Luther King, Jr. was into, but I'm pretty sure that even he'd find something in the following list to enjoy (I can't prove that). Celebrate the musical diversity our great city offers however you'd like. Among options are a noisy start to New Music Circle's 54th season, an EDM bass explosion at 2720, the 2013 SLUM Fest Hip Hop Awards and Tower Groove Records inaugural "Singles Club" release show. Read on to see our suggestions.
Friday (Jan. 18):
The Bad Plus @ Jazz at the Bistro 7:30 p.m. & 9:30 p.m. | $32/$37 Minneapolis' "punk princes of jazz" come to St. Louis on their annual winter pilgrimage -- but don'r ask for any cover songs. Read more in this week's feature. (DH)
Caboladies @ White Flag Projects 7 p.m. | $10/$20 New Music Circle kicks off its 54th season with experimental electronics carefully devised into abstract, rhythmic aural landscapes. (MS)
Junebug CD Release w/ Karen Choi, The Skekses @ Blueberry Hill 9 p.m. | $8 Have ya got the winter blues? Get a pick-me-up with the feel-good folk and Americana of this line-up of local talent, rife with pretty melodies and soulful singing. (MS)
Mega-Bass Party w/ Butch Clancy, Wick-it the Investigator, Spankalicious, ZaNdEr, Bitch Please, Quasar Camp, Unicorn Fukr @ 2720 Cherokee 8 p.m. | $20 Okay, this week I'm positive we got the date correct -- Loyal Family brings another loud, colorful event to 2720, promising a dance-happy good time for all in attendance.(DH)
Saturday (Jan. 19):
Barely Free Partial Prisoners EP Release w/ The Little Big Bangs, Seymour Justice @ Livery Company 9 p.m. | free If you haven't heard Barely Free yet, here's your chance to get a crash course in frontman Jake Cohen's sick meditative rhymes set to a backdrop of live, noisily manipulated beats. (MS) The Bad Plus - Friday and Saturday @ Jazz at the Bistro
Bloc Party w/ IO Echo @ The Pageant 8 p.m. | $25-$30 Bloc Party's new album Four is not its best, but it doesn't have to be if it puts the band back on the road. --Ryan Wasoba
Tetsuo w/ Beach Bum Alcoholics, We're A Happy family - a tribute to Ramones, Resoldered @ Lemmons Tennessee-based rock outfit Tetsuo love Fugazi, Modest Mouse, Television and the Pixies. If you enjoy those artists, there's a good chance you might dig Tetsuo, too. (MS)
The 2013 SLUM Fest Hip Hop Awards w/ Tef Poe, Legend C4mp, Midwest Avengers, Skiddlaz, Doorway, Trixie, MME, St Orleans, T-Dubb-O, Doughboy, The Domino Effect, DJ Nico @ Atomic Cowboy 8 p.m. | $5 The annual SLUM Fest awards is an annual celebration of St. Louis' underground hip-hop artists. This year's line-up is stacked to the ceiling; don't miss out -- only $5! (DH)
Tower Groove Records 7" Release w/ Old Lights, Demon Lover @ Off Broadway 9 p.m. | $7/$10 Tower Groove kicks off its monthly "Singles Club," featuring a series of local artist splits on wax. If you haven't subscribed yet, there's still time! (MS)
Sunday (Jan. 20):
Agitator w/ Wrong Answer, Perfect People, Resolute @ Fubar 8 p.m. | $10 Philadelphia hardcore's Agitator returns! OPEN THIS PIT UP. (DH)